You want to receive your title loan money.
But, how?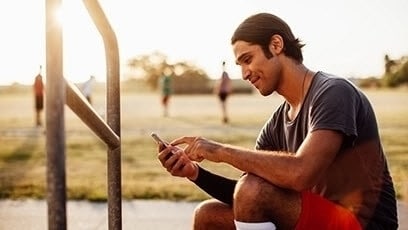 Send your money to your bank account or mobile wallet.
To make this deposit into your personal account, the MoneyGram representative would only need your name, your bank's routing number, and your current bank account number.
Send money for cash pick-up
If you prefer cash, you have the option to receive your funds from LoanMart by going into one of the 65 Bakersfield MoneyGram store locations. Follow the steps below:
---
Collecting Your Title Loan Money in Person
With the help of LoanMart, and the helpful agents at MoneyGram you'll be able to locate one of the nearest MoneyGram locations in Bakersfield.
The MoneyGram agent will need valid identification to prove you are the recipient of the money, and the reference number.
The final step is just to receive your money from LoanMart at your Bakersfield MoneyGram location of choice.
---
How to Make a Payment with

When you need to make a payment, you can send your payment to LoanMart using a MoneyGram ExpressPayment Service. Make sure you fill out this form to include the following to ensure correct payment.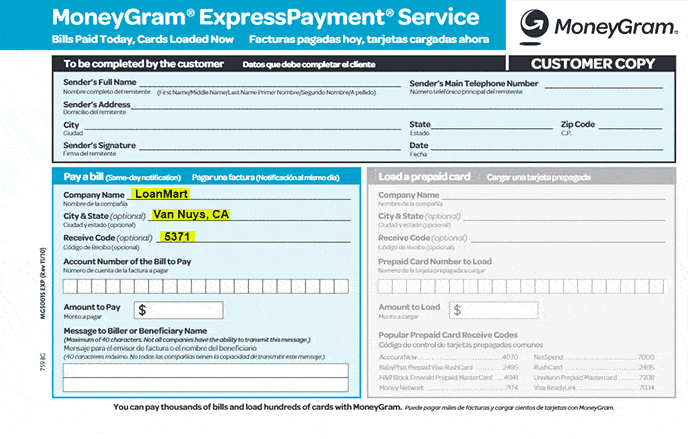 Note: If you have any questions, need to make a smaller minimum payment, or need your account number, you can give us a call, so we can help you with your MoneyGram ExpressPayment Service slip, or you can make a payment by phone.
Visit one of 65 Bakersfield Locations
Visit a MoneyGram location and ask for a MoneyGram ExpressPayment Service Slip. Make sure to fill out the top section titled, "To be completed by the customer." Make sure to fill out all the information.
Fill out the ExpressPayment Form
Under the "Pay a Bill" Section, you will write "LoanMart" as the company name; "Van Nuys, CA" as the City and State; and "5371" as the Receive Code. The amount to Pay should be the minimum payment due, and the Account Number should be your Loan Account Number.
Turn in your ExpressPayment Form
Give the ExpressPayment Service slip to the MoneyGram representative and get a receipt. Track your ticket online on the MoneyGram website!
---
Why LoanMart works with MoneyGram
Fast
Your title loan money will be available for pick-up in just minutes, or sent to your bank account within the same day.3
Convenient
If you are not near a LoanMart location, you have the option to receive your funds without leaving your home or traveling far from home.
Reliable
LoanMart has been helping customers with their financial needs since the early 2000's. We value transparency and the ability to satisfy our customers lending needs.