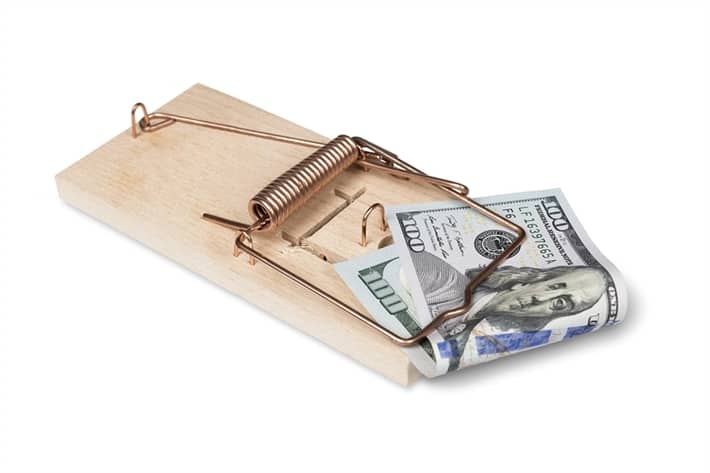 Unsecured Loans vs. Secured Loans With LoanMart
What are secured and unsecured loan?
A secured loan is protected by an asset as collateral. For example, car title loans are secured based on the value of your car. The amount that one qualifies for depends on the equity of assets when considering a secured loan and their ability to repay the loan. On the other hand, unsecured loans do not involve having an asset to back the loan.
Secured and unsecured loans are totally different.  Knowing which type of loan to borrow might save you from hardship while getting through a tough situation. LoanMart provides car title loans that are fast, easy, secure and convenient. Our loans are processed in about 24 hours to give you quick relief from your financial crises3.
You may find yourself in need of a loan from time to time due to financial emergencies or other circumstances. With LoanMart you don't have to worry, even if you have bad credit because we have multiple solutions for you to consider.
It can be difficult to get an unsecured loan.  Lenders might look at your credit score to determine if you are risk-free and eligible. Other factors such as credit history, capacity, capital and personal financial background may also be taken into consideration. All these are used to determine the creditworthiness of a borrower before giving them a loan.
 This is hard for many people because loans are part of personal financial growth. What is the solution for people with bad credit who need to borrow? Here are some examples of LoanMart's unsecured loans to help you out of tough situations:
Payday Loans
Many people turn to payday loans in times of need or when they require an extra boost to get through the month. Payday loans have an average amount of $350 and have short term periods of about 1-2 weeks.
Payday loans depend on specific income for their repayment such as pending tax refunds towards your next paycheck. While the amounts are not as high for this type of loan when compared to other financing, they can be made available immediately. Once you get a payday loan you will be asked to write the check for the amount you are borrowing and the additional fees charged on the loan. Your loan may be rolled over for several more weeks if you don't have to enough money.
The greatest benefit of working with LoanMart is that your need for quick cash doesn't have to plunge you into a deeper financial crises due to high interest rates and charges.
Installment Loans
Taking out an unsecured loan can be beneficial when consolidating debts or seeking other avenues to organize finances. Another option would be to consider a credit card as a loan. They are perhaps the most common example of an unsecured loans. Balances can be paid in monthly installments with this type of funding.
To safeguard against high monthly payments or fees from other lenders, taking out an installment loan can be a good solution. We endeavor to make things easier for you regardless of the situation. Our payment schedules are flexible to ensure that your loan can meet your lifestyle and specific needs.
Bad Credit Loans
Bad credit loans are unsecured loans because they are not secured by assets or collateral. They are designed for individuals who may not have the best credit but are seeking financial assistance. The repayment period can stretch over several months with this type of funding. However, having a poor credit score can make it hard to get an unsecured loan. It can make a bad situation worse when you can't get the help you need.
 On the other hand, LoanMart doesn't take your credit score alone into consideration in the approval of your loan application. We understand that financial emergencies come unannounced and we have been there to support thousands of people get out of their tough times. That's why we will only ask for your car's title and your ability to repay the loan to determine if you can secure a car title loan.
Car Title Loans are the Best Solution
Car title loans are secured loans because they are guaranteed by car titles. They provide you with a larger loan amount as well as comfortable repayment terms. Your car, truck or van makes all the difference. Car title loans give you an opportunity to use the value of your vehicle to get approval for funds. We will also look at your monthly income to identify the best repayment arrangement based on your budget. Even those with bad credit can get a loan with LoanMart for the following reasons1:
●       A car is used as a guarantee for the loan. This is a type of secured loan that presents less risk and high approval rates.
●       The loan may feature lower interest rates– an advantage to the borrower.
●       Car title loans are a good option because not everyone has something big enough like a house to offer as collateral.
●       Traditional lenders might find it hard to give loans to those with bad credit. But at LoanMart, we will give you a loan based on your car's equity and ability to repay the loan1. Creditworthiness is not the sole consideration.
A car title loan allows you to get the funds you need easily and effectively. This can be a substantial amount, even thousands of dollars. With flexible terms, you can get the arrangement that works for you and oftentimes loans are paid back over an extended period (usually 12 to 48 months).
We are not interested in your credit history. What's important is your current and future financial situation. LoanMart can help improve your situation and get out of any unexpected circumstances. The difference between unsecured and secured loans has to do with the qualifications for funding. If you are unsure about your financial history or don't have good credit, you don't have to worry. Whether you are looking for a secured or unsecured loan there are multiple options to consider from LoanMart.