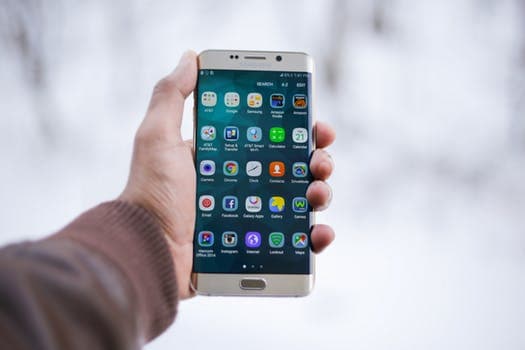 YOU ARE IN CONTROL when you speed up the process by signing your credit application online!
Yes! Get your money faster when you speed up the process by signing your credit application online.
At the end of the process, your loan contract will be emailed to you. At this point you will have already spoken to your LoanMart loan agent, who will have given you your free quote and some of the details contained in your contract.
You can sign your credit application on a page that looks similar to this one. Once you hit "finish" on the DocuSign document it will be immediately sent back to LoanMart, where we will continue the effort to expedite the process, so you can get your money!
How Can I Get an Auto Title Loan with LoanMart?
Getting an auto title loan with LoanMart is as simple as 3 easy steps:
Fill out a fast info form online. You can do this from your computer, smartphone, or tablet.

You can also call, text, visit us in person, try our convenient live chat feature, or email us.

Submit the documents required – don't worry, we will let you know everything we need.
Get your money! Once you sign your contract you can receive your money in a variety of ways: get paid electronically, with a check, by visiting on of our participating stores, or in some cases via MoneyGram.
The LoanMart process is quick and efficient. If you begin the process by submitting your information after business hours, you will be one of the first customers contacted the next morning when LoanMart opens up for business. We understand that the need for money can be an urgent situation, so we won't hold up the process by dragging our feet. Credit history is never an issue either!
What is Necessary to Get an Auto Title Loan from LoanMart?
After you have spoken with your LoanMart representative, they are going to request a few documents from you. These documents will include:
A government issued photo ID or a valid driver's license
Proof of residence
Proof of income
Your qualifying vehicle title that has your name on it
Sometimes other documentation may be requested. Your LoanMart loan agent will inform you of anything you still need to submit.
If you are worried about showing a proof of income because you are unemployed, don't fret. "Proof of income" doesn't just mean your paystub. You can also show disability, social security, retirement and some other forms of regular income to satisfy this requirement.
Still have questions? Don't worry! There are experienced LoanMart title loan agents available 7 days a week with extended hours to help you with anything you may need.
Is LoanMart a Good Company to get Auto Title Loans From?
Yes! LoanMart has been a leader in non-traditional lending for over a decade. Since 2002, people from all over the United States have trusted LoanMart to provide them with auto title loans. We offer a high approval rate, convenient terms, competitive rates, and so much more than make LoanMart proud to have over 150,0002 satisfied customers.
At LoanMart, we have a three-part mission that we strive to meet every single day.
 Customer Service – LoanMart is devoted to you, our customers, because you are the heart and soul of what we do here. We wouldn't be here without you.
Education – LoanMart will empower you with useful and accurate information. The more you know, the better decisions you will make. LoanMart wants you to succeed.
Security – Feel safe with your information in the hands of LoanMart. We are vigilant when it comes to protecting your personal information.
How Safe is my Information with LoanMart?
LoanMart values the trust you give us when you provide your personal information. Here's how we protect your information:
When you give us your information, it is stored in our web server computers. We will never sell or distribute your personal details. They aren't ours to sell or give away.
LoanMart has state-of-the-art Secure Sockets Layer (SSL) encryption.  This means your information is disguised so not just anybody can read it.
If you provide us with paper documents at any time, be assured that those documents will be destroyed once we no longer need them. Don't worry about your information getting into the wrong hands.
LoanMart is diligent about complying with federal and state laws. Protecting your privacy is a priority of ours.
Review our Privacy Policy if you want even more details about how we protect the vital privacy of your information!
https://www.docusign.net/MEMBER/PowerFormSigning.aspx?PowerFormId=ad1b54e7-1028-4fa6-8309-d33ad0533d2f
https://www.800loanmart.com/title-loans-how-it-works