---
If you are considering your loan options, you may ask yourself, "Can I get a title pawn near me?" You should know that online title loans are similar to title pawns and traditional title loans except they can offer far more convenience. If you are in need of fast emergency funding, know that you could inquire for online title loans right from the comfort of your couch or kitchen table!
An auto equity loan is an excellent loan option that offers quick financial support through flexible qualification requirements.¹ If you're worried that you won't be eligible for a traditional bank loan due to low credit, turn to auto equity loans! Despite having low or unestablished credit, you could still be deemed eligible for funding through a secured auto equity loan.
Can I Get a Title Loan Without the Title?
But what happens if you need financial support, but you don't have ownership of the vehicle? Is it possible to obtain a car title loan without the title in your name? After all, during the repayment process, the vehicle title in your name is used as collateral to secure funding.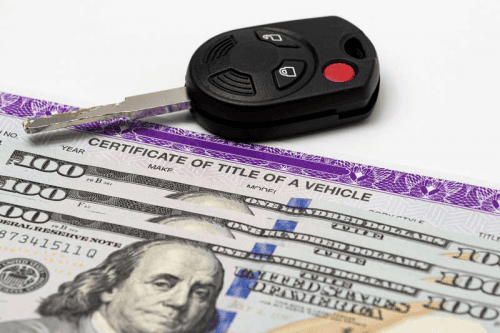 Call Our Team
Take the first step and call our toll-free hotline to speak with a specialist.
The good news is, yes, there are a few scenarios that allow you to get a title loan without currently having the title. They include title loan refinances, second lien title loans, and duplicate titles or replacement titles, and we'll help you understand each of these:
A title loan refinance is the process of getting a title loan using a vehicle that is currently already used as security for a loan. In that scenario, the borrower typically does not have the title since the existing lender is holding on to it. Despite that, some lenders approve title loan refinances and then directly obtain the title from the existing lender that's being paid off.
A second lien title loan describes the process of getting a second title loan on one and the same car. Second lien title loans are only offered by some lenders, and they are also only offered in certain states. If you are interested in a second lien title loan, be sure to check with the company you are applying with if this is a loan type that they offer.
Duplicate titles or replacement titles are relevant for title loan applicants that have lost or misplaced their title but still want to use their vehicle to apply for a loan. Completing the applicable titling process with the respective Department of Motor Vehicles makes it possible to still qualify for a title loan.
Luckily, the process to get a duplicate or replacement title and to get your name on the certificate of title is simple and only requires a few steps!
How to Replace a Lost Title Copy
If you want to get a car title pawn near you but your certificate of title is lost, you could be wondering how to get a car title without title.
You may have never thought about what your vehicle title could ever come in handy for. It may seem like a silly piece of paper, but that's one factor title loan lenders will use when determining your loan amount. Title loan lenders use the title of your vehicle and your ability to pay back the loan to initially determine eligibility. No title on your car – no car title pawn. Obtaining a duplicate or replacement title for your vehicle is actually rather easy!
When you realize you have a lost title, the first step you have to do is inquire for a new one. Each state has a different process for title replacement, but you can usually complete the process by mail or in person at your local Department of Motor Vehicles (DMV) or Secretary of State (SOS) office.
When you visit the DMV or SOS office in person to inquire for a lost title, you will usually need the following:
Government-Issued Photo ID
Car Registration
Completed Title Replacement Form
Money for the Replacement Fee
Have questions about how to get a car title loan without title? Call title loans serviced by LoanMart at (855) 277-4847.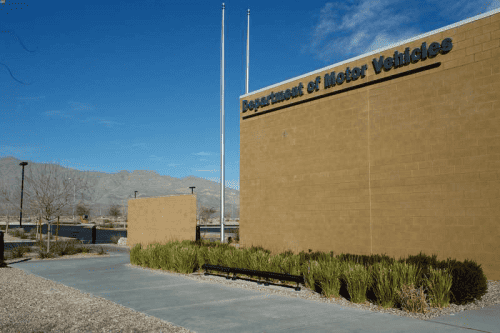 How to Start a Title Transfer
Sometimes you may be able to obtain a used car as a hand-me-down from a friend or relative. If the car originally belonged to someone else and now you own it, ensure that you are given legal ownership of the vehicle.
If the title is not in your name, then in the eyes of the law you are not the legal owner of the vehicle. This means you cannot sell it, trade it in, or use it to obtain an emergency loan until you acquire a new pink slip with your name on it.
If you would like to formally proceed with the process of requesting a title transfer, you will need to send a request through the mail or inquire in person. If you decide to go in person, you will need to visit your local DMV.
For a title transfer, you will usually need the following:
A government-issued photo ID
A certificate of title signed by the current owner
A completed title transfer form
Money for the transfer fee
Can I Get a Title Loan with a Bonded Title?
A certificate of title surety bond, also just called a bonded title, is a certificate of title with a "bonded" brand. This brand signifies that a surety bond is attached to the title. A surety bond is a financial contract that guarantees payment.
You are issued a bonded title under the following four conditions:
You purchased a vehicle and did not get a title
You purchased a vehicle and did not receive a bill of sale
You purchased a vehicle and received an improperly assigned title
You purchased a vehicle and lost the signed title before transferring your name
A bonded title is as valid as a regular certificate of title. It promises that the name listed on the document has legal ownership of the vehicle. You may still be able to get access to quick cash with an auto equity loan if you have a bonded title!1 Speak to a title loan agent today about your eligibility.
How to Avoid Losing Your Important Car Documents
Owning a car comes with a lot of paperwork, so you have to know where to put all these important documents to keep track of them all and keep them safe. There are some things you should keep in your car's glove compartment and other's you shouldn't. So where should you keep your certificate of title and the other paperwork for your car?
Vehicle Registration
You'll have to show "license and registration" when asked by a police officer, but you shouldn't keep the original registration in your glove box. Instead, keeping a copy of your registration folded into your wallet behind your driver's license is better and safer.
Proof of Car Insurance
This is something that should always be in your car in the glove box or another safe compartment. In most states, you can be ticketed for having this on hand while driving.
Owner's Manual
This shouldn't be buried in a drawer somewhere in your house. This is a very important book that should be kept in your glove compartment where you can get to it easily in case of a flat tire or strange symbol popping up on your dashboard. While on-the-go you need to be able to know how to fix any issues with your car. This guide can't help you if it's at home.
Certificate of Title
Your pink slip is one document you shouldn't keep in your actual car. If someone were to break into your car and steal it, the thief would probably have everything they need to sell it or keep it. They would have the title and probably the registration information too if you keep that in the glove box.
Your car's certificate of title is the legal document that proves you have ownership of the vehicle. So, you can see why this shouldn't get into the wrong hands.
Instead, you should keep it somewhere safe where it cannot be lost, stolen, or damaged. While it's possible to get a duplicate copy, taking good care of the original document will save you a lot of hassle and a trip to the DMV.
It's a good idea to keep your certificate of title in a safe deposit box, a fireproof container or some other type of secure place at home. If you have somewhere safe where you keep your birth certificate, passport, etc. you should file your pink slip away in the same place. As an extra safety measure, you could also keep proof of having your vehicle titled at home in a separate place or with a trusted family member.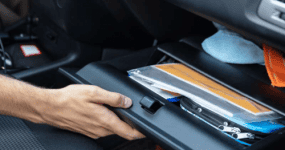 How to Get Title Loans if I Still Owe on the Car?
The car you intend to use as collateral for a car title pawn must qualify and have enough equity. Title loan requirements are known to be flexible, so a lot of car makes and models are accepted. But can I qualify for a title pawn near me if I still owe on the car?
Even if you still owe on the car and are not yet the legal owner, you could be deemed eligible if the car has enough equity. Equity is essentially the ownership of assets. To find out the current equity in your car, you need to subtract the amount you still owe on the car by the current resale value.
One simple way to determine if your car has enough equity is to use an online title loan calculator. All you need to do is enter some details about your car, such as the vehicle year and current mileage. If your car qualifies for a title loan, you may receive a free loan estimate!¹
A car title pawn can help with emergency bills such as:
Rent
Helping a family member or close friend
Paying rent
Paying taxes
Funeral expenses
Emergency medical issues
….and many more unexpected situations
Can I Apply for a Refinanced Title Loan?
If you want to refinance your title loan, but lost your original title, you could be wondering if it's still possible to refinance with a loan provider near you. If you needed emergency money and obtained a title pawn, you may have been initially relieved. However, if you find that your terms are not ideal or you need additional quick cash to cover an unexpected expense, consider refinancing!
When you are approved for a refinanced loan, you could receive a multitude of benefits, such as:
Lower Interest Rates
More Emergency Money
Lower Monthly Payments
More Time for Repayment
The process to refinance your title pawn starts with the simple inquiry process. But if you want to refinance, you need a title in your name. Get a car title without title when you visit your local DMV to replace a lost copy or request a transfer. Once you have a vehicle titled in your name, you could start the refinance process!¹
Documents Needed for Online Title Loans
If you have no title in your name, make sure you request a title transfer or a duplicate copy before you inquire for an auto equity loan. Once you possess a vehicle title in your name, you can start gathering your documents together to help speed up the approval process.
Take a look at some documents you may be asked to provide, aside from just the certificate of title:
Photo Identification: As proof of identity, you may show a government-issued ID such as a state ID, driver's license, or passport.
Proof of Address: To inquire for an auto equity loan, you need to show proof of address through credit card statements, utility bills, a house deed, a rental agreement, etc.
Proof of Income: As proof of income, you can show paycheck stubs, bank statements, benefit statements, etc.
References: For an auto equity loan, you may be asked to provide professional or personal references.
Benefits of Auto Equity Loans
Online title loans offer qualified borrowers with a vehicle titled in their name a multitude of benefits. Aside from the perk of completing a majority of the process online, borrowers could get incredible terms that make repayment stress-free.
Take a look at some of the benefits you may receive with online title loans:
Free Title Loan Estimate: If you want to know how much you may be able to get with online title loans, but you don't want to waste time on the phone with an agent, know that there's another option! By using an online title loan calculator/blog/title-loan-calculator, you could get a preapproved decision and a free estimate within a few minutes!¹ ³ All you need to do is provide basic information on your vehicle.
Fast Process: If you have an impending due date and you require emergency cash, consider online title loans! The inquiry process may only take 5 minutes and you could complete the approval process in as little as 24 hours!³
Low Monthly Payments: If you want low monthly payments that do not negatively impact your life, consider online title loans. Your monthly payments could be kept affordable, allowing you to save more each month and pay other expenses.
Competitive Rates: Rates are one of the most expensive aspects of a loan. Online title loans usually come with competitive interest rates, however, which could help ease the repayment process!
Inquire for Online Title Loans
If you want fast cash using your car, you need to show proof that you have ownership of the vehicle. Now that you know how to get a car title without title, you can start the inquiry process for quick and affordable online car title pawn! Call 855-422-7412 or fill out an inquiry form online to get started on the process today!
Title loans serviced by LoanMart offer quality service and unmatched benefits. If approved, you may be able to get the money you need to handle bills in just one business day!³