The Title Loan Inquiry Process Is Simple
Have you ever found yourself in a tight financial situation and in need of cash fast? But you also don't have good credit? There's good news for anyone who fits this description! You can inquire about a car title loan serviced by LoanMart. Unlike a traditional loan provider that relies on a person's credit score to determine how much of a loan amount they're allowed to borrow, car title loan servicers can allow you to use a qualifying car as collateral instead!
There are not many initial requirements for inquiring about a title loan, and learning about the process can be as simple as following a few steps! Learn about what you need for a title loan, how much cash you can get, what an unsecured loan is, and what you can do to repay your loans.
Inquiring about a title loan serviced by LoanMart is easy, and there is a quick approval process!1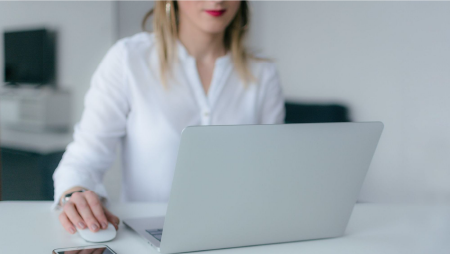 ---
What Do I Need for a Title Loan Online?
Unlike traditional loans with a long list of requirements for inquiries, there are only three major initial requirements for the auto title loan process serviced by LoanMart.
You must be 18 years or older
You must show proof of a car title in your name (or the car must be close to being paid off)
You must show proof of income
As with most loans, you must be able to prove that you are an adult, which means you are at least 18 years of age. There aren't many financial institutions within the United States that will engage in a loan agreement with minors unless an individual is cosigning for a student loan.
You must also be able to show proof of car ownership through a vehicle title in your name. This is fairly straightforward because you can't move forward with a car title loan without your name on the title. If you are close to paying off your vehicle, you may still qualify for a car title loan if your car has enough equity!1
Finally, if you are looking to qualify for any car title loan, you must be able to show proof of a steady income or alternative income. This shows the title loan lenders that you have the ability to repay the loan on time. They also require collateral in the form of your car's title. There are many options for showing proof of income outside of a traditional 9-5 job!
---
Use Your Car as Collateral in a Secured Loan
Yes, you read that correctly! You can use your car's title as collateral in a secured loan, which is essentially what an auto title loan agreement is.
Perhaps you've heard of secured loans and unsecured loans. Unsecured loans do not require any collateral. Examples of this include credit cards, student loans, and personal loans. The lenders, in these instances, will do a credit check and the loans typically have very high-interest rates if your credit is not up to par because they are a higher risk for these financial institutions.
Typically, these types of unsecured loans are not easy to get if you have a bad credit history. If you are looking for a loan with a more flexible approval process, you may find that you have better chances with a car title loan!1
What's a Secured Loan?
A secured loan works differently. During this type of financial agreement, the lender will use a physical item as collateral, like the borrower's car. If the borrower fails to make payments on time, the lender can potentially repossess their vehicle or another item used as financial security.
The good news is that you usually have plenty of options when refinancing your loan or figuring out a new agreement with the lender, so remember that if you ever find yourself unable to make payments! Make sure you communicate any financial hardship to the lender before you miss any payments. More often than not, lenders are willing to work with you.
---
How Do Car Title Loans Work?
If you meet all of the requirements for auto title loans mentioned above, you'll be ready to inquire about them online! With car title loans serviced by LoanMart, you can complete the entire inquiry process from the comfort of your own home by filling out this inquiry form or calling 855-422-7412 to speak with a title loan agent.
Car title loans work by allowing you to access the amount of value in your car and turn it into cash. Your car's title is the collateral for this exchange. The best thing about car title loans serviced by LoanMart is that borrowers can continue to drive their vehicle outright during the entire repayment process! Under other circumstances, like title pawns, you may not get to continue driving your car. Instead, your vehicle is taken by the lender while you pay the monthly installment.
When understanding how auto title loans work, you should learn about vehicle equity. This is what most lenders will look at when deciding how much cash to give to borrowers.1
What is Car Equity?
Title loan lenders will look at how much equity is in a borrower's car when deciding on the loan amount. Car equity simply means the value of your car versus how much money you owe on it. If you own your car outright, your car equity is typically a reflection of its current market value if it is kept in good condition. If you owe more money on the car than it's worth, you will likely have negative equity.
If you need help figuring out how much equity is in your car, you're in luck! You can easily find out by entering some basic information into this online calculator tool.
---
How Is Car Value Determined?
The value of your vehicle is very important when it comes to car title loans because it can affect how much cash you will get! If you're curious about how this is determined overall, below are some measures that most lenders will look at to decide on what your car is worth.
Make, Year, Model:
The make, year, and model of your car will be looked at when determining its value. While newer models tend to cost more money, that doesn't mean older models aren't worth anything! There are some cars out there that have consistent popularity, and this increases their overall value.
Examples of cars that have always been popular despite not being recent models are the Toyota Corolla, F-Ford Series, and the Honda Civic/ Accord
Mileage:
You probably know that a car's mileage is important when determining its value. The more miles a car racks up over the years, the more its value will depreciate. The average car owner drives anywhere from 10,000 to 15,000 miles a year!
If your mileage is below a six-figure number, you should be okay in this department. Unfortunately, the value will be affected for people who have used their cars heavily for many years.
Current Condition:
The current condition of your vehicle will be considered when deciding how much money it is worth. The classification system is usually measured using four standards: Excellent, Good, Fair, and Poor.
The majority of cars that have been owned for a while fall into the good and fair categories, which means that they are well maintained but require slight service work.
It's very difficult to have your car considered excellent! That means you basically never drive it, and it's in the same condition as it was when it was brand new. The best way to keep your car in good condition is by taking good care of it regularly. This can affect the loan limit under your loan terms!
---
How Can I Add Value to My Car?
You may be wondering what you need for a title loan. If you're worried about how much your car may be worth, don't stress about it. There are plenty of ways to add value to your car if you think it could use help. Below are some ways you can spruce up your vehicle:
Keep Up With Regular Maintenance:
Taking your car in for regular oil changes and routine service checks is a crucial way to keep it in good condition! They can seem like annoying little errands, but they're the best way to ensure that no big problems pop up and your car maintains its value over a long time.
Get Your Car Cleaned:
First impressions are very important! If your car is deep cleaned from the inside out, you may be able to increase its value. Vehicles that are left uncleaned and unkept will look like they are in worse condition than they really are. Let lenders know how squeaky clean your car is when you're applying for car title loans!
Repair Minor Damages:
If you can afford it, you should consider getting minor damages like dents and scratches repaired. This can drastically increase the value of your car and can keep it in good condition for a long time.

All of these suggestions aren't just important for inquiring about a car title loan! They're great to implement if you want to keep your vehicle in good condition for a long time.
---
How Much Cash Can I Get?
If you need to borrow money using a car title loan, you're probably wondering how much cash you can get and what the interest rates will be. The minimum loan amount is not concrete and depends on how much the lender decides your car is worth, as well as what you can afford to repay each month. Depending on whether or not you are approved, many lenders will offer you a percentage of what your car equity is.
The best part about auto title loans serviced by LoanMart is that you may get cash quickly after filling out the application online! It's super easy to submit an inquiry form, and you may even be approved within the same business day!1
---
What Documents Do I Need for a Car Title Loan?
There are a couple of essential documents you will need to have on hand to move forward with a car title loan inquiry. If, for some reason, you can't find any of the below paperwork, you should consider reaching out to your state government's Department of Motor Services! There are plenty of options for replacement documents, depending on your zip code.
When asking yourself- "What do I need for a title loan"?
Below are the required documents for inquiring about car title loans:
Government Issued ID:
As mentioned earlier, you will need to prove your identity and age before getting approved for any auto title loans. This can be done in the form of a driver's license, passport, or any other kind of valid, government-issued ID.
Proof of Car Ownership:
You can't inquire about a car title loan without being a car owner. You will need to have your car title on hand or be able to show proof that the car is registered under your name.
Proof of Income:
You will need to show proof of income in order to be approved for a car title loan. That's because many lenders want to know that you will be able to repay the loan in a timely manner. This doesn't mean that you need to work a traditional 9-5 position!
There are tons of alternative ways that you can show proof of income during a car title loan inquiry process. Below are some examples:
Social Security Benefits
Small Business Owner
Self-Employment
Worker's Compensation
Proof of Residence:
You can show proof of residence by obtaining a piece of mail! Consider using something official, like a utility bill or bank statement. Lenders will want to know your zip code and other basic information about where you live.
Photos of Your Vehicle:
Many lenders will want to see recent photos of your vehicle when considering your approval for a car title loan. As mentioned earlier, the value of your vehicle can determine how much cash you will receive, so a lender will want to see it!
You may also be asked to show at least two references from your life to show a loan provider that you are a reliable person, but this is not always required.
---
Use This Information to Inquire About a Car Title Loan Today!
Borrowing money can be straightforward if you have a bad credit history but need fast cash. It's an excellent option for anyone interested in a short-term loan situation, and you can complete the entire inquiry process online! You can start by filling out this inquiry form or calling the telephone number 855-422-7412 to speak with a title loan representative.
If you're worried about your ability to repay the loan, there are lots of educational materials that you can look into to help manage your finances better. Additionally, you can consider inquiring about how to refinance your title loan if you get to that point. There are many options available to help people who need fast cash without dealing with federal credit unions!
There are many easy ways to make a repayment plan for your car title loan if approved! Below are examples of how you can repay your loan:
Set up automatic payments with your bank account
Check in the mail
Go in person to a MoneyGram store to pay back your loan
Don't bother with a high-interest loan or other fees offered by other title loan companies. Personal loans and credit cards are difficult to pay back with high-interest rates, which can ruin your credit history. Get a title loan instead by inquiring about them serviced by LoanMart! Qualified borrowers could get access to their funds in as little as 24 hours.3 So, why wait to see if you qualify?
---