Getting a title loan is easy!
We have streamlined the process to ensure your title loan experience is fast and enjoyable. The whole process is only 3 steps and we can have money in your hands as fast as today! A car title loan is easy to qualify for because you are using the money you have already put in your vehicle to secure a loan today.
What is an Auto Title Loan?
An auto title loan is secured with your car. LoanMart is added to your car's title, but you can keep driving the car while repaying your loan (same as a bank does when you refinance the purchase of a car).
Thousands of people choose auto title loans because they're faster than other ways of borrowing. It's possible to have money in your hands in as little as one business day, and in some cases the SAME day1. These loans are also easier to get than others — you don't even need a great credit score.
Step 1: Click, Call or Visit
There are three easy ways you can apply for an Auto Title Loan:
It is totally free to apply and takes just a few minutes. In less than an hour, we can let you know whether you are approved, and the amount that we can lend to you1. If you have any questions, our loan specialists are here to help.
Step 2: Submit your Documents
We will need a few things from you. But don't worry, we won't make you climb mountains and cross the Seven Seas. We typically only need the documents listed below.
A car title in your name for a qualifying car
A government-issued photo ID, such as a driver's license
Proof of income showing your ability to repay the loan (paycheck stubs, invoices, bank account statements, etc.)
Proof of residence (a piece of recent mail like a utility bill will work)
Our agents are here if you need help submitting these documents. You can fax or email them, or use your smartphone or tablet to snap pictures and send.
Step 3: Get Your Money1
After we get your documents, you sign the loan paperwork and choose how to get paid — electronically, with a check, or by visiting one of the participating store locations in your neighborhood. You can often pick up your funds at any local participating money transfer location.
Why Choose LoanMart?
LoanMart has grown as a company to be able to offer things that the others can't — like the most competitive rates and online account access. We even have our own DMV processing team, so you don't have to waste time waiting in long lines. We will do all we can to help you get the money you need quickly.
For Title Loan Payment Locations in your city, please
choose one of the following links:
Title Loan Payments in Los Angeles
Title Loan Payments in San Diego
Picking the Right Car
Choosing LoanMart is a great first step in paying off your urgent expenses. You'll get the money and get to keep driving your car while easily making your loan payments. You can have peace of mind knowing we are only holding on to your vehicle's title. The next step is choosing which car we will work with.
Why your Vehicle may be your Best Loan Option
If you already own a car, it just makes sense. Take advantage of the value on your vehicle. You bought a car and now you have a valuable asset that you can use to get a fast loan. Even if you have some money left on your car payment, LoanMart won't let that hold you back.
What cars will qualify?
We are usually able to work with a wide variety of cars. The car's condition and age matter most when it comes to how much we might be able to lend to you. Cars that typically receive the most with LoanMart's auto title loans are newer, have limited damage and are connected to a clear car title. A slightly used 2006 Honda Civic, for example, would probably get you more than a 1986 Toyota that has been in multiple accidents. We want to make sure that we are able to provide you with a fair and respectable loan amount no matter what kind of car you own.
If you have any questions about your car or need some assistance during the submission process, our loan specialists are standing by to help you: call us or visit our FAQ page.
Vehicles you might not have thought of
Unconventional rides (like motorcycles, trucks or classic cars) can qualify for an auto title loan with LoanMart too. We recommend that you call us directly directly to better judge the equity of your unique vehicle.
If I own more than one car, which car should I try with?
If you own more than one car, it is important to choose the right one in order to get the specific loan you need. Although there are other factors, the main thing that determines the amount of money you could qualify for is the equity in your vehicle.
With that in mind, we recommend that you first decide how much you wish to receive from LoanMart. If you think your car's market value matches the amount you hope to receive, it is a good fit.
If you have multiple vehicles, consider the amount you need, and then choose the car that is closest to that number. Choosing the most valuable car could qualify you for an amount that is greater than what you need or can afford. In the same way, a car that is worth less may not give you enough funds. If you still can't decide, it's okay to submit more than one car at a time. We'll help you choose the one that's the best fit for you.
If a customer is unable to make the payments, we will do our best to work with them to avoid repossession of their car. Our goal is to help our customers out of a financial jam without making them lose their car. This is a level of understanding that would be hard to find with auto pawn loans. Let's face it—why would they care if your car is sitting in their back lot behind a fence? We do.
Our process has been streamlined to be quick and easy. Begin now so we can help get you the money you need as fast as one business day from submission.
What if you have two names on your car's title?
Your car can qualify for an auto title loan even if there are multiple names on your car's title. As long as you are noted as a legal owner of the vehicle, you can submit the title for an auto title loan. However, if you're sharing a car with someone who is on the title, they will also have to submit their information. A more detailed answer:
If your title has "or" between your name and another person's name, you are good to go.

If your title has "and/or" between your name and another person's name, give us a call to learn more about the requirements.

If your title has "and" between your name and another person's name, the other person legally owns it as well and you both need to apply.
If you want to know more about the names on a car's title please feel free to call us or visit our FAQ page
Sending in Your Pictures
Unsecured loans are their own category of loan. They can also be called installment or signature loans, but they're the same thing.
We will need photos of your car to help determine its condition. Most smartphone cameras will do. Take the pictures outside in bright natural light. The clearer they are, the easier it is for us to judge the value and the condition of your vehicle. This will help us process your loan faster.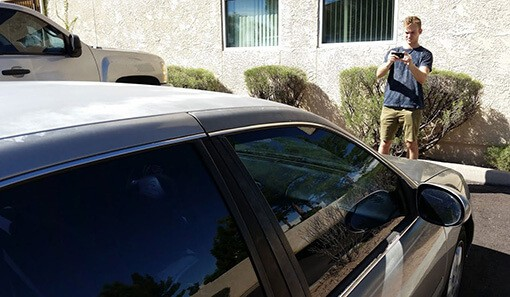 front view
Take a picture of the front of your vehicle. Hold the camera steady and wait for it to focus well.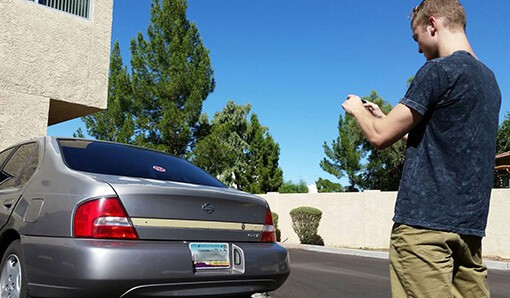 back view
Get a photo of the rear of your vehicle. Make sure that reflections don't wash out the image.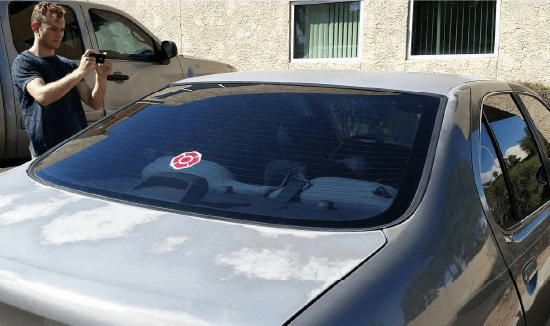 DRIVER-SIDE VIEW
Take a picture of the side of the vehicle where the driver sits. Make sure it shows the entire side of the car from top to bottom and front to back.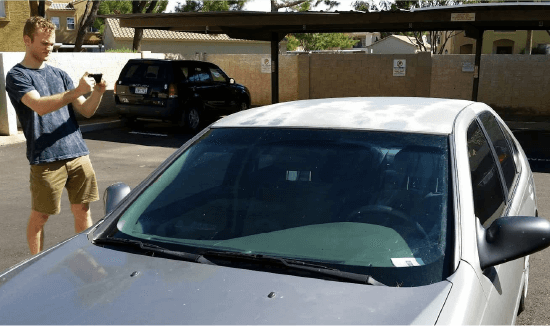 PASSENGER-SIDE VIEW
Snap a picture of the side of the car where the front-seat passenger sits. Make sure the car is not too far away in the photo.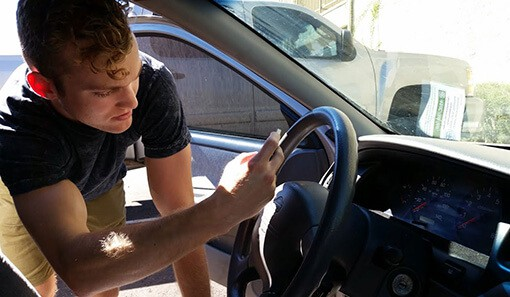 ODOMETER VIEW
Get a close-up image of the odometer so we can see how many miles are on your car. You may need to turn off your flash to avoid reflections.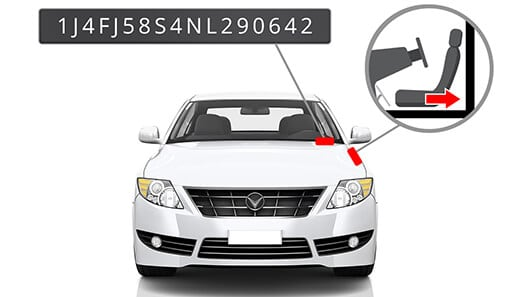 VIN (VEHICLE IDENTIFICATION NUMBER)
This is found inside the driver's door (looks like a label) when you open it. You can also see it through the window on the driver's side. Take a picture of the number wherever you find it and make sure we will be able to read it.
Where do I send the photos?
Once you have these photos, send them to us using any of these methods:
Paying off an Auto Title Loan
Once you've submitted everything we need and if your loan is approved, we will work with you to give you a payment plan that fits comfortably with your lifestyle and budget. The amount you can borrow from us is based on the equity in the car, the value of the car and the laws of the state that you live in. You can pay back your loan amount over a period of 12 to 36 months, depending on what you and your LoanMart team member agree to.
We will do our best to ensure that it is a good deal for everyone involved. At LoanMart, we succeed when you succeed.
Multiple Payment Options
We offer several payment methods to ensure that LoanMart's auto title loans can be the most convenient for you. With LoanMart, you don't even need a bank account to send or receive money. Installments of your loan can be paid back to LoanMart each month in any of these ways:
Mail them to us at our payment center
Pay by phone with a credit or debit card
Set up automatic electronic payments from a checking account
Pay online by using the My Account tab
Pay on your smart phone with our LoanMart App
Visit a payment location in person
Detailed Monthly Billing Statements
Just like with any other loan, you will receive billing statements once a month from us if you take out an auto title loan. This letter will contain important information about your loan, including:
Payment History
Basic Account Information
Billing Information
Payment Methods
Important Messages
Pay Early
At LoanMart, we don't believe in pre-payment penalties or balloon payments. Unlike the competition, we'll never charge you a fee for paying early.
If you have any questions, we encourage you to get in touch with us. Call our toll free number 1-855-422-7412.
Bad Credit or No Credit
Everyone goes through tough times in their life. Unfortunately, your credit score may show that. Negative credit issues can often get in the way when looking for help when you need it the most. Your credit rating may haunt you in other places, but not at LoanMart. LoanMart wants to help you move on.
Your Past Doesn't Matter
We won't judge you from your past. We will decide if we can lend you money based on your ability to make payments now. We look to see if you are in credit counseling, have an active bankruptcy or if you have any other title loan and the status of it. But, even if you have these current issues, we have solutions.
Poor Credit History?
We lend money that's based on the equity in your vehicle. That is why a poor credit history does not carry a lot of weight in influencing our lending decision.
Flexible Payments
Regardless of your credit score, we will work with you to help you get funded with a payment plan that fits well with your lifestyle.
Build Your Credit Score with Us
LoanMart reports your payment history to Experian and Equifax. So, a positive loan experience with us may have a positive effect on your credit score.
Your Past Does Not Equal Your Future
LoanMart knows that life can place unexpected hurdles in your way. We are here to help you through them. This is the hope toward a brighter financial future that you have been looking for. Get started now.
How You Can Use Your Cash
Use it any way you want! Every one of us has had to face emergency expenses at some point in our lives. Money matters can be a sensitive subject for some. LoanMart won't ask you questions other than those that are strictly business. There are also no restrictions on how you can spend your loan from LoanMart. You don't have to tell us what you want to use your money on. But, here are some customers who chose to share their stories of how LoanMart helped them.
Thank you for taking a chance with me. I was in a serious financial crunch and 1800LoanMart made the difference in keeping my house. I appreciate you in every way. God bless you and thanks again.
I truly want to take the time to thank those of you at 1800LoanMart. You are truly a blessing in this time of an emergency. I am grateful for your trust. I will honor it by making payments on time. Thank you, again.
We want our customers to review all of their options. If you think an auto title loan may be the best fit for your own situation call us today at 1-855-422-7412 so we can try to get you money in as little as the next business day.