If you are currently in a tough spot financially, you are not the only one. Life can throw you some unexpected curveballs, and you can't anticipate every single expense that comes your way. When you are struggling, sometimes the solution you most need is some fast funding. So, where can you get some quick cash without a million hoops to jump through?
This is where LoanMart may be able to help you out. Car title loans can be an excellent option for individuals who need some cash quickly for a financial emergency. Car title loans don't have the same long list of requirements a lot of other personal loans do.
Car title loans can make it possible for you to get the cash you need quickly with a speedy inquiry process.3 When you work with LoanMart, you'll have title loan agents available to help you six days a week with extended hours. This way you are never left sitting around waiting to be approved! Call 855-277-4847 today to get your title loan questions answered.
---
Car Title Loans Can Get You Quick Cash
So, what is it exactly that makes car title loans so different from other alternative loan options?
Other loans may have long and drawn-out applications that have a long list of requirements. Many of these requirements can be difficult to meet, even if they have the ability to repay the loan. Car title loans are slightly different because they are secured loans.
Car title loans are secured through your car's title as collateral for the borrowed amount. When a loan is secured rather than unsecured, the funding process can be a bit more streamlined, and it's possible to be approved with a less than perfect credit score.1
The most important qualifying factors for car title loans are your ability to repay the loan and the value of your vehicle. This makes it significantly easier for you to get your cash quickly!3
The other initial requirements for a car title loan are that you must:
Be 18 Years of Age or Older
Have The Title in Your Name for A Car with a Qualifying Amount Of Equity
Show That You Have the Ability to Repay the Loan Through Proof of Income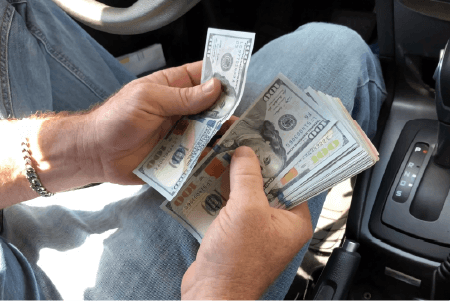 ---
What Kind of Income Do I Need to Qualify for Quick Cash?
For many traditional loan options, a certain type of income is preferred by many lenders. If you do not work a 9-5 job, you may be curious about your chances to qualify for quick cash. Here at LoanMart, there is no one right way to make a living. That's why alternative forms of income can be accepted! Some of the most common forms of income that are alternatively accepted can be:
Settlement Income
Self-Employment
Worker's Compensation
Retirement Income or Annuity Payments
Pension Income
Not sure if your income will qualify for quick cash from a car title loan? Don't hesitate to reach out to the experts that can help. Call a title loan agent with LoanMart today at 855-277-4847 to learn more about alternative income and your loan options.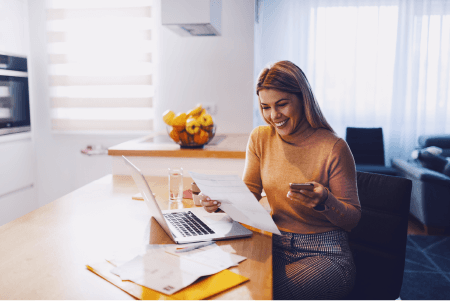 ---
How Do Quick Cash Title Loans Work?
You should not have to jump through a million hoops to get the quick cash you need. When you are serviced by LoanMart for your car title loan, the process is quick, easy, and painless.
Here is a basic overview of exactly how a car title loan works:
Apply for Approval: You can get approved for your car title loan through an online process, or in person, depending on what is most convenient for you. All you need to do is give LoanMart some basic information about yourself, send in some documents, and take some pictures of your car. This can be done in one afternoon!3
Sign the Contract: Once you've completed all the necessary steps for approval, you will be able to look over your contract and loan terms carefully before signing. The lender will hold onto the title of your car and place a lien on it.
Get Your Funding: You may be able to get your money in as little as one business day.3 Now that is what we call quick cash! After you've got your money, you will still be able to drive your car as you usually would as long as you make your monthly payments on time.
Pay Off Your Loan: Each month you will pay down the loan bit by bit as you continue to use your car as you normally do. The terms of the loan will always include what the monthly payments will be so it's a good idea to budget it in from the moment you sign the loan agreement.
Get Your Title Back: Once you pay your loan in full, the title is returned to you without a lien!
---
There Are Many Different Ways to Use Your Quick Cash
If you are searching for quick cash, you may be curious about what you can use your funds for. If you apply for a car title loan online, you may think that your financial situation is unique. However, the reality is that many people across the United States struggle financially.
Everyone can struggle financially regardless of their credit score or circumstances. While your financial situation may be different than another borrower's, you may find that you can spend your cash in similar ways! Some of the most common ways for a borrower to spend their title loan cash are:
To Pay for a Wedding or Event: If you find yourself unable to cover the cost of a wedding or large family event, you may not know where to turn. Fortunately, if you qualify for quick cash through a car title loan, you could use your funds to cover these expenses!
Car Repairs or Maintenance: Any car owner can attest that a vehicle is an expensive asset. Cars can constantly break down and they always need maintenance to last. If you need to repair your vehicle or maintain it, you may not have the cash up front to do so. Luckily, you may be able to use your title loan funds to cover those expenses.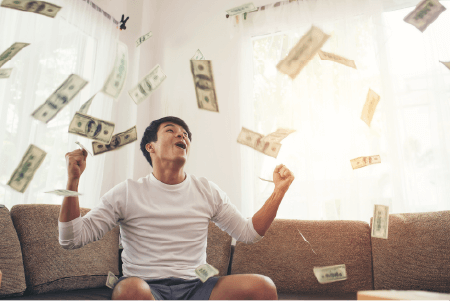 Funeral Expenses: When a loved one passes, the expenses for a funeral are not cheap. Typically, the average burial can cost anywhere between 5,000-10,000. If you do not have the means to pay it, you may be able to use your quick cash from a title loan to cover those costs and give your loved one a proper burial.
Debt Consolidation: If you have found yourself way in over your head, you may be wondering what your options are. If you are looking to consolidate your debt, a title loan could be the perfect financial resource to consider.
A Big Purchase or Unexpected Expense: Let's be honest, life happens. You may have a big expense or an unforeseen expense pop up. If you do not have the means to handle it financially, you may think you are stuck. However, qualified borrowers through LoanMart could use their title loan funds to cover an unforeseen expense!
---
Required Documents for Quick Cash Title Loans
The documents that are required for a car title loan are pretty standard. They are likely things that you have in your wallet, in your car's glove box, or even tucked up in your file cabinets. Gathering them up now will make the approval process fly by even more quickly.
These are the documents you will likely be asked to send in for your car title loan:
Proof of Income
Fortunately, your proof of income does not even need to be the traditional pay stubs, although a few of those will do the trick. But you can also use some bank account statements, a few years of tax records, social security statements, or even pension account statements.
Proof of address
Since title loans are not available in every state in the US, it's important for you to show proof of residency. You can do this with a household utility bill, a credit card statement, a lease agreement, a mortgage agreement, or a certificate of voter registration.
Title of ownership
To qualify for a car title loan, the vehicle title must be in your name. This provides proof that you are the owner of the vehicle. If there is more than one name on the car title, you may still be able to use it during the approval process. The car's title must be free and clear! If you have lost your title or it is not currently in your name, that is an issue. Luckily, a loan agent with LoanMart could walk you through the transfer/replacement process at your local DMV to get your title in the right shape for a loan.
Government issued identification
Your identity and age will need to be verified. Typically, any type of government-issued photo ID should do. This could be a driver's license, passport, social security card, military, or other state-issued ID card.
Pictures of the vehicle
To confirm the condition of your vehicle, you will need to send in a few pictures of your car from various angles. You can take them on your mobile phone and text or email them in, so you don't have to take your car in for an in-person inspection. This way you can get your money even faster! That's a nice way to get quick cash.
Two references
LoanMart may ask that you provide a few references, either personal or professional, to vouch for your character and financial reliability!
---
What are the Benefits of Using a Title Loan for Fast Cash?
With car title loans serviced by LoanMart, approved borrowers can get their cash in as little as 24 hours.3 But the benefits of a title loan serviced by LoanMart do not stop there! Take a look at some of the perks you can take advantage of after you receive approval for an auto title loan:
Online Convenience: Some title loan providers will require you to apply in person. That can be a big hassle to deal with! Luckily, LoanMart understands that time is money. You can inquire for a title loan directly from your smartphone or computer- without needing to leave the comfort of your home.
Helpful Customer Service: The customer service agents you interact with can make or break your experience with LoanMart. When you call an agent at 855-277-4847, you can expect loan experts that care. Additionally, agents are available outside of the regular 9-5 hours of a workday! If you have questions about your loan that need to be answered, the experts are LoanMart are available for extended hours to help.
Flexible Approval1: Since title loans are a secured loan option, you can expect an approval process that is made with flexibility in mind.1 You can also expect high approval rates when you are searching for quick cash from a car title loan serviced by LoanMart.1
A Quicker Way to Get Cash1: Not only can you get your cash in as little as one business day, but you can also expect a fast approval process! The entire approval process with LoanMart is streamlined to be efficient and fast for convenience. If you're short on cash, you need a loan option that can keep up with you and your time constraints. LoanMart can offer a quick approval process that was designed with your financial emergencies in mind.
---
LoanMart Offers Efficient Service for Quick Results
LoanMart works hard to be available when you need us! We understand that financial emergencies don't wait for convenient times. You could need quick cash any day of the week which is why LoanMart makes it a point to be available six days a week with extended hours.
Get quick cash through car title loans in as little as one business day with the help of LoanMart!3
Don't wait to see if you can qualify for the financial help you need!