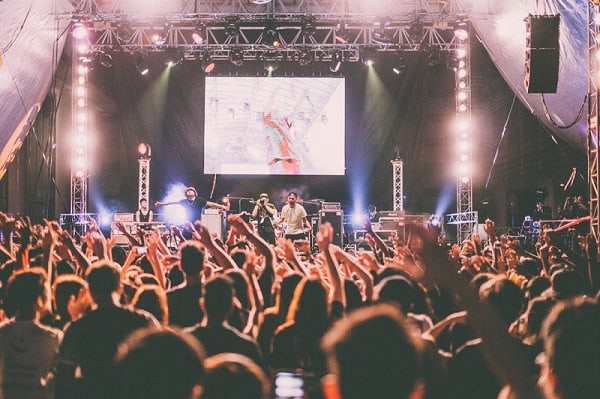 Sometimes it can feel like it's too expensive to go out and explore LA. Paying for restaurants, nightlife, shopping trips and event tickets…the list of expenses goes on. But, money problems shouldn't keep you from enjoying one of the country's best cities. When it comes to experiencing all that's going on in Los Angeles and Southern California, you can do a surprising amount without spending a dime if you do your research. Luckily, we've done it for you. Whether you're native or new to LA or just visiting, here's our guide to exploring the city through its best free events.
Free Shakespearian Plays
All the world's a stage, including Griffith Park and others across Southern California. Throughout June and July, check out performances of these famous plays at the Free Shakespeare Festival hosted in The Old Zoo in Griffith Park.
Shakespeare by the Sea also brings plays like Macbeth to Southern Cali's ocean-side parks for free.
Wear layers, bring picnic blankets and snacks to enjoy an evening of free entertainment.
Free Museum Days
Visit one of over 30 museums participating in the SoCal Museums Free-For-All event in January. The doors will be open in these museums all day to view art, culture and science exhibits without paying admission.
You can also find free admission to Los Angeles' museums every day of the week. Check out this chart of when you can visit each museum for free.
LA Art Walk
The Downtown LA art walk is a combination of San Pedro, Long Beach and Pomona's art walks where many styles and cultures come together. The galleries, street art and street performers all cost nothing to look at.
On the 2nd Thursday of each month, crowds of visitors and Angelenos alike flood the streets and sidewalks of Spring and Main streets between 2nd and 9th to see it all. For first timers, start your night at the Art Walk Lounge (634 S. Spring St.) for sponsored displays and an event map. Then, venture from there.
Chinatown Summer Nights
Experience LA's Chinatown on the 1st Saturday of every summer month through this free festival. Spend the evening watching cooking performances by Chinese chefs, hearing live music, seeing outdoor video projections or taking part in Chinese cultural activities like fruit carving during Chinatown Summer Nights. This is one of the best ways to get to know LA's iconic Chinatown—and it's free.
International Pillow Fight Day
On April 1st every year, cities across the world come together to celebrate International Pillow Fight Day. Los Angeles, of course, is no exception. You won't want to miss this event where people from around Los Angeles gather in Pershing Square with their pillows for battle. One of the after parties might cost you a restaurant bill, but it doesn't cost anything to get in on the action for the pillow fight.
Pasadena Chalk Festival
Every summer, about 600 artists come out to create temporary works of art with chalk on the streets for the Pasadena Chalk Festival. Watch the artists in their creative process and see the colorful results of this unique art form.
The art ranges from optical illusions, re-creations of famous art to political and social art. Each year is a once-in-a-lifetime experience because the murals will be gone as soon as it rains.
Free Yoga
With the amount of free yoga classes around Los Angeles, you could become an experienced yogi without ever paying for a studio membership. See this list of the best places you can take a yoga class for free. As a bonus, many of these classes are outside where you can enjoy LA's beaches and parks in a new way.
Free Live Music and Festivals
There are always free concerts going on in Los Angeles' bars, restaurants and parks. A lot of times they're easy to stumble upon, but here is a list of some of the best places you can count on good and free live music every week.
Also, mark your calendar for these free music festivals:
Movies on the Beach
Long Beach's Granada Beach hosts Moonlight Movies on the Beach throughout the summer. Watch the sun go down, then watch a crowd-favorite movie like Grease on the big screen at dusk. Dress for a chilly evening and bring blankets or chairs to set up in the sand.
Free Entry Days in the National Parks
For 10 days out of the year, all US National Parks are free. Take the opportunity to take a trip from Los Angeles to see the natural beauty in your backyard at Death Valley, Joshua Tree, Yosemite, Sequoia or Kings Canyon on these days.
Beach Sporting Events
Going to the beach is always a great idea for a free and fun thing to do. But, when surf competitions or other events are going on, it is extra exciting.
You can watch the Paddleboard Race & Ocean Festival in June at the Santa Monica Pier for free. On top of the paddleboard and SUP races, you can watch elite beach volleyball games, live bands, tour a pop-up surf museum and even see some surf culture celebrities make appearances.
Also, check out the U.S. Open of Surfing in July in Huntington Beach for over a week of entertainment and watching professional surfers on the beach. You can also catch professional skateboarding and BMX competitions as part of the event.
Riverside Airshow
The Riverside Airshow takes place every April at the Riverside Airport. The event includes free admission to see areal plane performances and aerobatics as the highlight.
Volunteer
There's no better way to get to know the Los Angeles community than through volunteering. Whether you're helping a charitable organization or volunteering to help run one of LA's many events, this is a great way to spend time in Los Angeles without spending money. There are volunteer opportunities everywhere. If you don't know where to start, here's a calendar of opportunities and events to get involved in Los Angeles.
Free Events Any Day
You can find free music, workshops, film screenings and more here every day. See the listings for today's date or pick a date on the calendar to plan ahead. With this as a guide, you can keep your schedule full of plans that won't leave your wallet empty.