---
What Kind of Loans for Home Repairs Can I Get to Fix Up My House?
Looking for emergency home repair loans to fix up your house? There are a few different types of loans you can get to fix up your house, including the following:
HELOC: You can apply for a home equity line of credit (HELOC) if you need money for home repairs, renovations, or other major expenses. A homeowner can access the amount of equity they have built up in their home with a HELOC. With a HELOC, the borrower is given a credit limit that they can borrow against. A borrower can withdraw money whenever they need it, up to the established limit. However, because the borrower uses their home as collateral to secure the HELOC, if their payments become unmanageable, they could potentially lose their home.
Credit Card Cash Advance: You can borrow money against your card's credit limit through a credit card cash advance and pay for small home repairs. However, credit card cash advances may have higher interest rates than regular credit card purchases, so they can be tough to repay if you are in a bad financial situation.
Title Loan: A title loan could be an option to consider if you need to repair a roof, replace a window, or remodel the bathroom! In fact, you can use a title loan for many different types of home repairs and renovations. Car title loans are a type of secured loan, meaning that an applicant is required to provide an asset in order to guarantee the loan. With a car title loan, you can pledge the title of your car or truck as collateral for the loan and find out if you qualify for emergency funding!¹
Personal Loan: Unsecured personal loans can be used to pay for home renovations and repairs. Typically, most borrowers will use this type of personal loan to repair their roofs, upgrade their bathrooms / kitchens, or install a new pool. If you have a strong credit history, you may be able to qualify for unsecured home repair loans and a lot of other financing options for home repairs.
Is it Hard to Get Financing Options for Home Repairs?
Getting a loan to fix your house shouldn't be a hassle. But, if you are experiencing financial difficulties, where can you find loans for home repairs or renovations?
If you need emergency financial assistance to cover the cost of home repairs, financing options are available.
Some of the most popular options to pay for home repairs / renovations are credit cards, HELOCs, or personal loans. Or, a car title loan might be another valid option for you to consider if you need to pay for home repairs. With title loans serviced by LoanMart, you can access a fast and convenient online application process if you're in a hurry to fix your house!¹ ³
Find out if you qualify for auto title loans in no time by filling out the pre-approval form or calling 855-422-7412 to speak with a LoanMart title loan agent.¹
What's the Average Cost of Home Repairs?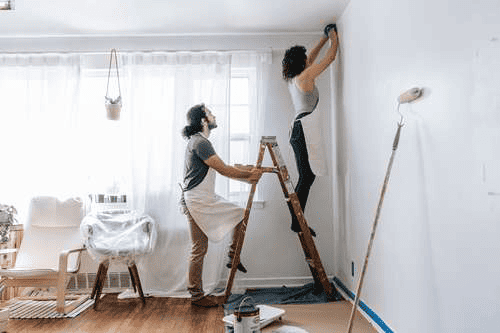 Call Our Team
Take the first step and call our toll-free hotline to speak with a specialist.
The cost of home repairs can be influenced by a number of factors, including:
The Required Tools
Type of Renovation or Repair
Location of the Home
The Materials
The Amount of Labor Involved
It is important to perform regular maintenance and small repairs over time in order to maintain your home's current condition. If you plan to stay in your home for more than five years, it does not matter if it is brand new – you will probably need to spend money on home repairs or maintenance at some point in the near future. Unfortunately, the cost of home repairs is rising thanks to inflation and nationwide labor shortages.
If you are a homeowner, you probably understand how difficult it can be to repair unexpected damage to your property. Natural disasters and storms can cause an extensive amount of damage. An average of 1 in 10 homes within the U.S. were impacted by storms in recent years, causing billions in property damage.
Some home repairs can be done yourself, but if you want to avoid the hassle of going to Home Depot, you may want to consider a home repair loan. That way, you can pay an experienced professional to handle everything for you. You can apply for emergency funding today through a car title loan!
You can potentially get extra money for professional help by using your car title as collateral for an online title loan. Here are some of the most common home repairs and their associated costs:
Plumbing Repairs: Pipe leaks, clogged drains, blocked toilets, faulty faucets, and damaged washers are all types of plumbing issues that will need to be addressed ASAP. Homeowners and renters without a plumbing background may need to hire a professional to fix their problems. While the cost of plumbing repairs can vary depending on the issue and your state of residence, the average plumber will charge anywhere from $45-$200 an hour to provide these services.
Electrical Repairs: Electrical home repairs typically involve the electrical wiring and appliances in a home. Some of the most common electrical repairs include replacing light fixtures, rewiring a home, and repairing circuit breakers. The cost of these repairs will vary depending on what needs to be done, but you could expect to pay anywhere from $100-$8,000.
HVAC Repairs: HVAC repairs refers to heating, ventilation, and air conditioning repairs within your home. Depending on where you live, having a heating or cooling system that functions properly can be essential. The good news is that a quality HVAC system can last for over a decade, but the repairs can be expensive. The average cost to install a new furnace is between $2,800 and $6,800. But, there are a number of factors that contribute to the cost of installing a new furnace, including the type of furnace and the amount of work involved.
Roof Repairs: Generally, industry professionals will perform roof repairs in order to restore or enhance the current condition of a roof. It's important to keep a roof in good condition to avoid serious leaks, save energy, and protect your home from the elements. Depending on the materials and the size of the roof, a homeowner could spend an average of $5,500-$11,000 to replace their roof.
Painting: The cost of an interior or exterior paint job for a home depends on the amount of square footage you need to cover. It can cost thousands of dollars to paint a large home, so keep that in mind if you need home repair loans in the future.
How Can I Budget for Home Repairs in the Future?
So, how can you budget for home repairs in the future? Take a look at some of your options:
Track Your Expenses: Track your monthly expenses and create a budget to figure out how much you can realistically set aside each month for future home repairs. You can potentially save a lot of money by changing your spending habits and cutting out any unnecessary expenses.
Create an Emergency Fund: Set aside a percentage of your monthly income in order to create an emergency fund to cover unexpected home repairs. Life is full of surprises, and you'll feel more financially secure if you have a solid savings account for when things break down.
Prioritize: In some cases, it may be necessary to prioritize certain home repairs over others. Although it would be nice to have a fresh coat of paint in your kitchen, other repairs may take precedence – especially if your furnace just gave out!
Do it Yourself: There are many different types of home repairs that you can do on your own, such as hanging drywall, retiling a backsplash, or removing water from your gutters and downspouts. Don't be afraid to ask your family and friends for help! It can be possible to repair your house on a budget.
Consider All of Your Financing Options: Before you can apply for any type of financing for home repairs, it is important to consider all of your options. Shop around and find the best financing option for your budget, financial goals, and current priorities.
Apply for Online Title Loans: If you're looking for loans for home repairs, you don't have to look far! You can apply for title loans serviced by LoanMart online and use your loan proceeds for home repairs.¹
Where Can I Get Home Repair Loans for Bad Credit?
Are you searching for home repair loans for bad credit? If you have a poor credit history, it can be tough to qualify for an unsecured loan or a Home Equity Line of Credit. And, if you do qualify, you may receive a higher interest rate, which is not ideal.
Whether you need to repair your home or renovate it, a title loan could be the solution you've been searching for! You can potentially qualify for a title loan without a perfect credit history. With title loans serviced by LoanMart, qualified borrowers can access competitive interest rates and receive their title loan proceeds as soon as the next business day.¹ ³
If you are looking to obtain a car title loan to pay for home repairs, you will need to be able to demonstrate that you have the ability to repay the loan during your application. With LoanMart, you can expect a simple and straightforward application process that was designed with your needs in mind. Below are more benefits you can expect when getting a title loan serviced by LoanMart:¹ ³
Quick Funding: Eligible borrowers can choose direct deposit and get their title loan money in as little as one business day! The application and approval process for a car title loan serviced by LoanMart can be quick and flexible.¹ ³
You Don't Need a Perfect Credit History: People with bad credit may not be able to obtain approval for traditional loans from a bank or credit union. Title loans are secured by collateral, however, so the approval process can work differently. You don't need a perfect financial history to qualify for a title loan, and bad credit is not always an issue.¹
No Prepayment Penalties: If you qualify for a title loan serviced by LoanMart, you can pay your loan as quickly as you are able to / want to! You don't have to worry about prepayment penalties or hidden fees.5
Apply Online or Over the Phone: Need to access home repair loans quickly? You can begin the application process for title loans online or over the phone without visiting a store! This prequalification form only takes a few minutes to complete, or you can call 855-422-7412 to speak directly with a LoanMart title loan agent.¹
How Can I Get Title Loans for Home Repairs?
Many people who apply for title loans may need to access money in a pinch. If you need emergency money for home repairs, title loans serviced by LoanMart may be able to help.¹ ³ Even with homeowner's insurance, the cost of repairing a home after a big storm can be financially and emotionally devastating. If you do not have an emergency fund to take care of unexpected expenses, you may feel defeated and hopeless. But, a title loan serviced by LoanMart could be an option to consider for both large and small home repairs.¹ ³
Check out the three-step process to apply for quick funding during an emergency:³
Call or Click Online: Call a LoanMart title loan agent at 855-422-7412 or complete the online title loan questionnaire to get started. LoanMart title loan agents are available six days a week for extended business hours to help prospective borrowers!
Upload the Documents: LoanMart can make it simple for you to send your important documents from the convenience of your home. A LoanMart title loan agent will ask you to submit the necessary paperwork to verify your information and vehicle ownership during the second step of the application process.
Get Your Car Title Loan Money: If you are approved for a title loan serviced by LoanMart, the last step is to sign your loan contract and choose how to receive your loan proceeds.¹
Don't let your house fall apart just because you can't find home repair loans! You can apply for an online title loan serviced by LoanMart even if you don't have a perfect financial history. Start your inquiry for a title loan today by filling out the prequalification form or calling 855-422-7412.¹ ³