Life can throw you for a loop sometimes. Maybe you received an unexpected bill. Maybe your roof collapsed. Maybe emergency dental surgery knocks your budget back. Whatever the case, if you need cash in a hurry and you're looking for title loans online in Cleveland, look no further than title loans!1
Title loans serviced by LoanMart can help you access a fast and easy process that may be able to help you get the funds you need as soon as possible.1 3 Worried you won't qualify because of bad or no credit? Don't! With title loans serviced by LoanMart, you may be able to get high-rated service and the cash you're searching for by applying now.1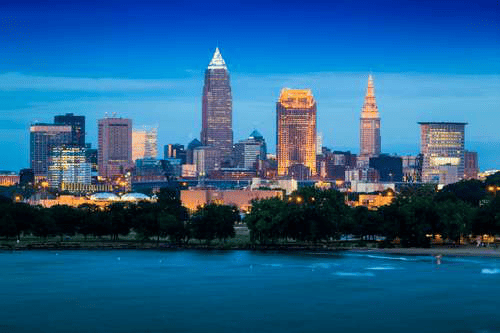 How Can I Qualify for an Online Title Loan in Cleveland?
Unfortunately, some Ohio lenders make you go through the wringer when you're applying for a loan from them and won't consider lending to you unless you meet all of their requirements. These requirements often include things like a good credit background, which can be tough to meet if you are experiencing financial issues. This often makes the title loan process a frustrating and demoralizing experience. But, in an ideal world, you shouldn't feel frustrated and demoralized. With title loans serviced by LoanMart in Cleveland, Ohio, you can access an easy way to apply for title loans by using the most simple and streamlined online process available.
If you're concerned about qualifying because of credit issues, there's no need to be. Fortunately, with a title loan serviced by LoanMart, you can still apply even if your credit score isn't where you would like it to be.1 To begin applying for a title loan online, simply provide proof of ownership of your car, a consistent income, and your car title.
Frequently Asked Questions about Title Loans in Cleveland, Ohio
What kinds of interest rates come with LoanMart Servicing Title Loans in Cleveland, OH?
Title Loans serviced by LoanMart in Cleveland, OH, come with competitive industry-wide interest rates.
Can you get more than one title loan with LoanMart Servicing Title Loans in Cleveland, OH?
Only 1 title loan per any 1 vehicle is allowed at a time. However, if you have a second car in a spouse or partner's name it may be possible to take out an additional title loan using the alternative car.
How fast can I get my money with LoanMart Servicing Title Loans in Cleveland, OH?
Upon approval, you usually get your money as soon as the same day or the very next business day.3
Is a Regular Income a Requirement to Get an Online Title Loan in Cleveland?
No! In the past, a paycheck was a mandatory requirement for getting an online title loan in Cleveland, Ohio. But not now. Today there are many different ways to make a living and support yourself and your family. Title loans serviced by LoanMart understands that, which is why all you need to begin qualification for an online title loan in Cleveland is proof of a confirmable source of income. 1 But what exactly is a confirmable source of income? These can include:
Paycheck Stub(s)
Bank Statements
Government Award Letters
PayPal Transaction History
Documentation of Legitimate Claimed Income
Not sure if your income will qualify for an online title loan? Let an agent with LoanMart walk you through the inquiry process and discuss acceptable forms of income with you! Call 855-422-7412 to learn more.
How Do I Find an Online Title Loan in Cleveland?
Oftentimes the most irksome part of getting a title loan is how long the process takes. After doing your research, you must leave your home or work and go down to the company to fill out an application. Following that, you have to sit around and wait for your application to be approved, and only then can you receive your money. It's a lot of ask of someone to take time out of their busy day to go through all that. But  LoanMart wants you to get the funds you need as quickly and as easily as possible.1 3
When applying for title loans serviced by LoanMart, you don't have to leave your home or your work. Just answer a few questions on the online application and submit the form. Once your form has gone through, a loan agent will review your answers and let you know if you are approved. Upon approval, you can decide how you will receive your payment remotely. If you have more questions, feel free to call at 855-422-7412 or use the online tools to reach out.
Do I Need a Specific Car to Qualify for an Auto Title Loan in Cleveland?
To qualify for an auto title loan in Cleveland, you must meet a few requirements. The largest requirement is that you have a qualifying vehicle with a title in your name. If it is not currently in your name because you are still financing it, you must be close to paying it off.1 That's because your vehicle's title is the collateral for the loan. So what is a qualifying vehicle, then?
A qualifying vehicle is just one that has a certain amount of available equity. In layman's terms, equity is just the difference between the car's market value and what you may owe on it (if at all). While you may think that only newer cars have equity, that is simply not the case! Many different makes, models, and years of vehicles can have significant equity. There are a few factors that contribute to a car's equity:
The Current Condition of the Vehicle: Your car's condition will impact its value on the market. The more you take care of your car, the more valuable it could be! This means regular oil changes, checkups, and tire rotations.
The Make, Model, and Style of the Car: If you have ever searched for a used vehicle on Carvana or Kelley Blue Book, you know that these factors matter when it comes to price! The make of the car, as well as the model and style, will impact the price. Additionally, any extra features associated with the vehicle could contribute to its value. Things like heated seats, leather seats, or even a sunroof can impact equity.
The Year the Car Was Manufactured: In some cases, the newer the vehicle, the more equity it can potentially have. However, older vehicles can potentially qualify for a car title loan if they are classic vehicles or have been well maintained!
Any Modifications to the Car: Some modifications to a vehicle can improve its value. A new transmission can do wonders! However, some modifications can affect the value negatively- including spoilers, alloy wheels, etc.
What Can I Use My Title Loan Funds For in Cleveland, Ohio?
Have you found yourself in a tough financial situation? If so, you are probably not surprised to know that you are not alone. Millions of Americans are struggling with financial issues. Many may not have the savings to back them up when an unexpected expense hits them! So, they turn to a title loan to save the day.
But, you may wonder what your title loan funds can be used for. The answer is that there are some limitations, but a lot of things! Some of the most common ways that title loan borrowers can use their funds are:
Debt Consolidation: Some borrowers will use their title loan funds to consolidate their debt and pay off other lenders. That way, they can focus on one large payment each month to tackle.
Travel Expenses and Vacations: Travel expenses are rising! Plane tickets are tough to pay for unexpectedly, and so are vacations. Maybe you need to hop on a plane and see your parents. Or, your sister is having the baby early- and you must be on the next plane to Cleveland, Ohio! If you need help covering unexpected or expected travel costs, a title loan could be effective in this regard.
Wedding Costs: Are you getting married soon? Weddings can be tough to pay for! Most venues can cost $10,000 or more. Additionally, catering is often anywhere from $2,000-5,000, depending on how many people you have! Whether you want something extravagant or small, a title loan could help you pay for your big day.
Stretching Your Budget: Whether a car repair or another unexpected bill knocks you off your feet financially, you need extra help. You may be able to use a title loan to stretch your budget this month and get you where you need to be financially!
Home Repairs: One leaky roof or busted washing machine can leave your wallet in tears. If something breaks, you have to fix it! However, home repairs can often be expensive to fix. Consider using a title loan to cover those unexpected home repairs.
How Do I Get an Online Title Loan in Cleveland?
Straight from the comfort of your home, office, or even car! Just apply for the cash you need wherever you have internet access. With title loans, you can get your money with a minimum amount of hassle.1
If you need more information or want to talk to someone at any point during the process, please reach out to a loan representative who can give you answers at 855-422-7412.
Want more details about the steps you'll take when applying for Cleveland title loans online? Keep reading!
Step One: Answer the questions on the pre-qualification form to help better understand you and your vehicle. Depending on how you answer, your car could possibly even receive a pre-qualification on the spot.1
Step Two: Keep your phone handy because a loan representative will be reaching out soon to let you know what other information is needed from you. This can include requests for a form of government-issued photo identification, proof of income, and your car title. You will then be told where to send these documents.
Step Three: Upon approval, add your signature to your loan agreement and choose how you would like to receive your funds.
Once all three steps are completed, you'll have your funds and can get on with the rest of your day.
What Documents Do I Need to Have to Get an Online Title Loan in Cleveland?
Government-Issued Photo ID This can include a state-issued ID, a driver's license, or a current passport.
Address Verification This can include a recent bill, a lease, a mortgage title, or a voter registration card.
Income Verification This can include a recent pay stub, a statement from your bank, or any other official document to verify how you support yourself financially.
Pictures of Your Vehicle This typically includes photos of all visible sides of your car, your odometer, and your VIN.
Your Car's Title: The title must be in your name.
References: Please provide four references, and remember that LoanMart accepts both professional and personal references.
After submitting all of the necessary documents, the title loan process tends to move quickly1. But please know that if anything else is required from you, a loan representative will reach out and let you know.
How Long Will It Take for Me to Get an Online Title Loan in Cleveland?
It's impossible to say exactly how long the loan process takes since this can vary from customer to customer. Still, some applicants have been able to receive their loan within one business day after applying!3 In fact, on certain occasions, some customers have even received their cash the same day they apply.1 3
If you are facing a tough financial situation, you likely want it resolved fast. In some cases, you may not have any time to waste! Luckily, with a title loan serviced by LoanMart in Cleveland, Ohio, the approval process is streamlined and straightforward for your convenience. You can easily apply from wherever you have internet access on your smartphone or computer. That means no more waiting in long lines to find out if you can qualify for the funding you need!1
What Happens if I Can't Pay My Title Loan in Cleveland?
Sometimes unexpected expenses pop up during inopportune times, which is why before you apply for a loan, it's important that you be one hundred percent positive you'll be able to pay your loan every month. If you think you may be short on funds when submitting your payments, you may want to look into different ways of acquiring the money you need.
If, however, you do decide you can keep up with your payments, please know that if at any time you cannot fulfill the terms of your loan, you may be at risk of repossession, and your vehicle could potentially be sold at auction. If you realize you will fall short of the amount you owe, please contact 855-422-7412. Communication with your title loan agents before you default is important!
How Do I Receive the Funds for My Title Loan in Cleveland?
Once you have been approved for a loan, you may choose how you want to receive your money in one of the following three ways:
Through a Bank:Simply submit your routing and account numbers, and your money will arrive in your account. But remember that each bank differs in their payment process, which means the amount of time it will take you to receive your money will depend on the bank you use.
With a Check: Not interested in giving out your banking information? That's fine. LoanMart is happy to issue you a check to cash at your bank or any other check-cashing service near you.
In Person: Pick up your funds at any participating money transfer location near you.
Pay Back Your Loan Funds in Your Area
You can pay back your loans by visiting a MoneyGram location nearby. After choosing your preferred location, provide the transaction number given to you by your loan representative and a photo ID. You can find a MoneyGram in the following Cleveland stores:
Walmart
Other participating locations
Get Started With a Title Loan in Cleveland, Ohio Today!
Your financial dreams don't have to start someday. Start them today by applying for a title loan that might help you live the life you're destined to live by clicking here.1 Potentially receive your approved funds in as little as one business day with a title loan in Cleveland, OH.1
Ready to pay back your title loan? Check out the map below for MoneyGram locations nearby: