Can I Get a Flexible Loan in Youngstown, Ohio?
When looking for a flexible loan, there are several, different types of loans to consider, such as:
Secured Loans
Unsecured Loans
Fixed-Rate Loans
Personal Loans
There are two types of loans to consider, secured and unsecured. Secured loans require the use of collateral in exchange for funds and may be easier to acquire. This may be the ideal loan to use when looking for a flexible loan, as they have more flexible options available. Unsecured loans do not require collateral, so they may be harder to obtain.
Title loans are secured loans, meaning you may expect flexible terms and an easy, straightforward inquiry process. And with a title loan serviced by LoanMart, you may receive terms that leave more money in your pocket!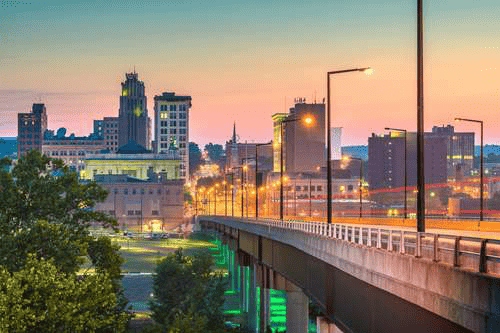 What Are the Interest Rates for Auto Title Loans in Ohio?
Interest rates for loans are basically the cost that you pay for borrowing money. They are how lenders make a profit in their line of business. Interest rates are determined using a wide variety of methods depending on the type of loan you are attempting to get.
Generally, interest rates do tend to be higher for clients that pose a greater risk, while those who pose less of a risk tend to receive lower interest rates. Individuals with poor credit tend to be thought of as 'high risk' borrowers. For this reason, so many loans may be hard to qualify for if you have less than perfect credit.
This may be very frustrating if you feel like your score is not representative of your trustworthiness or ability to repay the loan. This is where title loans serviced by LoanMart come in! This particular kind of loan comes with competitive interest rates regardless of your credit1.
Getting Competitive Rates in Ohio with Title Loans
Car title loans are different from a lot of other kinds of personal loans because they are secured loans. This means that the money is borrowed against collateral. Car title loans use the equity in the borrower's vehicle as collateral for the loan. This secured aspect of car title loans makes them easier to qualify for among subprime credit individuals because the collateral decreases the level of risk.
Since your credit is less important to the qualifying process with a title loan, you may obtain far more competitive interest rates with title loans serviced with LoanMart!
Why Choose Title Loans Serviced by LoanMart in Youngstown, Ohio?
If you're a resident of Youngstown, Ohio and you're looking for a flexible loan, title loans serviced by LoanMart may be the right option for you1. Through title loans serviced by LoanMart, there are certain advantages available to residents!
Apply Online
One of the largest benefits of choosing title loans serviced by LoanMart is the ability to apply directly from your smartphone!
Keep Driving
Even though you are using your vehicle title as collateral, you may keep driving your vehicle while making your scheduled monthly payments. No need to rely on friends or Uber to get around!
Good Credit Does Not Always Matter
While other traditional forms of funding may rely on the borrower's credit to determine approval, title loan eligibility is based on several other factors–like the equity in your vehicle. This may mean that good credit is not as important!
No Hidden Fees or Pre-Payment Penalties
When it comes to borrowing with title loans serviced by LoanMart, you may expect no hidden fees or pre-payment penalties of any kind.
More Time to Pay Back Your Funds
With title loans serviced by LoanMart, you may repay the loan in a few years1!
If you need a flexible loan in Youngstown, Ohio, turn to title loans serviced by LoanMart! With flexible eligibility requirements, flexible terms, and an easy approval process, you may be funded in no time1!
Three Step Process to Qualify in Ohio
Title loans marketed by LoanMart are the answer to dependable, affordable funding in Ohio. Part of what makes title loans serviced by LoanMart so great is that the inquiry process may be done completely online!
To apply for an auto title loan, follow these three simple steps:
Step One: The first thing you need to do to qualify for your very own car title loan is fill out the online inquiry form. It is an extremely simple form that should only take you a few minutes to complete1. The application asks for some introductory information about you, your car, and your current finances.
Step Two: After receiving your inquiry form, title loans serviced by LoanMart will reach out to you to request that you send in some basic paperwork for review. This may be done right from the comfort of your home by simply scanning and uploading the files to your computer and then emailing it!
Documents Needed with Title Loans Serviced by LoanMart
To qualify for a car title loan in Ohio, these are the general documents you will need to provide:
Government-issued photo identification (driver's license, state-issued ID, or passport)
Title of your car (it must be in your name)
Proof of income (pay stubs, pension statements, SSA statements, tax records)
Proof of residence (utility bill, bank statement, lease agreement, etc.)
Pictures of your car (front, back, sides, odometer and VIN)
References (personal and/or professional)
Step Three: Title loans serviced by LoanMart will notify you of your approval status. After you have been approved, you may get your title loan money in as little as one business day1. And you may decide how you would like to receive your money: direct deposit, a check in the mail, wire transfer, or pick up your funds at a participating money transfer location nearby.
Did you know that you can repay your car title loan in person at a local MoneyGram location? Addresses shown display closest MoneyGram locations. Map displays all MoneyGram locations in general vicinity.