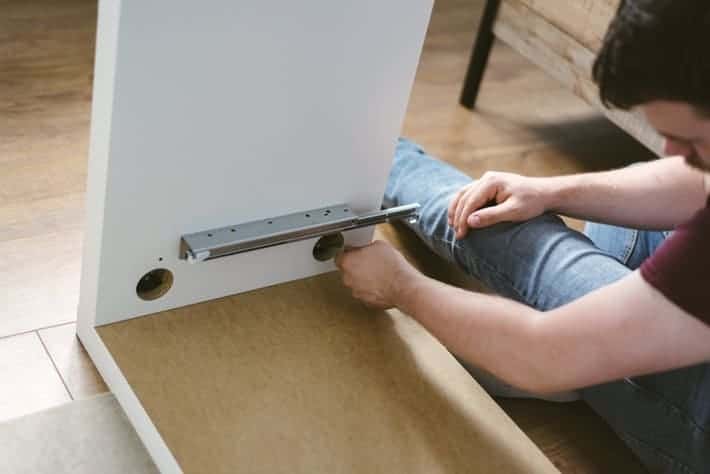 DIY projects are a great way to give your home some unique and practical upgrades, whether to impress your friends, or simply make your life easier. In addition to making your home stand out, they can save you quite a bit of money over more traditional remodeling projects. There are also a lot of great time-saving projects you can do yourself to make your life easier.
Storage
Buying baskets and shelves from storage and container stores can be expensive and make your home look like everyone else's. Try these ideas below to up your storage game and give your home a unique look!
Install a tension rod under your sink to hang and organize spray bottles. Label them too for easy identification!
Add a magnetic strip to your kitchen wall to hang and organize your knives. More counter space!
Cut a toilet paper roll lengthwise and put it around the outside of your wrapping paper to keep it from unrolling.
Glue flat Lego strips around your house. Attach Lego blocks to keys, cords, or other things that need to be organized, stored, or occasionally rearranged.
Put a cardboard box on your desk for your cat to sleep in. No more feline distractions while you work.
Take some inspiration from the old foldup ironing board, and build a foldout baby changing table. Mount a multi-picture frame to the bottom and fill it photos of your child's milestones.
Use picture hanger hooks in your pantry to store measuring spoons and other things on rings. No more fumbling through draws.
Use two a-frames or ladders with boards across them to make a table or bookshelf. And it's easy to move.
Mount an old window shutter, the ones with the slants, and use it as a mail holder.
Add Lego strips to it and store things like your keys as well.
Mount a wire magazine rack in your pantry and use it to store pot and pan lids.
Glue PVC pipe together to make a honeycomb to store things like shoes, scarfs, or gloves, etc.
Jazz up an old spice rack and mount it in your bathroom. Use it to store makeup.
Add magnets to a can and use it to store pens, bottle openers, etc. on your refrigerator.
Mount a small suitcase on your wall. Install some shelving and paper the inside with maps and you'll have a travel-themed cabinet.
In the same room, use some fluffy pillows and interesting fabrics to turn another suitcase into a dog bed. Find a few more travel-related items and it can be the theme of the entire room.
Cut a fan in half, remove the fan, and use the wire frame guard to store mail or magazines
Use a wire frame cd rack to store Tupperware lids.
Mount some castor wheels on the back of a freestanding bookcase and slide it under your bed. You'll have an entire dresser's worth of space within easy reach, but out of the way when you don't need it. For bonus panache, use wallpaper or paint on the visible portions of your new "drawer" to give it colors that complement the rest of your room.
Take the back off a freestanding bookcase and mount it to the wall. Mount it in the bathroom and store a whole range of things in a convenient place! Mount magnetic strips on the side and you can store nail files, tweezers, etc.
Make a container for you toothbrush and toothpaste out of PVC pipe and a cap for the bottom. Drill a small hole in it and you can use a hook to mount it on your bathroom wall. Get another cap and you can turn your storage container into your travel case as well!
Time-Saving
Are you super busy all the time? Do you hate searching through drawers or trying different keys in locks? Try some of these DIY fixes to take some of your time back.
Replace your cabinet bottom and shelves with dish drain inserts. Now your plates can air dry while they are put away.
Slit a "mouth" in a tennis ball and mount it near your door. Feed it any letter or small items you need to take with you. Never scramble at the last minute again!
Attach Velcro strips to video game controllers and remotes. Attach them to the side of your coffee table and never lose them again.
Paint volume conversions on your kitchen wall, Metric and Imperial. Now you can upsize or downsize your recipes with ease.
Use hooks or a dowel to mount aluminum foil and cling wrap on the pantry wall for ease of access and to free up drawer space in your kitchen.
Or, if you use it even more frequently, slip the rolls onto a paper towel stand.
Paint your look-alike keys with nail polish to tell them apart. Have multiple keys for different doors in the same building? Paint those in different shades of the same color.
Candle fan? Store your matches in a mason jar with striking paper on the lid. It will look much better than a box of matches laying around and keep you from having to go hunting through your junk drawer whenever you want to light a candle.
Use shims or two by fours to raise your dish drain, now the counter underneath can air dry and be cleaned with ease.
Reduce mess by mounting a row of coat hooks or a long coat rack in your mud room to hang your shoes on. It will reduce clutter and keep weather-related runoff in a small space, which you can cover with a mat.
Put a soda can dispenser, like the one in your fridge, in your pantry and use it to store other canned goods. If you are eating a lot of soups, you can even organize them in the order you intend to eat them in, easy meal planning.
As you can see, there are a ton of projects, ranging from ones that take a few minutes to a few hours, you can do to either to maximize your storage space or save time in your day-to-day life. These projects also look great and will give your home a unique character of its own!