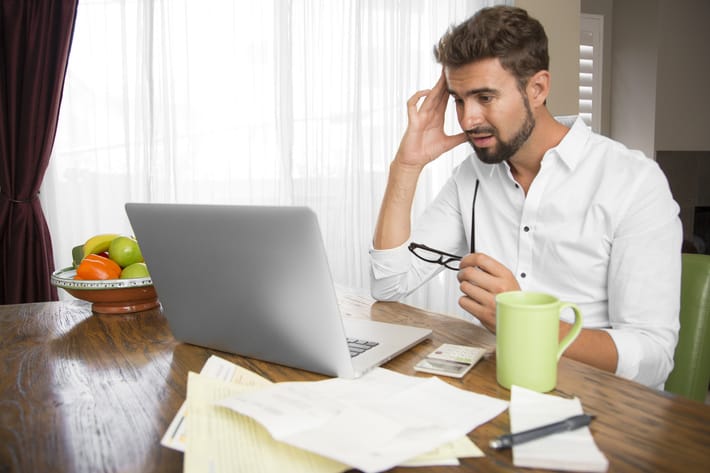 You Think Your Identity Has Been Stolen, What Do You Do?
Identity theft is when someone gains unauthorized access to personal information. A victim's name, social security number, and bank account information can all be used to commit fraud.
If identity theft is suspected, it can be terrifying and nerve wracking. But how can a person be sure that a crime has been committed? Check out these telltale signs that theft has occurred.
Unexplained withdrawals from a bank account.
Unexplained medical bills.
Unexpected calls from debt collectors.
Notification from IRS about additional tax return.
Unfamiliar accounts or charges on credit report.
Health plan rejected because records indicate benefit limit has been reached.
Analyze the Situation
Identity theft is a serious crime that can severely damage a person life. Quickly analyze how you may have been affected in order to determine the severity.
There are various types of fraud including credit, banking, employment, taxes, medical, government benefits, criminal, and taxes.
Determine what accounts have been impacted, and if any new ones have been opened in your name.
Take Action
Once the damage has been assessed, it is time to take action. Here's a list of steps that can be taken in order to protect oneself and mitigate any further damage.
Notify the Federal Trade Commission
The FTC is responsible for handling customer complaints, providing victims with information, and protecting consumers. Submit an identity theft complain online at the FTC identity theft website, or over the phone by dialing 1-877-438-4338.
Place A Fraud Alert with CRA
By contacting one of the three national credit reporting agencies ("CRAs") (Equifax, TransUnion, Experian), a person can reduce the risk of having new accounts opened without authorization. A victim only has to inform one agency, because the other two will be automatically informed.
Notify Creditors and Banks
If any new accounts have been opened, or if any suspicious charges have been spotted on statements, then contact those institutions immediately. Most credit cards have zero-liability policies, but the Fair Credit Billing Act states that the maximum liability for unauthorized charges is $50. When it comes to debit cards or ATM transactions, the Electronic Fund Transfer Act states that consumers have to act fast.
Check Credit Reports
Once a report is made to the CRA, a person will be opted out of any pre-approved credit cards and insurance offers. A free credit report will be received, and will show any new accounts, weird payment history, unknown employers, and unfamiliar personal information. Request another credit report at least once before the next year to check once more for fraudulent activity. A credit freeze may also be a wise decision to make. The freeze will prevent the CRAs from releasing the credit report to new creditors. If a person can prove they're a victim of identity theft, the $10 fine will be waived for all bureaus.
Contact the Social Security Fraud Hotline
It is important to notify the Office of the Inspector General if a social security number has been fraudulently used. It is also important to check the Personal Earnings and Benefits Statement for any inaccuracies.
Secure Yourself
Once action has been taken in reporting the fraudulent activity, it's time to think about how to protect oneself for the future.
According to Comparitech, Americans are the most targeted victims of identity theft. Over 179 million identities were stolen in the Unites States in 2016.
Around 143 million Americans are faced with a higher risk of identity theft after the Equifax security breach of 2017. So if you have been the victim of identity theft, it may not have been due to anything you did.
Personal data is valuable, learn how to protect it to better prevent identity theft and any kind of fraudulent activity in the future.  Here are some tips on how to secure your information and keep yourself vigilant:
Remain Observant: Make sure to monitor any accounts closely. Whenever a payment is made, look over the recent account summary and verify that all activity is familiar. Check for any unusual or suspicious activity. If you notice anything out of the ordinary, inform the creditor or bank right away.
Update Security Passwords: Change passwords to all accounts, and make sure no two are the same. Make sure the new passwords are more complex by adding special characters or a mix of lower and capital letters.
Keep Information Secure: It is extremely important to be cautious when sharing personal information. Social security numbers are the most valuable personal identification. If a company calls asking for identification verification, don't give it. Companies don't call for verification.
Secure Electronic Devices: Make sure you are up-to-date on firewalls, anti-virus, anti-spyware, and anti-phishing software. Mobile devices should have security applications and encrypted information in case of loss.
Organize Files and Affected Account Information: Make sure to keep copies of bank, credit, and any additional account information that has been affected by fraudulent activity. Any of the free reports by the CRAs should be saved.
Stop Unsolicited Credit-Card Offers: A good way to avoid new accounts being opened in your name is to stop anymore unsolicited prescreened credit card offers. There is a 5 year or permanent opt out option. To opt out for five years, call the toll free number 1-888-5-OPT-OUT (1-888-567-8688). But to be permanently removed from receiving any offers, visit the website optoutprescreen.com.
Identity theft is a serious issue that is increasing every year. This type of fraudulent activity has the capability to ruin lives and ruin a person's finances. Take precaution when it comes to sharing personal information, and keep a close eye on any new accounts.
But don't panic! If you have been the victim of identity theft, access the damage and take any actions needed. When caught early, the damage can be minimal.
Hackers and identity thieves are highly clever. Don't feel duped simply because it happened to you. Millions are affected every year, and many more will continue to be affected.
Going forward, take caution and stay vigilant. With these safety tips, you'll be one step ahead, and better protected.