Don't Let a Low Credit Score Stop You From Applying for Funding
If you've struggled with your bank account in the past, your credit score may have been negatively affected. Poor credit can be the result of many different factors. Some common examples include having a high balance on one or more credit cards, missing payments, defaulting on loans, filing for bankruptcy, and in some cases, identity theft.
If you have no experience with credit cards or bills under your name, you may have no credit score at all. This can be better than having a low score, although both situations can end up holding you back. You can always check your FICO score or credit by using an authorized website, like Experian.com.
Most traditional banks or federal credit unions could deny anyone with a credit score they deem too low. It can be challenging to receive financial assistance if you fit that criterion because online lenders won't be able to predict how reliable you are when it comes to paying bills. No credit or a low credit score are significant risks in the eyes of a bank or other lenders. You may be looking for a no credit check loan, but what if you could still qualify for a loan without perfect credit and go through a credit check?1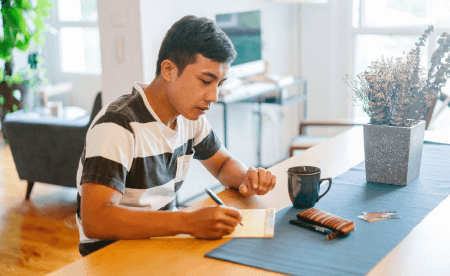 Don't lose all hope, though! A great option is available for people who have financial struggles but also need money quickly. Inquiring about a car title loan serviced by LoanMart could be the answer you've been looking for! With a flexible approval process that welcomes people from various backgrounds, qualified borrowers could potentially gain access to funding within one business day.1 3
---
What Is a Car Title Loan?
Before you can learn about the title loan process for people with no credit or bad credit, you need to understand the basics of a car title loan. A car title loan is a secured loan that allows borrowers to use their car value as collateral for funding from online lenders.
Your car acts as a form of insurance to the lender if you don't follow the repayment terms, which is why credit scores and financial histories may not matter as much during the approval process.1 Credit is still considered, but it is not the focus of the process.
Car Title Loans and People With No Credit
Approval for most traditional loans isn't reliant on collateral. Instead, a lender will look at a person's financial history to determine whether or not they will follow their repayment terms and be a responsible borrower.
This is why a person with no credit or a bad credit score would have difficulty getting approved for an unsecured loan. They may have no history or have a poor credit history, so they are too risky to lend to. You may have to deal with high-interest rates and hidden fees if you get approved for an unsecured loan with no credit history.
A car title loan could be perfect for people with no credit that can meet the requirements and submit the right documents!1
---
What Are the Requirements for a Car Title Loan?
There are three main requirements for inquiring about a car title loan with no credit or a bad credit score. The good news is that having bad credit does not disqualify someone from inquiring! The requirements are as follows:
Be at Least 18 Years Old
Have a Vehicle Title Under the Borrowers Name
Show Proof of a Steady Income
Entering into a loan agreement is a big financial decision, and that's why it's essential to be an adult over 18 to apply for one. You also need to have a vehicle title under your name if you want to proceed with the process– the car is used as collateral for potential funding if approved.
The final requirement is showing proof of a steady income. A car title loan is a secured loan that uses a borrower's vehicle as collateral if they can't make on-time payments. However, a lender will still want to verify that someone can make payments before approving them for a loan.
You don't need to work a traditional 9-5 job to prove your income. Below are alternative income forms that are accepted!
Worker's Compensation
Disability Checks
Bank Statements
Self-Employment
Retirement Income
Pension Income
If you're wondering about your circumstances when showing proof of income, you can always reach out to a title loan agent to find out what is acceptable! Call 855-422-7412 to speak with someone directly.
---
What Documents Do I Need for a Car Title Loan With No Credit?
If you meet the simple requirements above, the next step you need to take is gathering a couple of important documents! When you begin the inquiry process for a loan with no credit, a title loan representative will ask you for this paperwork, so it's best to make sure you have it on hand.
Official State/Government-Issued Photo I.D.:
You can prove your identity and age by using a state-issued driver's license or another form of a government-issued photo I.D. card, like a passport. As mentioned earlier, inquiring about any loan agreement is a big financial decision, so you must be an adult. Once you prove this, you will be on your way to potentially receiving a title loan with no credit!1
Proof of Residence:
Title loans serviced by LoanMart are available in many states across the country! However, a title loan agent must verify that you currently reside in one of the states where funding options are available. You can prove your place of residence by using recent pieces of official mail. Consider using a utility bill or a bank statement if you have them on hand.
Proof of Income:
Online lenders will want to know that you can provide proof of income before agreeing to a title loan. You can use a few different documents to do this- bank statements, pay stubs, and even a letter of employment from your employer can be used. Contact a title loan agent with LoanMart at 855-422-7412 to learn more about the types of income that can be accepted.
An excellent way to ensure you never miss any monthly payments is to set up an automatic transfer from your bank account! This way, the amount will be taken at the appropriate time each month without you needing to remember anything.
Photos of Your Vehicle:
Photos of your vehicle can show what type of condition it's in. Your car is a significant part of the title loan process because it can affect how much funding you may potentially receive. A lender will look at the value of your car and decide a particular loan amount based on that number. The entire vehicle inspection can take place online with LoanMart, so there's no need to visit in-store! Simply take a few photos of your car and submit them to a title loan agent instead of driving it to a store for an inspection.
---
What Is the Difference Between Bad Credit and No Credit?
Having no credit seems like it would be worse than having poor credit, but that's not the case! Both make financial situations challenging to navigate; however, rebuilding your credit score can take much more effort than starting with a clean slate.
At least when you have no credit, you can make the right financial decisions and build credit the right way. It's much more challenging to rebuild from debt than to create something new! Many people with bad credit find themselves stuck in the debt cycle, which is not fun. That is likely why most individuals with debt want to inquire about a no credit check loan.
Lack of credit or no credit can hinder your ability to:
Rent an Apartment or Purchase a Home
Buy a Car
Gain Access to Emergency Funding
Apply for a Credit Card With Low Interest Rates
Thankfully, when you use your car as collateral for upfront funding, like during a title loan agreement, you may not need to worry about having good credit, bad credit, or no credit! Title loan lenders don't care as much about a person's financial history. While it is considered, they focus on how much value is in your car and if you can show proof of income to repay the loan.1
---
How Can I Build a Credit Score?
The good news about having no credit history is that you start on the right track. You will first want to visit an official credit bureau website to run a soft credit check on yourself. Even if you've never taken out a loan or financing before, you should always ensure the credit report is accurate. You can visit an accredited FICO Score website or a local credit union in person to learn more.
There are multiple ways you can begin building up a good credit score, no matter what stage of life you're starting. Below are some examples:
Get a Secured Credit Card
Secured credit cards offer someone a small line of credit after putting down a security deposit. The lender will hold onto this cash security deposit while making payments, and you can get it back once you upgrade to an unsecured credit card.
This is a great way to help you build credit quickly because the deposit protects the borrower from ever losing money. Plus, by using these types of secured loans, you can build a strong payment history that will increase your score over time. Also, there are usually no high interest rates with this type of agreement!
Authorized User Status
Becoming an authorized user means using someone else's credit card under your name. This means you can make purchases as if they were your card, but you are not a primary account holder.
When you become an authorized user on another person's account, their credit score and information will affect your own. This is a good idea if you trust someone in your life and want help getting your foot in the door credit-wise.
You are not responsible for their payments, but the effects are limited. It's only a good idea for people starting on their credit journey. Consider discussing this with a family member or close friend with a higher credit score.
Get a Co-signer
If you're struggling as a person with no credit to apply for certain things, consider getting a co-signer. You can do this by inquiring about unsecured credit cards, rental applications, or any loan you're interested in taking out.
However, this can be risky because if the borrower cannot make payments, the liability falls entirely on the co-signer. You will want to make sure whoever you choose is someone you trust and can handle helping you out!
With the backing of a co-signer, a borrower is open to engaging in more financial agreements than they would without one, which allows them to build credit easily.
Credit Builder Loan
Credit builder loans are precisely what they sound like, and they are designed to help a person with little to no credit score build good credit. They don't require perfect credit for final approval, but you must show proof of income to ensure that you will follow the repayment terms.
Sometimes these are referred to as 'fresh start loans' or 'starting over loans,' but they aren't usually advertised much. Many smaller institutions like credit unions or community banks offer credit builder loans to their customers, but they are not available everywhere.
---
What Are the Advantages of Choosing a Car Title Loan?
As someone with no credit history, inquiring about an auto title loan serviced by LoanMart could be the quickest way to access funding if you meet the inquiry criteria.1 Many advantages come with inquiring about a title loan versus other types of financing! Below are some of the awesome benefits you can expect from a title loan serviced by LoanMart:
Flexible Approval Process1
Quick Access to Funding When You Need It Most1
Keep Driving Your Vehicle While Repaying the Loan
Great Customer Service
Available in Many States Across the U.S.
No Prepayment Penalties5
There has never been an easier way for someone with no credit to inquire about a title loan!1 With a flexible approval process and the ability to complete it online, you may receive access to your funding in as little as one business day.1 3 That means if you're experiencing a financial emergency, this could be a great resource to consider.
---
What Other Types of Loans Are Available?
Many loan options exist that offer different types of loan terms. Not all of them have flexible and easy loan terms like a car title loan, but they are important to learn about when you're making financial decisions.
Personal Loans
A personal loan is when someone borrows money from a bank or credit union and it is paid back in monthly installments. Personal loans can be paid back in monthly installments but often don't come with the same interest rates as other loan options if they are unsecured.
Sometimes these loans can have penalties and origination fees! If you want a personal loan, you will need to reach out to your bank or a financial institution to find out if you qualify, but it can be challenging for people with no credit history to receive approval. There could be a minimum credit score required for a personal loan!
Payday Loans
Payday loans are exactly what they sound like. They allow a borrower to receive funding through a paycheck advance. People usually turn to these loan terms when they need a couple of hundred dollars to make it to their next payday!
A paycheck advance can be helpful, but there are better options to consider. Payday loans are often advertised as not requiring credit approval or a credit check, but you don't receive a significant loan amount. If you need more considerable financial assistance, you should consider other options. Additionally, payday loans often come with high-interest rates that are tough to recover from.
---
Consider a Car Title Loan Serviced by LoanMart Today!
Nothing is worse than needing to borrow money but having no one to turn to. Not everyone can sit around and wait for future paychecks to come in! Just because you have no credit or a low credit score doesn't mean you can't inquire about financial assistance loan options. Considering a car title loan serviced by LoanMart could be the answer you're looking for during a tough financial time.
The process can be quick, easy, and online for your convenience!3 You can begin today by filling out this inquiry form or calling 855-422-7412 to speak directly with a title loan agent!
After approval, qualified borrowers can choose a few different ways to collect their funds. They can have the money deposited into their checking account, receive a check in the mail, or visit a participating money transfer location to pick up their cash in person.
Repaying your title loan funding is easy too! You can:
Set up automatic payments from your checking account
Send a check in the mail
Pay back your loans in person at a MoneyGram location in your area
If you need help with your finances, you can visit the LoanMart blog to take advantage of free financial education resources! You can learn more about your credit score by visiting an official FICO score website to get a free credit check.