Older Cars Can Be Used for Title Loans
Car title loans work by using your vehicle as collateral for the cash you need. Typically, a lender looks at the value of your car and your income to decide how much cash you can be approved for if you qualify. If you've been a car owner for a long time, you may be wondering, "how does an older car title loan work?"
The good news is that title loans for older cars are agreements that happen all the time! It doesn't matter how old or new your vehicle is– most lenders are flexible regarding their final approval. If you're in a challenging financial situation, have bad credit, and need short-term loan options, inquiring about how to get a title loan can be a great option!1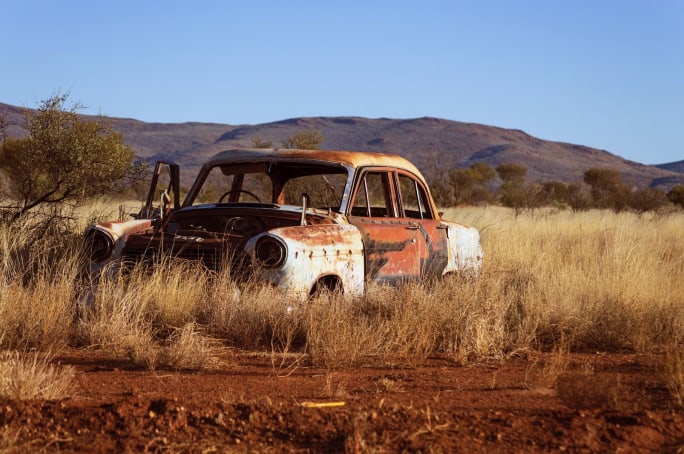 Learn about how to navigate title loans for older cars serviced by LoanMart! Sometimes, the entire process can take place online. That means access to certified funds when you need them most.
---
What Do Cars Have to Do With Title Loans?
It's best to start with the basics if you're unfamiliar with car title loans and looking for same day approval. Cars have everything to do with title loans! They are called 'title loans' because you technically are using your car's title as collateral for the funding from a lender.
A car's title is the legal slip of paper that establishes proof of ownership. Without this vital document, you can't claim that you own your vehicle. In the past, title loans were referred to as:
Title Loans
Car Title Loans
Auto Title Loans
Pink Slip Loans
The term 'pink slip loan' is outdated, but it refers to a time when car owners would receive their car titles on pink slips of paper to prevent them from going missing amongst all the other essential documents.
---
How Do Car Title Loans Work?
The process is simple. An auto title loan works by allowing you to fill out an application form to inquire about receiving funding. In return, you will use the title of a qualifying car as collateral for the loan. If you meet the basic requirements and turn in the required documents, there is a good possibility that you will meet the lender's credit criteria!1
With car title loans serviced by LoanMart, if approved, you may receive funding within 24 hours of inquiring1, 3! The requirements for auto title loans are simple:
Must be at least 18 years of age
Must be able to show proof of income or alternative income
The first requirement is self-explanatory. You must be an adult to inquire about title loans in the U.S. The second requirement is conditional- you may be able to inquire about a car title loan even if you are still financing the vehicle, but if you are the owner, the title must be in your name.1 The third requirement takes a little bit more information to explain!
Drivers of an older vehicle, as well as a newer one, have to follow the same requirements. Showing proof of income to the title loan lenders is the best way to prove your ability to repay the funds during your loan agreement.
It's not a problem if you work an unconventional job– lenders can be very flexible when accepting different types of income proof!1 Some examples include but are not limited to:
Settlement Income
Self Employment
Small Business Ownership
Social Security Benefits/SSI
Disability Benefits
Worker's Compensation
People make money in a variety of ways. There is no one way to earn a living in America! Find out if your income can qualify as proof of income for a title loan by contacting a title loan agent with LoanMart at 855-422-7412.
---
How Old Can Your Car Be With a Title Loan?
Your vehicle's age doesn't matter! What does matter is how much value it could hold. Title loan lenders are only interested in the value of the vehicle because its value directly relates to how much funding a borrower will receive. Older cars may still have value!
In essence, your car is the collateral for the money you potentially can borrow. Instead of traditional banks, which rely on a credit check to determine your reliability to pay back a loan, title loan companies and their lenders use the value in a person's car to ensure that they have a form of collateral if payments are missed. While an applicant's credit is still considered, it is not the entire focus of the approval process.1
---
How Much Cash Can I Get With an Older Vehicle Title Loan?
If approved for a title loan, the cash you may receive depends mostly on the value of your car. If you own a classic car and it's been maintained for many years, it could still hold lots of value. You can always look on Kelly Blue Book to find out more about what your car is currently worth! They show estimated values on nearly every vehicle that's ever been manufactured.
Using your car's title as collateral for quick funding through a title loan can potentially get you thousands of dollars!1, 3 Minimum loan amounts vary, as well as the maximums. The actual loan amount will depend on how much equity is in your car and your income. Typically, title loan lenders will look at that combination, and the offered funding will be a percentage of whatever the value of your car is. This can be anywhere from 25%- 75% of a car's equity.
What Is a Car's Equity?
How much equity is in your car is an important thing to know! You can figure this out by subtracting how much you currently owe on your vehicle (if at all) from its overall market value. If you're unsure of how to do that on your own, you can always use this online calculator tool provided by LoanMart to help you out! Fill in a few pieces of information about your vehicle, and it will give you a quick car equity estimate, free of obligation.3
If you have completely paid off your classic car or older car and no longer make payments on it, that's good news! That means that the equity in your vehicle would entirely depend on how much it's worth on the market as well as its current condition. Equity is the difference between what you owe on the car (if at all) and the market value, so it can be represented by a specific number.
This number is significant because, as previously mentioned, this is what determines the actual loan amounts! Older vehicles kept in mint condition are likely to hold lots of value compared to newer cars that have not been taken care of.
---
What Documents Do You Need for Classic Car Title Loans?
Suppose you meet the basic criteria for inquiring about classic car title loans, like: being an adult, owning a qualifying vehicle, and being able to show valid proof of income. In that case, the next step is gathering all the necessary documents. The title loan agent you speak with will need to see a few pieces of the necessary paperwork to submit your inquiry for conditional approval.
Getting title loans for older cars requires pretty standard forms of documentation! You are likely to keep these things anyway, so it won't take much effort on your part to search for them.
Government Issued Photo ID: To prove that you are an adult, you need to show your driver's license, a passport, or any other government-issued photo I.D. If you're struggling to find the correct identification, contact your state government's DMV(Department of Motor Vehicles) for assistance!
Proof of Car Title in Your Name: If you own a classic car, you're probably a big car lover, so showing evidence of vehicle ownership won't be a problem. The title of your vehicle will need to be in your name at the time of inquiry! If it is not, you may need to consult a title loan agent with LoanMart about the right steps you need to take to get your title in the proper condition to apply. You may still be able to apply for a title loan if you are currently financing the vehicle.1
Proof of Income: While you are using your car's title as collateral for the approved money, lenders still want assurance that you will be able to repay your loan within the agreed amount of time. This is why proof of income is required when inquiring about a car title loan. You have many options for proving a steady income outside of working a traditional 9-5 job! There are many different documents you can use to prove your income, including bank statements, pay stubs, etc.
Proof of Residence: Showing your proof of residency is easy. You can use a piece of official mail, like a recent utility bill, a medical bill, or even a credit card statement. This is important for inquiring about a title loan serviced by LoanMart because different states have different regulations regarding these types of loans, so they may not be available in every state. If you want to learn about title loans serviced by LoanMart in your state, you can read more about it here!
Photos of Your Vehicle: The minimum loan amounts for a car title loan will depend on your car's current condition and value! Therefore, lenders will want to see recent pictures of your vehicle to gauge its condition. You probably won't mind showing your vehicle off if you have a nice classic car to use for a title loan.
---
How Much Is My Old Car Worth?
There are plenty of websites out there that can help you determine how much your old car is worth, but understanding the criteria behind it is crucial. If you want to get a little more cash through a car title loan, you can do a few things to potentially increase the value of your vehicle.
You may worry, "what if my car doesn't have enough value?" The answer is simple!
As long as you maintain a few basic things and your car is still functioning, you probably won't have to worry about car title loan approval. Learn about what factors go into determining how much a vehicle is worth.
Make, Year, and Model:
The make, model, and year of your vehicle will all be considered when a lender is determining its overall worth. Just because a car is old doesn't mean it is worthless, though! There are plenty of vehicles out there that are older but remain high in demand on the market, which means their popularity could give them value.
Current Condition:
The current condition of your vehicle will also be considered when deciding its value. If you own classic cars and keep them in tip-top shape, the value will probably be high! If you own a regular old car but maintain it well, it could still have a considerable amount of value.
Mileage:
Everyone knows that a car's mileage will affect its overall worth on the used car market. If a newer car has racked up a steep number of miles in a short time, that will hurt its value. Comparatively, if an older car has fewer miles, that could increase its value.
A high mileage car is more prone to having transmission and engine issues due to heavy wear and tear. Like anything you buy, you want it lightly used and well taken care of, versus something that is used and worn out. But don't worry, you could still get a title loan with high mileage on your car!1
---
How to Inquire Online About Title Loans for Older Cars
Title loans for older cars are intended primarily for people who need cash fast but also may have a bad credit score. They can be a helpful solution for short-term financial issues! You can learn about the competitive interest rates that come with title loans serviced by LoanMart.
One of the best things about an auto title loan serviced by LoanMart is that the inquiry and approval process can take place online! You don't need to go into a physical title loan office to receive your approved funds.
Traditional financial institutions have a strict loan approval process that is not very flexible or inclusive. They also tend to have lots of additional finance charges, a high annual percentage rate, and the funding time can take weeks. With old car title loans serviced by LoanMart, after you've submitted your inquiry online, you could potentially get your funds in as little as 24 hours!3
---
Start Your Title Loan Inquiry Today
Begin the inquiry process for a title loan on an older car by filling out this inquiry form or calling 855-422-7412 to speak with a title loan agent. You can use your loan proceeds towards many things, like paying off debts, medical bills, or even household repair purposes! You may even receive access to your funds within the same business day.3
Just because you own an older car doesn't mean you can't use its value towards getting the funding you need! Nothing is worse than being stuck in a financial emergency and not knowing how to relieve yourself. The best part about online title loans serviced by LoanMart is that you can continue driving your car during the repayment process! If a borrower qualifies and the loan is paid on time, the vehicle can be driven like it is business as usual.
With a lightning-fast approval process, the best place to get a car title loan is with LoanMart!3 If you need additional information about how to inquire about title loans for an older car serviced by LoanMart, reach out to a title loan representative today!