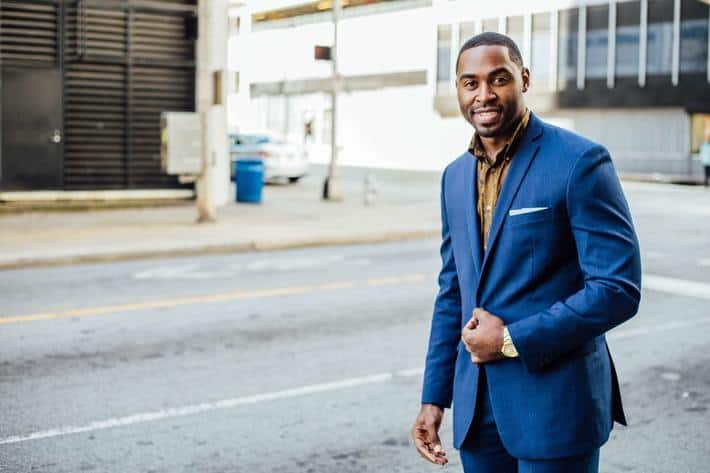 You just got a new job—that's great! You are on the path towards establishing your career, and you should feel confident and proud. Sometimes, in order to feel really confident—we need to look the part. Some employers require you to have a work uniform before you start your new job, too. Having a quality, professional wardrobe can be the extra boost you need to really walk into the office ready for success!
Some of the ways you can pay for nice work clothes are to:
Shop at thrift stores instead of department stores
Simplify your wardrobe so you don't need as many new clothes
Buy a few clothing items at a time instead of all at once
Dip into your savings
Use convenient funding, such as a LoanMart car title loan1
For convenience, we here at LoanMart consider title loans the best option. With title loans at LoanMart, we may be able to get you fast emergency cash that you can use for work clothes1. But before we talk title loans, let's consider other options.
How to save money on work clothes
You don't have to max out your credit card every time you go shopping for work clothes, you just have to have the right strategy. There are ways to go about saving money when you are looking for new clothes for work—here are some tips.
Check out thrift stores to find the best deals on nice clothes
Thrift shops and second-hand stores can be a great place to find clothes for work on a budget. You can look professional at work in a $60 blazer but rest easy knowing you only paid $10 for it.
However, if you do go to a thrift shop or second-hand store for some new clothes for work, be prepared to do a little hunting. Sometimes, these kinds of stores can be extremely hit-or-miss—you could end up finding an Armani blazer for a few dollars, or you could find nothing but an undershirt with holes in it.
Chances are if you spend some time and do a little searching, you will be able to find exactly (or something comparable), to what you were looking for. Also, thrift and second-hand stores are constantly getting new items—so if you don't find anything on one visit, you could strike gold on the next!
Keep your wardrobe simple so you can get the most out of it
Purchase a few staple items in your wardrobe that you can mix-and-match throughout the week. Sure, a bold printed top looks fun—but can you wear it three times a week without seeming like you wear the same outfit every day?
Neutral colors like black, beige, or gray are solid and coordinate with one another. Save the crazy prints for smaller clothing items like an undershirt. You can wear gray pants, a black blazer, with various fun printed tops underneath throughout the week. Even though your outfit will look unique every time, all you are really changing is one small item.
Not only can this save you money, but it can also take the hassle out of picking out your clothes for work. Don't waste your time in the morning trying to find the only pair of pants that matches a particular top. Mornings in general are enough of a pain as it is. When all of your clothes match, you can just grab and go!
How to pay for work clothes
Finding great deals is one thing, but actually paying for it all is another. Here are some ways to actually pay for the clothes you need for work.
Buy your clothes over time instead of all at once
It might seem convenient to just buy a bunch of clothes you need for work at once, that way it is done, and you don't have to worry about it for a while. But you might end up spending way more money than you want to if you do that.
Focus your shopping trips to finding just a few items at a time. You can spend the time and really hunt for the best deal, instead of spending a boatload on things you may or may change your mind on later.
When each piece in your wardrobe is exactly what you want, you may even have a little fun when you pick out your clothes for the workday.
Dip into your savings to afford new work clothing
Invest in your future. Instead of spending yourself broke while shopping for work clothing or uniforms, take a little money from your savings account if you have one. After a bit of time, you can always replace that money with what you are earning at work.
If you don't have a savings account, you could always try asking a trusted friend or family member to loan you a bit of money, but this might not be a very appealing choice for you if you want to keep your financial situation on the private side.
Use convenient funding to pay for nice clothes for work
You might not want to dip into your savings or ask a friend or family member for money, and that is completely understandable. Your finances are a private subject and if you want to keep them to yourself there is nothing wrong with that.
But if you are looking for a fast and convenient way to pay for some nice new clothes for work, you might want to try title loans. Car title loans from LoanMart are so efficient, you may even receive your funding as soon as the next business day3!
Car title loans can be the best way for you to get a little extra money for work clothes1. This is because LoanMart car title loans come with a bunch of benefits and advantages, here are a few:
High approval rate1
Fast funding
Competitive terms
Convenient rates
No balloon payments or early installment fees
Click here to get started on your LoanMart car title loan today!