Can I Begin the Title Loan Process Without a Traditional Job?
Are you behind on bills? Curious about how much money you can get through a car title loan? While most traditional bank loans can be tough to apply for without traditional income, you may have a different experience with a car title loan. The title loan process was meant to be flexible for those from different financial backgrounds!1 You do not need a 9-5 job to get a title loan. In fact, it is possible to qualify for a car title loan without a job!1
So if you can't qualify through a traditional lender and you do not have good credit, you are not stuck. You may have another option to consider- a title loan! Just use your vehicle's title as collateral for the cash you need. Keep reading to learn more about how to get a title loan with no job today!1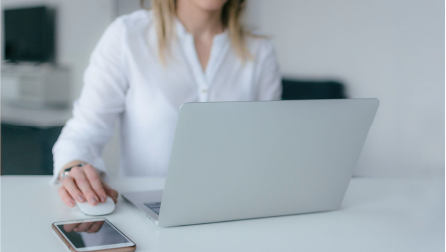 ---
What Are the Requirements for Applying for a Car Title Loan?
Not everyone works a typical 9-5 job, but there are still plenty of ways to provide for yourself financially without holding this type of position. There are only a few initial requirements for applying for a car title loan– you must be able to prove that you:
Have a steady income or alternative income
Are at least 18 years old
And a car owner
If you do not currently own your vehicle and you are financing, you may still qualify for a car title loan.1 Generally, having a steady income means you can pay back your loan on time. If you are unable to pay your car title loan back, the lenders may potentially repossess your vehicle. So providing proof of income is essential! Thankfully, there are lots of different ways you can do so.
Below are alternative forms of income you can use to prove your income outside of having a traditional job:
Workers Compensation
If you become injured on the job, you might not be able to complete tasks at your job for the time being. Worker's compensation means you are receiving a wage and medical benefits in replacement for your usual earnings. So while you might not be going to work every day, you still have a steady income. This can be used as proof of income when applying for a car title loan!
Bank Statements
Typically, most individuals will use their bank statements to show that they can comfortably repay a loan on time. In this day and age, many individuals are earning a living outside of a 9-5 job! Whether you have a small Etsy/eBay business or another form of alternative income, you may be able to use your bank statements to prove that you can afford to repay a title loan.
Passive Income
People can make passive income in many different ways. One of the most common is by owning rental properties or being a landlord. In some cases, passive income can come through owning/managing drop shipping sites on Amazon or other domains. If you invest in stocks or are a day trader, this could also be considered passive income. Maybe you own a business but don't run it directly– this also works.
Social Security Income/ Disability Benefits
If you receive Social Security benefits, this can be considered a form of income instead of having a 9-5 job. While you may not be working, you still have access to a steady stream of money, making you eligible to apply for a car title loan!1
Self-Employment
Self-employment can be proven in a variety of ways. Maybe you sell things online, are a freelance writer, or work as a local handyman. A company or person doesn't technically employ you, but you still receive a steady income.
Small Business Ownership
If you do not receive paycheck stubs or other documents from an employer, you may be wondering how you can show that you receive consistent income from your small business. Luckily, you can use your bank statements or tax forms to show that you are a small business owner just trying to make it in this world! An alternative form of income can be provided if you do not have a pay stub each month.
Court Ordered Monetary Settlement
If you are currently collecting money from a settlement lawsuit, this may also be considered proof of income during the inquiry process for an auto title loan!
Retirement Benefits
Do you receive retirement benefits? You can use your pension income or retirement income to apply online for a car title loan today!1 You can provide proof of income in a few different ways, even if you don't have a 9-5 job
As you can see, there are plenty of options for income verification outside of working a 9-5 position. Other forms of income besides traditional proof of income can be accepted!1 You do not need a steady job at an office to qualify for the money you are looking for. If you don't receive traditional paychecks, don't sweat it!1
Inquiring about an auto loan serviced by LoanMart without a job can be easier than you might think. Today, you can begin the process by filling out an online inquiry form or calling 855-422-7412 to speak with a representative!
---
Do I Need Good Credit to Get Title Loan Without a Job?
The simple answer to this question is no! You don't necessarily need good credit to apply for an auto title loan without a job.1 For many loan options that are unsecured, credit history is used to determine your worthiness as a borrower. However, you may not have that experience when you apply for a secured loan like an auto title loan.1
One of the best parts of applying for this type of loan is that lenders will not solely focus on a borrower's credit history when considering their applications. That's because the eligibility process for online title loans is more focused on how much equity you have in your car and your income, not just your credit history. Typically, loan approval is focused on those two factors instead!1
Traditional lenders will look at your credit history when you apply for a bank or personal loan because they want to know that you'll be able to pay back the funds.
When you apply for a car title loan, you are putting the value of your car up for collateral. If you miss repayments on your loan, your vehicle may be repossessed. This explains why good or bad credit history doesn't matter as much to car title loan lenders– your car is their "insurance" so to speak!
The great thing about this type of loan is that you will continue to have full access to your car during the entire repayment process if you make your payments on time. LoanMart allows responsible borrowers to continue using their cars even while making payments! You can continue living your daily life without losing your primary source of transportation.
---
What's the Difference Between a Car Title Loan and Traditional Bank Loans?
To better understand what a car title loan is, it may benefit you to learn about other traditional bank loans. A car title loan is a secured loan, so your vehicle's title will be the collateral for the loan. The amount of funding you can receive will largely depend on how much equity is in your vehicle, and borrowers may receive a certain percentage of whatever that value is.
Traditional lenders, like big banks, typically have many requirements for their loan application and approval process. They will look at a borrower's bank account, run a credit check, require proof of income through pay stubs or other verification forms, and ask for personal references in some cases. While this is not unlike the process for a car title loan, one of the key differences is the ease of accessibility. If a traditional loan is not secured, that means eligibility will be largely dependent on an applicant's credit history and financial background. Since collateral is used to secure funding, a car title loan can often be more flexible to apply for.1
Some of the key features of a car title loan are:
Eligibility for vehicle title loans will depend on the value of the collateral. The inquiry process is not solely reliant on a person's credit history.1
Applying for a car title loan serviced by LoanMart can be done online and from the convenience of your home!1 Often, it can take no time at all to get through the approval process. You may be able to get your funds in 24 hours or less!3 Traditional bank loans can often take more time to apply for and receive funding from.
Car title loans can be great for short-term or longer-term situations! Title loans serviced by LoanMart are an excellent choice for someone looking for quick emergency funds for an unexpected bill.3 You can choose to repay in full before your loan term is up since there are no hidden fees or prepayment penalties!5 Choose to pay your title loan back in multiple installments or in one, it's up to you. Traditional loan terms may not give you this option!
If you don't have a job, getting approved for a traditional loan could be very difficult, depending on what kind you're looking for. One of the easiest ways to get access to funding quickly is by inquiring about a car title loan serviced by LoanMart.3 The entire process can be completed online, and you may receive access to funds within one business day!3
---
How Much Cash Can I Get With a Car Title Loan?
If you're not currently employed, you may need cash fast and are wondering how to get a title loan without a job. On top of that, you may also be wondering how much money you can potentially be approved for. The amount of money you can receive through a car title loan will depend on a few factors, including the state that you live in.1
As mentioned earlier in the article, auto title loans are where a borrower puts up their vehicle's title as collateral for money from a lender upfront. Then, they are expected to pay the money back over an agreed period of time, with interest. The amount of money you can get with a title loan largely depends on your car's available equity! If you're unsure how to find this out, you can enter some information into LoanMart's calculator tool, which will let you know more about your car's equity!
After getting approved for a title loan, people typically receive about 25%-50% of their car equity.1 This, of course, depends on a few different factors, such as your income, state, and car. This is only a rough estimate, though. The best way to find out how much cash you can get is by using the online title loan calculator!
---
How Can I Make Monthly Payments on an Approved Title Loan?
Usually, making monthly payments on an approved title loan can be simpler than you think, because there are multiple options to repay! Title loans serviced by LoanMart can be paid back through an automatic withdrawal from your account, a check in the mail, or by visiting a participating money transfer location. You can even use a card to repay the loan, or you can also pay your loan back when you head to a MoneyGram store in your area!
When you successfully pay your loans on time, that can help set a precedent for your future financial situation. When you start to take care of your finances, you may feel less stressed about other aspects of your life. One of the easiest ways to make sure that you make your payments on time is by setting up scheduled payments through your bank account! This means funds are automatically withdrawn from your account, instead of relying on your memory.
This can also be a helpful system for repaying other expenses in your life, such as a utility bill or a car payment! There is nothing worse than getting charged a late fee.
---
How Can I Spend My Title Loan Money?
Your first action may be to search for "title loans no income required near me" online when you are short on cash. But, if you are approved to get a car title loan online, what can you spend your money on?
You are not the first person to struggle financially, and chances are, you will not be the last. Many individuals across the nation will face financial difficulties in their life. You can spend your money in a variety of ways, just like other title loan borrowers near you! However, there are some limitations. Typically, the most common ways to spend your cash are:
Debt Consolidation
Funeral Costs and Expenses
Unexpected Bills
Car Repairs or Maintenance Costs
Travel Expenses
And More!
---
Apply for an Online Title Loan Without a Job Today
Title loans can potentially help people who don't have a job, have bad credit, or have credit difficulties, but need emergency cash fast.3 If you struggle with your finances, you could seek credit counseling! This can be helpful if you need to learn more about financial planning, financial education, or even budget strategies.
Applying for a title loan serviced by LoanMart without a job can be simple.1 There are only a few initial requirements– you need to own a car, be at least 18 years of age, and be able to prove a steady income. There are many options for income verification outside of having a traditional 9-5 job. You can use different forms of approved alternative income to verify your ability to repay a title loan!1
During the inquiry process, you will be required to submit some paperwork besides proof of income. This includes a government-issued photo I.D., as well as some documents to prove your address. A title loan agent with LoanMart can walk you through the inquiry process when you are ready to apply! Click here or call 855-422-7412 today to learn more.
Don't let job limitations get in your way of applying for a title loan. When times are tough, having access to emergency money can be crucial.3 If you are approved for a title loan serviced by LoanMart, you may receive funding in 24 hours or less!3