How Does SpeedyCash work?
If you're in the market for a quick cash loan solution to a financial emergency, considering a company whose very name implies fast funding might certainly make sense. SpeedyCash has been around for over 25 years, offering fast loans in its stores, online, and over the phone. As suggested by the brand, the company prides itself on offering quick loans and credit products.
How SpeedyCash works depends on which of their lending products you are interested in, and also depends on how you are looking to apply for the respective product and how you would like to receive your funds.
---
What products does SpeedyCash offer?
SpeedyCash offers a broad suite of financial services products, from lending solutions to money services. While the availability of products can vary by state and retail location, the suite of available products includes:
Title loans
Installment loans
Payday loans
Lines of credit
Check cashing
Money orders
Money transfers and bill payment
To find out what specific products and services are available at a SpeedyCash location near you, or to see how much you can borrow from SpeedyCash, use the store locator on their website to find out more about available products and hours of operation. Alternatively, for credit products that are available online, click on the apply button to start your inquiry.
---
Review of loan options by state
Based on a review of the company's website in August 2022, the company provides speedy cash offers across multiple states which generally appear to cater to customers with some credit difficulties. Some products are only available in certain states, while other products are only available in-store, whereas other products are available both online and in-store.
For example, in Kansas, the company offers Line of Credit Loans, Payday Loans and Title Loans, each of which come with different maximum loan amounts. The Payday Loans and Title Loans are only available in store, which means that Kansas borrowers looking to obtain one of these loans must have the time to visit a Speedycash store in Kansas in order to get the cash they need.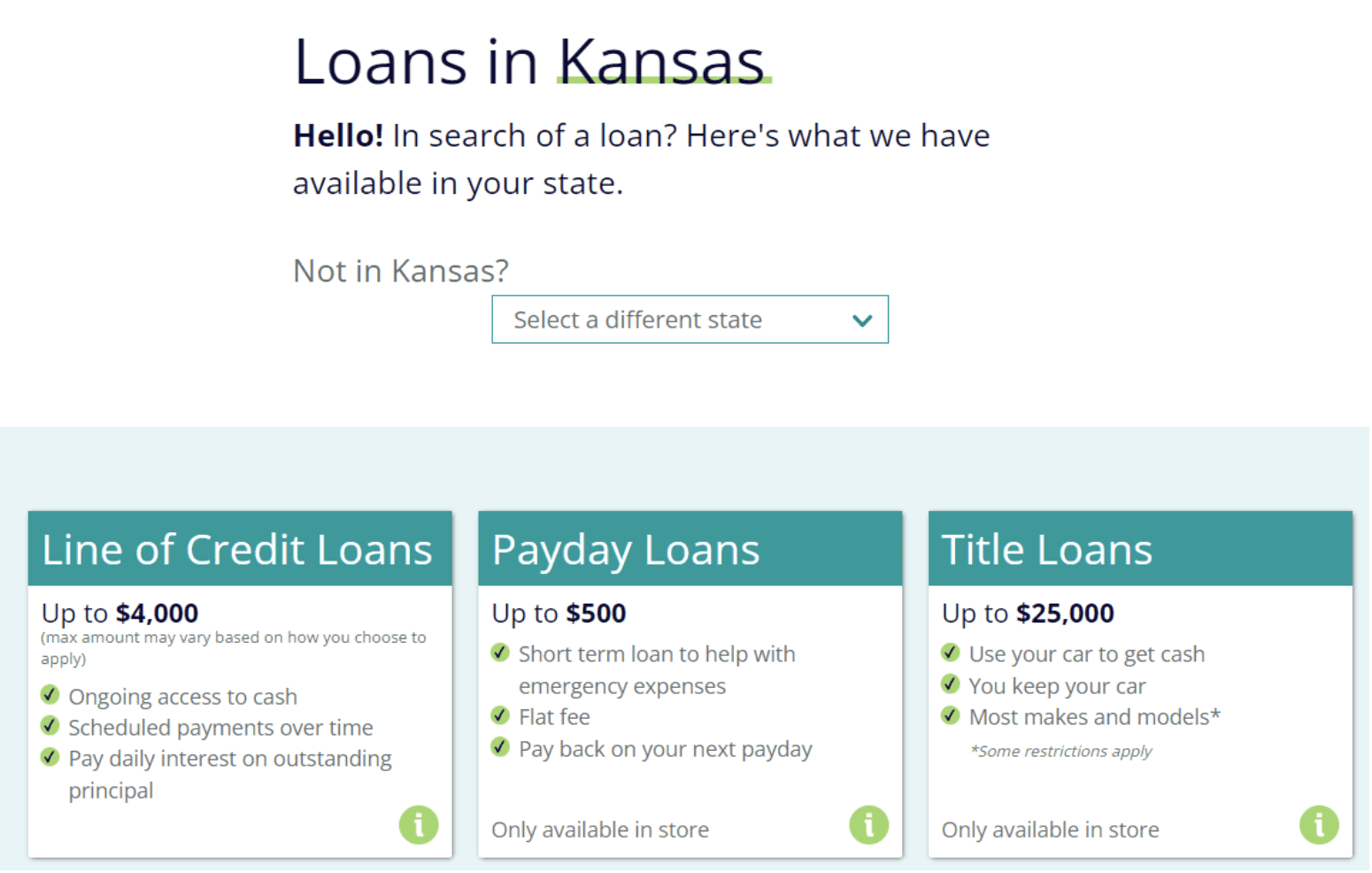 For residents of Alabama, SpeedyCash offers its customers access to fast credit through Payday Loans, Vehicle-secured Loans, and Installment Loans. For both the personal loan and the title loan option in Alabama, a store visit is required in order to qualify for the product.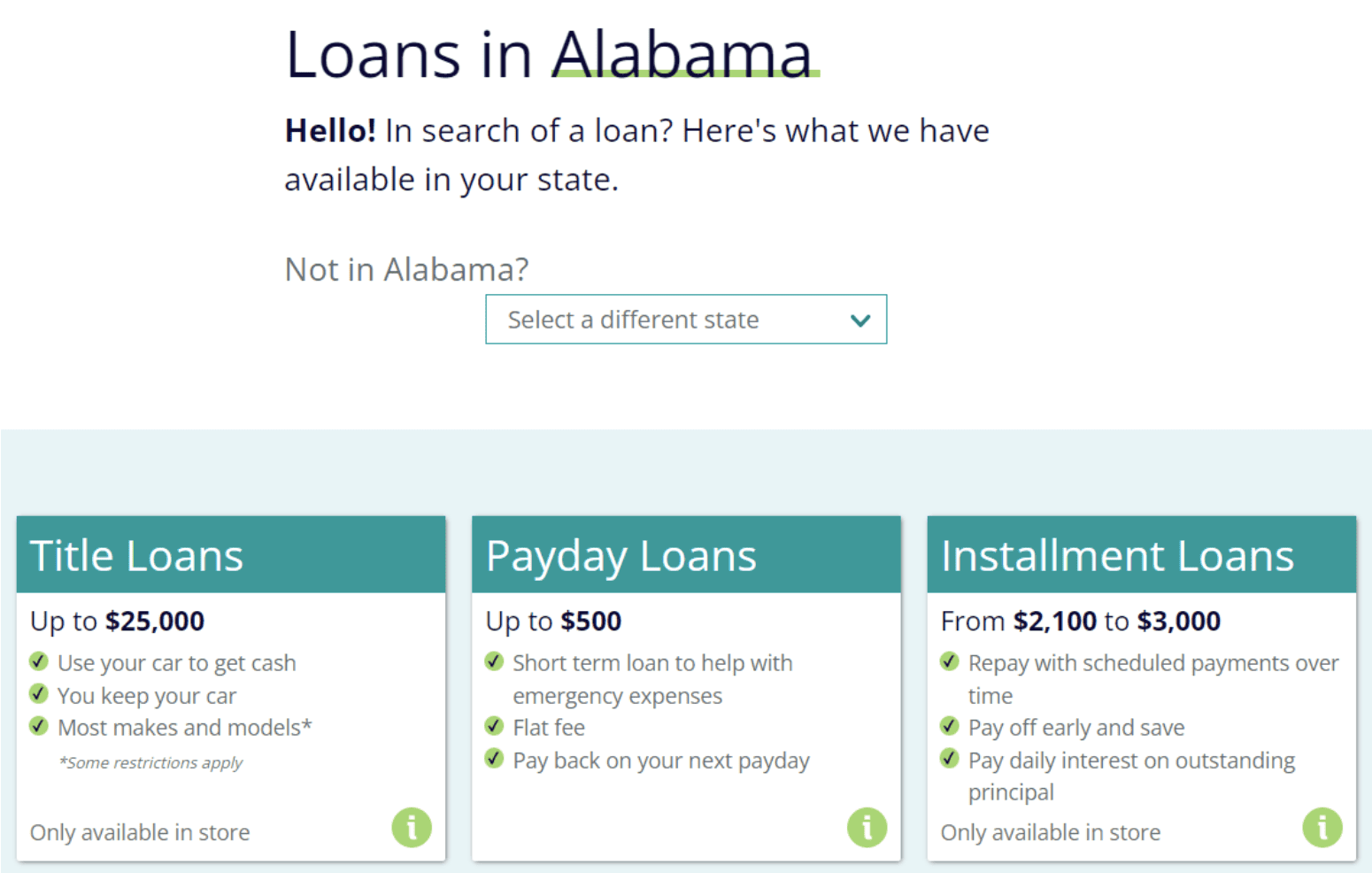 Lastly, borrowers with credit difficulties in Tennessee may choose between Title Loans and Line of Credit Loans, both up to a maximum amount of $4,000 as of August 2022. As in the other states mentioned above, getting a vehicle-secured loan requires a visit to a SpeedyCash store in Tennessee near you.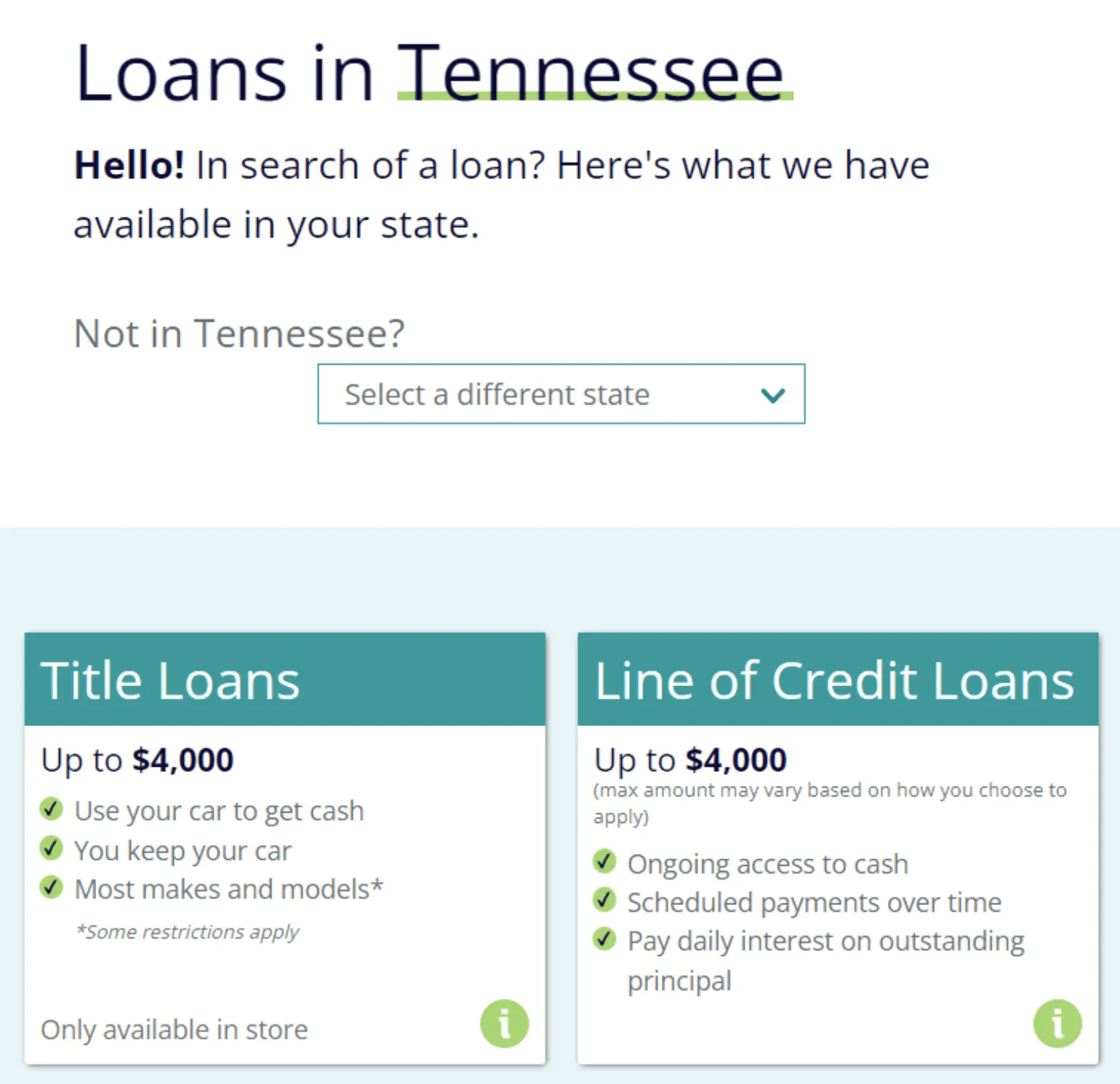 Based on a review of several states in which SpeedyCash offers auto title loans, it appears that SpeedyCash auto equity loans are typically only available in stores, whereas the company's payday loans and line of credit products may also be available through online channels.
As an operator of stores in several states, SpeedyCash also offer different ways that its customers can obtain loan proceeds. Borrowers who reside in a state where the company owns locations can visit a SpeedyCash store to pick up cash. For borrowers who prefer to not receive their funds in cash, loan proceeds may also be made available via ACH or debit card deposit.
---
Can I trust SpeedyCash.com?
Being one of the larger and more well-known brands in the market for borrowers with less than perfect credit and a licensed entity in several states, SpeedyCash can be considered a reputable provider of title loans, personal loans, payday loans and related credit products. Until mid-2022, the SpeedyCash brand was even part of a publicly-listed company called CURO Group Holdings Corp. In May 2022, Curo announced that it is selling its SpeedyCash, Rapid Cash and Avio Credit brands to Ohio-based Community Choice Financial, and the transaction closed in July 2022.
---
What are the requirements for a loan?
The requirements for obtaining a loan from SpeedyCash depend on the particular product that you are applying for. Generally speaking, speedy cash loans require that the prospective borrower meets the legal minimum age requirement, which is 18 years in most states. In addition, a valid form of identification is required in order to prove your identity to the lender.
In order to qualify for a SpeedyCash payday loan or unsecured installment loan, borrowers will likely also need to show evidence of an open and active bank account for the purpose of disbursing loan proceeds or evaluating the borrower's ability to repay the loan.
For SpeedyCash title loans, due to the secured nature of the loan, there are a few unique requirements and additional verifications that don't apply to the unsecured cash loans that the company offers. These unique loan requirements are as follows:
Proof of a clear title, or, in certain instances, proof that there is only one existing lien holder that can be paid off with a new loan
Proof that the car or truck is in good driving condition
Proof of insurance may also be required
---
Is SpeedyCash worth it or should I consider alternatives?
Determining if a SpeedyCash installment loan, payday loan or title loan is a good option for your financial situation depends on your unique circumstances, what your top priority is for choosing the best financial solution, and how the SpeedyCash credit product you could be approved for compares against some of your other options for funding. As with any shopping decision, looking for alternatives and understanding all your available options is usually a good idea.
Here are some of the key items you may want to consider before you get a credit advance from the company:
Do you even need a loan?

If you are a little short on funds, applying for a loan may be one of the first options you're considering. Before doing so, it may be worthwhile to think about other ways you can cover your current financing gap. For instance, you could consider:

Asking your friends or relatives if they can assist you with your financial need
Inquiring with your employer if you can get an advance against your next paycheck
Taking a serious look at your expenses to see if you can find short term or permanent savings that can make up some or all of your current shortfall
Signing up for a side hustle, especially one that allows you to get paid quickly and frequently – for example, as an Uber driver, you can use the company's "instant pay" feature to get paid for driving daily

What are the repayment terms?

If you know your financial situation won't resolve itself in the next few weeks, then a payday loan is not likely to be your best option. As the name implies, a payday loan is typically expected to be repaid by your next payday, which tends to be 2 to 4 weeks in the future. If you need more time to figure out your finances in order to be able to make the required payments, you're likely to be better off with a credit advance that provides for a longer repayment term, such as an installment loan, line of credit or title loan.

How much does it cost me?

As with any service you obtain, getting a loan has a cost that you should consider comparing to your other options. While there are many factors to consider when making up your mind about which lender to choose, the cost of your loan is certainly a key one. If you are approved by multiple lenders, you can compare the Annual Percentage Rate (APR) of all your offers. The APR takes into account the interest that the lender charges, and loan fees. The APR is thus a good way to understand which loan is more vs. less expensive over the entire term of the loan. If you want to get an idea of the potential cost of credit for a SpeedyCash loan without applying first, check out their rates and terms page to get an idea of the potential cost of credit for the products that the company currently offers.

How satisfied are other customers?

If you have prior direct experience with a lender, you can certainly let your prior service experience be a factor in deciding whether to use that same lender again for your current cash needs. If you are thinking about applying for a SpeedyCash loan but haven't had any prior experience with them, you may want to check out their reviews on Google, Yelp or other review platforms that you trust. If you are planning to apply for a loan in one of their stores near you, you may even want to consider checking out the reviews for that particular store.

Can I change my mind and cancel a loan?

Deciding to take out a loan can be a bit daunting, which is why it can be reassuring to have the option to change your mind after you obtained the loan. If you aren't 100% sure about your loan decision, check the current right to cancel (if any) that SpeedyCash may offer, and see how that compares to the other loan alternatives you are considering. Specifically, see how much time each respective loan option offers to change your mind, how onerous the cancellation process may be, and whether you would be responsible for repayment of any fees or accrued interest when you rescind your loan.
---
SpeedyCash vs. LoanMart – how do they stack up?
If you are looking for a loan that's comparable to SpeedyCash, a loan serviced by LoanMart could be one of the alternatives to consider. Here are some of the key comparisons between the two companies:
Available products

LoanMart specializes in providing and servicing title loans whereas SpeedyCash offers a host of different products which may vary by state and store. If you are looking for money services such as cashing a check or transferring money to a loved one, or if you're specifically looking for payday loans, short terms loans or a very small amount of funding, then LoanMart is not a viable option for you. However, if you've decided that a vehicle-secured loan is the right solution for your financial needs, applying with both companies may make sense, so you can see which one has the better offer for you. Moreover, if you are specifically looking for a title loan that's available completely online with no inspection, then SpeedyCash may not be your best bet, since a store visit with additional verifications of your vehicle may be required in order to obtain an auto equity loan from them.

Speed of loan processing and funding

If you're in a hurry to get your loan proceeds, you may be inclined to go with the company whose very name includes the word "speed". However, LoanMart doesn't shy away from competition and comparison when it comes to the speed of processing auto equity loan applications and offering a fast and convenient loan process. Consumers who apply for a title loan serviced by LoanMart may have access to funding as fast as same-day.3

Rates, amounts and terms

A comparison of the rates, amounts and terms is only possible on a case-by-case basis as lenders often change their title loan approval criteria, pricing, and available loan terms. Lenders may also have a different view in regards to how much your car or truck is worth, and thus how much they are willing to lend to you with your vehicle used as a security. The best way to compare both companies is to apply with both, and see which one has the best offer for you!1 Besides comparing the Annual Percentage Rate (APR) of your loan offers, be sure to see which one offers a loan amount and monthly payment that best aligns with your financial needs and budget.
---
SpeedyCash title loan refinance options
If you've already obtained a title loan from SpeedyCash and are curious to find out if you might be able to save some money by refinancing your loan, we encourage you to complete an online title loan application with LoanMart or make a phone call to our underwriting department in order to obtain additional information. Being one of the largest servicers of title loans in the United States, LoanMart may have loan options that compare favorably to your existing SpeedyCash account. Even if you are happy with your current monthly payment, interest rate and the quality of the customer service for your existing loan, there is no harm in submitting a no-obligation inquiry with LoanMart!
Get started here with your LoanMart inquiry – there's no cost or obligation to apply.