What is a Title Loan Calculator?
If you are in the process of obtaining a title loan, it's important to note what you need to qualify. While traditional loans operate with your credit score or financial background to justify your funding, title loans work somewhat differently.1 You could simply acquire the money you need for an emergency when you use the title to your vehicle as collateral, as well as meet the requirements for the loan!1 However, do you know the reason why? It's the car's available equity, of course! Borrowers who want funding must have a car with a certain amount of equity, plus a steady source of income to support their loans.1 Title loan lenders use that equity to ensure that you will repay the loan in full. If you fail to make payments, the lender has the legal right to repossess your vehicle and sell it for its worth.
Suppose you don't know your vehicle's current equity rate. In that case, you may be wondering if your car has the sufficient level to be eligible for a title loan. But don't worry! There are ways to obtain an estimate of your vehicle's equity.
Generally, people manually calculate equity by subtracting the amount they owe on the car(if any) from its market value. It may sound complicated to do on your own, and it can be. Fortunately, LoanMart can offer a title loan calculator that does the hard work for you. Although there are different free online appraisal tools like Kelley Blue Book, you might start to see why LoanMart's online calculator tool is the better option for you. It could be easy to do and quick enough to obtain an estimate in no time at all!3 In addition to that, you could also acquire a title loan quote, free of obligation!1 Once you use the tool, you can determine if your vehicle has the equity to qualify for quick funding.3
With a title loan, borrowers can access anywhere from 5% to 50% of their car's equity. That means you may be able to access the equity in your vehicle anywhere between $1,000-$10,000.1 You could potentially earn a considerable loan amount if the equity in your vehicle has a high-value rate, alongside demonstrating your ability to repay the loan.1
After you have read about using the Title Loan Calculator, take advantage of a quick and basic online approval process to find out if you can obtain a title loan serviced by LoanMart today!3 You can get assistance from a title loan representative by dialing 855-422-7412 if you have any questions about the loan process.
---
How Can I Use the Title Loan Calculator?
Before you get an auto title loan serviced by LoanMart, you may benefit a lot from using the Title Loan Calculator.1 It can help you strategize on what you could do to improve your car's equity rate to meet the requirements in acquiring a loan. The tool can be especially crucial when you are looking to obtain a significant total of money!1 So, how can borrowers utilize the calculator?
Simply open your laptop or go through your smartphone to access the Title Loan Calculator.1 As soon as you have access to it, you would only need to input a few quick details from your vehicle1:
The Year a Manufacturer Released Your Car: The age of a vehicle is one of the essential components that contribute to its value. It's important because the more recent the car is, the more value it could potentially obtain!1 If a vehicle is newer, it typically means that its mileage is low, which adds a lot to its market resale value.1 Also, recent models help to slow down its depreciation. But having an older car doesn't automatically deny you from getting a title loan! Borrowers that have maintained their vehicle in good condition could have enough equity to qualify for a title loan.1 In most cases, a classic car could hold more value than a newer vehicle!1 Even popular vehicles that are older could still retain plenty of value.1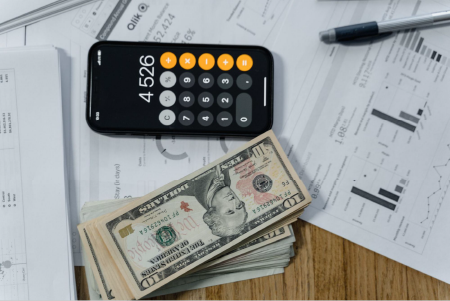 The Car's Current Mileage Found on the Odometer Reading: Another key element in a vehicle's value is the number of times you've driven it. Title loan lenders use a car's odometer reading to determine how much the engine has been used over time. It could also help a lender determine how long the vehicle has left before it may break down. Yet, even if your car has high mileage, it may still qualify for a title loan.1 But if you want a high-value rate, typically, your car must have a low odometer reading.
The Make, Model, and Style of Your Car: Usually, vehicles manufactured from a popular make or model can hold plenty of value, no matter their year of release. Some examples of popular models out on the market today include Honda Accord, Ford F-Series Pickup, Honda Civic, Toyota Camry, and a Nissan Altima. Cars that also have great fuel economy could earn a significant amount of value! The paint, style, and technology packages also add a lot to the value of a car. A vehicle's style refers to its shape and size. This includes sports cars, compact cars, minivans, station wagons, convertibles, hatchbacks, sedans, convertibles, and other variations.
The Car's Current Condition: A vehicle's condition is one of the most important factors in its value. The condition refers to any interior/exterior surface or cosmetic damage made to the car. Life happens, however. If something negatively affects your car's condition, you could still receive a significant amount of value if you consistently maintain it.1 Things you should look out for include regular oil changes, tire rotations, mechanical malfunctions, and a clean engine compartment. Make sure the car is clear of any visible damage, or keep it to a bare minimum. Damages can include paint scratches, dents, dinged windshields, rust, frame damage, electrical system damage, alignment problems, etc.
Any Alterations or Modifications Made to the Car: Although modifications can be fun to give your vehicle some personality, not all of them are great for your car's value in the long run. Unfortunately, many alterations could negatively impact a car's value, such as big spoilers, custom stereos, alloy wheels, beaded seat covers, wonky wheels, eyelashes on a vehicle's headlights, car stickers/bumper stickers, spinning rims, steering wheel covers, or even custom number plates. However, not every modification has the same effect! For example, if you decide to upgrade your car's engine or exhaust system, it could boost its value!1
Once you submit your vehicle's information, you could instantly receive an estimate.3 Keep in mind that you can also inquire about a title loan with LoanMart as soon as you use the Title Loan Calculator! It might only take a few minutes to get through the loan process and find out if you can qualify for a title loan.1, 3
---
Do I Need Good Credit to Use the Auto Title Loan Calculator?
Unfortunately, to qualify for most unsecured loan options, you will need to have good credit. That can be inconvenient for many people who do not meet that requirement for one reason or another. But title loans work against that by letting you use your car's title as collateral to secure your money!1
There is no need for you to meet specific criteria to use the Title Loan Calculator either. However, there's one thing that borrowers should be aware of when inquiring about a title loan.
Although credit isn't the main focus of the inquiry process for quick funding, a title loan lender may still consider verifying it.1 3 However, don't let that intimidate you, since it's normal for lenders to do that before deciding on your loan.
If a lender does decide to conduct a credit check, you may go through what is known as a hard credit check. It happens when you sign the loan agreement after a title loan lender agrees to lend to you. While it can take off some points from your credit, you may see it improve with time and effort!
Take advantage of the convenience of using LoanMart's Title Loan Calculator to see if your vehicle has the equity to warrant a title loan!1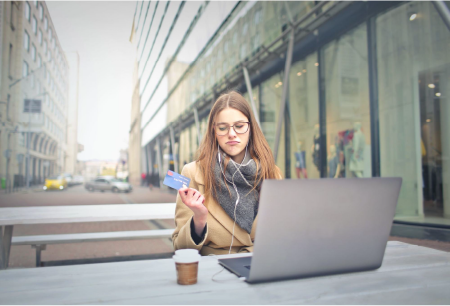 ---
Do I Need to Get Through a Vehicle Inspection to Use the Car Title Loan Calculator?
To qualify for a car title loan online, you will need to go through a vehicle inspection to validate your car's condition and equity. That can be unnerving to read if you were hoping this wasn't a requirement, and it's understandable why. A vehicle inspection means you would have to waste time driving to an office so a lender can conduct it in person. Not only that, but you might have to wait longer for the lender to run the inspection and receive approval status. You can't afford to have that if you have limited time to cover your emergency expense! Fortunately, you can skip that hassle and access an online vehicle inspection with LoanMart today!3
You could complete this step of the loan process in mere minutes by simply using your smartphone.3 Just take clear and visible photos of every angle of your car and upload them online. Make sure the pictures include the:
Front
Back
Driver and Passenger's Sides
Odometer Reading (Located Beneath the Steering Wheel)
Vehicle Identification Number (VIN # Found Near the Speedometer or on the Driver's Side Door)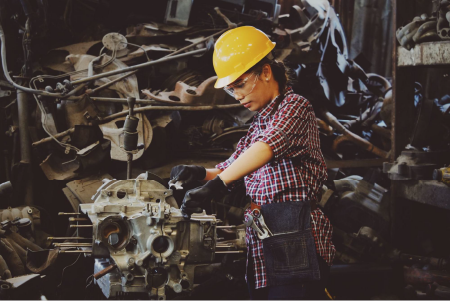 ---
What are the Benefits of a Title Loan Calculator and Getting a Loan?
A title loan serviced by LoanMart has more benefits than estimating your vehicle's equity with a Title Loan Calculator.1 There could be many exclusive perks that significantly add to your entire loan experience!1
Take a look at the benefits you can expect when you qualify for title loan funding:
Incredibly Quick Funding3: If you're in a financial emergency, you don't have time to waste. The problem with traditional loans is how long they take to process your funds; it's worse when they send money through mailed checks or require you to pick them up in person, which can waste even more time. Before you know it, you'd be drowning in debt! Luckily, title loans serviced by LoanMart could help you access money in a flash!3 The approval process might only take a few minutes, and it could be easy to get through.1 3 If you're approved for a title loan, you could receive funding in as little as 24 hours!3
Competitive Interest Rates1: A huge benefit of obtaining a title loan serviced by LoanMart are the competitive interest rates.1 The interest rates are important because they can shape your entire loan experience. Essentially, they will partially determine how much you'd pay in the long run. For the most part, if you have less than ideal credit, unsecured loans have high-interest rates that are very expensive to meet. Yet, secured loans like title loans could offer competitive rates based on up-to-date market analysis.1
No Hidden Fees to Be Found1: Many loan options stun borrowers with hidden fees that could leave them worse than how they were before the loan. That's why most people are tense about applying for loans when they need financial aid. But don't stress! Inquiring about title loans serviced by LoanMart means you wouldn't deal with any hidden fees or balloon payments.5 What you see is what you could get!5 In addition to that, you are free to pay off title loans early without the fear of getting penalties.5
Keep Your Vehicle: Some loan options do not allow a borrower to have access to their collateral while they are repaying their loan. Lenders will only give it back once you have completed the monthly installments. That could be worrisome if your vehicle serves as your primary source of transportation. You would have to arrange daily carpools or spend money on taxis if you have a 9-5 job. But with a title loan, you could continue driving your car like you normally would! However, you will only have that privilege if you are on time with your title loan payments each month.
Convenient and Flexible Online Process1: Nowadays, people do many things from the comfort of their homes. You can buy items online, schedule appointments without talking to anyone over the phone, order food from your smartphone, and even meet others through social media. With LoanMart, you could complete the approval process in no time through the online portal.3 It could be helpful if you're missing information or need to resubmit something since you could send everything within minutes.3
Excellent Customer Service: When you apply for a loan, you may want to be guided through the process if you have questions. That is why title loan agents with LoanMart work six days a week for extended hours to assist customers when they need help the most. You can expect to speak with knowledgeable, compassionate, and thoughtful people that do what they can to help. Dial the toll-free number 855-422-7412 to speak with a title loan representative!
If you're on the line with a title loan agent with LoanMart, you can ask them any questions about the previously listed benefits. Remember that they can also assist you with the online calculator tool if you need it.
---
Where Can I Get a Title Loan After I Learn How To Use the Title Loan Calculator?
Once you figure out how to use the online title loan calculator, you may be ready to see if you qualify for an auto title loan. Get started on a quick and flexible approval process today with LoanMart to see if you qualify for funding!3 Follow these three basic steps to find out if you meet the requirements for title loan money1:
Begin the Title Loan Process by Submitting a Short Inquiry Form Online or Call a Title Loan Representative at 855-422-7412. Both options are convenient and easy to get started on!1
Send a Few Required Documents: A title loan agent will ask you to submit some documents to verify your information and vehicle ownership. But don't worry, as it may be simple to find them and even easier to send them online!1 You would only need to send:

Proof of Income/Alternative Income
Proof of Address(Mail, Phone Bills, Credit Card Statements, Etc.)
Proof of Government-Issued Photo Identification
References(Professional, Personal, or Both)

Get Your Money!: You can receive your money through direct deposit, a mailed check to your address, or collect it in person at a participating location.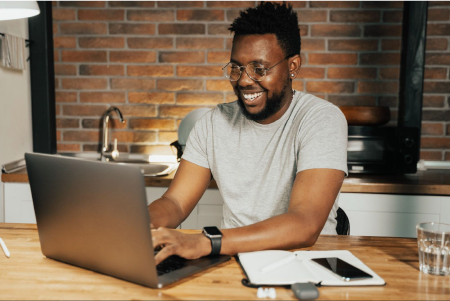 With the Title Loan Calculator tool, you'd benefit from the speed, simplicity, and convenience that comes with a title loan serviced by LoanMart.3 Contact a title loan representative at 855-422-7412 for further assistance. Apply for the money you need online today through a title loan!1