Can I get a title loan with my motorcycle – LoanMart Title Loans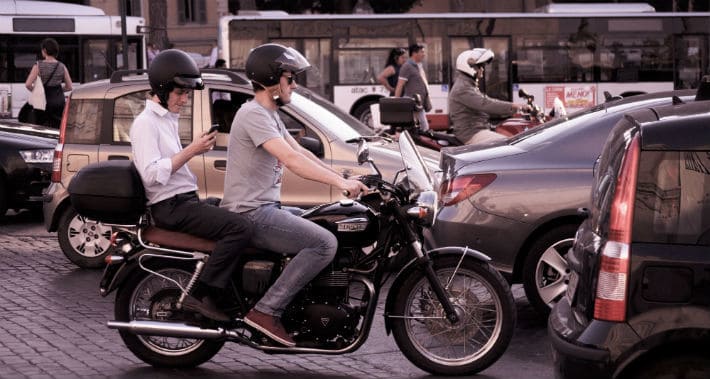 When you find yourself saddled with an unexpected expense you may consider using a title loan to get the money you need to cover it. If you have a motorcycle, you may also be wondering if you can use it for your title loan. Motorcycle owners with qualifying titles can absolutely use them for a title loan at LoanMart1. You'll need many of the same things for a title loan with a motorcycle as you would for a car.
What do I need for a motorcycle title loan?
There are a number of different documents you'll need for a title loan from LoanMart with a motorcycle:
Qualifying title for the motorcycle
Proof of Residence (certain types of mail)
Proof of income
Photos of the front, sides, and back of the motorcycle
Government-issued photo I.D. (driver's license, etc.)
How much money can I get for a motorcycle title loan?
The amount of money you may be able to borrow from LoanMart with a motorcycle title loan depends on a couple of different things1:
Income
Loan Terms
Equity in your motorcycle
The greater the equity in your motorcycle and the greater your income, the more money you'll likely be able to borrow1.
Can I keep my motorcycle during a title loan?
Yes, as with a car title loan, you can keep and use your motorcycle as normal while you make your payments on time.
What's considered proof of income for a motorcycle title loan?
While it's not the only thing you can use, a recent paystub is considered proof of income. If you don't have a recent paystub, there are a number of other ways to show proof of income to Loanmart for a motorcycle loan. For example:
Social Security
Bank Statement if you are self-employed
Workers' Compensation
Disability
How do I get a copy of my motorcycle title?
Your local Department of Motor Vehicles ("DMV") may be able to help you get a new copy of your title if you've lost it. Some may even be able to provide you with an expedited copy. LoanMart may be able to direct you to the nearest DMV capable of providing you with an expedited duplicate title, or even help you get it directly, depending on the circumstances. If you are able to add LoanMart as a lienholder at that time, it may lower the turnaround time on your title loan process.
What are the fees on a motorcycle title loan?
The fees and interest costs for a motorcycle title loan from LoanMart will vary depending on the state in which you live. Some states have caps on the amount of interest lenders can charge, others do not.
What happens if I can't pay back my motorcycle title loan?
If you are having difficulty repaying your loan, you should contact LoanMart immediately. LoanMart will work with you to find a solution.
What happens if I default on my motorcycle title loan?
If you default on your motorcycle title loan, your vehicle may be repossessed. The exact process varies from state to state. Some states require that lenders send you a right to cure notice. This is to inform you that you have a limited amount of time to pay off the remaining balance of the loan. If you fail to do so within the time allotted, your lender can have your motorcycle repossessed. Other states do not require a right to cure notice where the moment your loan goes into default, the lender can repossess your motorcycle. After the repossession, the vehicle can be auctioned off so the loan company can recoup the loan money.
Depending on the state, they may be able to continue to pursue borrowers if the proceeds from the auction were insufficient to cover the outstanding debt. In other states, once the auction is complete the lender may no longer pursue the borrower. Finally, there are even states where the lender must return any surplus money raised beyond the balance of the loan back to the borrower.
Note that there are some lenders who help borrowers by taking steps to try and prevent defaults. For example, they may look at your unique financial situation and recommend loan terms that fit your circumstances. One such title loan lender is LoanMart.
How do I get a motorcycle title loan with LoanMart
If you are looking for a motorcycle title loan with a competitive rate, you're looking for LoanMart. They may be able to help you get the emergency money you need to cover your unexpected expense. Using a qualifying motorcycle title in your name, you can potentially qualify for a title loan of up to $30,0001. Take advantage of LoanMart's streamlined filing process and the time between submitting your application and receiving your money could be as little as one business day3.
LoanMart has three simple ways to get in contact and begin the title loan process:
Visit a participating store
Call at 1-877-787-4923
Sign up online from the comfort of your own home
Once you've decided the best way for you to get in touch, all you have to do is follow a few simple steps:
Fill out the inquiry form
Submit your important documentation to your LoanMart representative
Sign your LoanMart agreement1
Now that you know a little more about motorcycle title loans and LoanMart, you can see they are a great loan provider when you find yourself unexpectedly in need of some emergency funds1. When an unanticipated expense derails your budget, let LoanMart help you get it back on track.