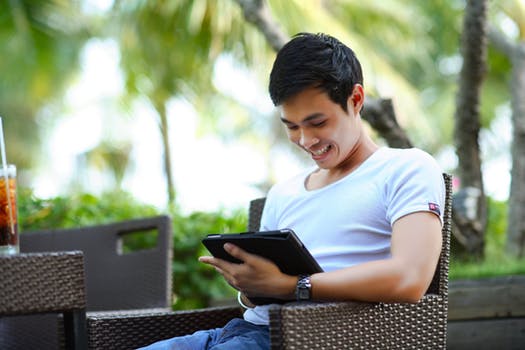 Can You Do Title Loans Online?
Can you do title loans online? Of course, and you can even stay in your pajamas to do it!
Yes! You can begin your title loan journey all while staying at home in your fuzzy slippers and robe. You can even sign your loan contract electronically as well.
To start, all you have to do is go online, call us on the phone, or try the convenient live chat feature. Next, you'll fill out a simple information request where you will be asked some basic questions. This initial submission should only take about 5 minutes to complete, that's about the time of a commercial break from your favorite television show!
From there, your friendly LoanMart auto title loan agent will give you your free quote and talk about some of the details of your loan contract. Your quote is 100% free and you are under no obligation at this point. We don't want to force you into something you don't feel comfortable with. That's why LoanMart will always work WITH YOU to come up with the best plan that works for your lifestyle.
What Do You Need to Get an Auto Title Loan?
Once you and your LoanMart title loan agent have talked about your free quote and some of your loan details, they will then ask you for a few documents, these will include:
Government issued form of photo ID – Something like a driver's license or a state issued photo ID will work. There are also other options.
Proof of residence – Wait before you throw away your next utility bill envelope. You can also use many other forms of mail to prove your residence.
Proof of income – Your paystub or a bank statement will work. There are also other ways to prove your income such as disability, social security, retirement, and more.
Title to your vehicle in your name – Don't worry if your title is lost or if it has another name besides yours on it, we still may be able to help you.
Pictures of your car – You can even take the pictures right from your mobile device and send them to us through a text message. Just send the text to the number: 1-818-315-8741.
Once your documents have been received it is time to sign your loan contract. Once you have signed your contract (you can even do it via DocuSign), LoanMart will then sign onto your vehicle title as a lienholder. This means that you can keep your car and drive it every day like normal throughout your loan period. LoanMart is not in the business of taking people's cars, so we will always work with you to ensure that doesn't happen. As soon as your loan is paid off you can have your title back.
Advantages of a Title Loan with LoanMart
LoanMart is a great place to get an auto title loan, we have been a leader in the industry for over a decade! What sets us apart from our competitors is the fact that LOANMART CARES ABOUT YOU. You, our customers, are at the center of everything we do. So, we always try to thank you by providing all our customers with high-quality customer service you can count on.
Check out just a few reasons why people all over the United States have chosen LoanMart:
Competitive rates – LoanMart works with you to determine the best rate for your lifestyle and go from there. We offer top-notch, highly competitive rates!
High Approval – Unlike most lenders, LoanMart does not judge you based on your credit score. Instead, we look at other important factors such as your ability to pay back your loan and the equity of your vehicle. Don't shy away from a LoanMart auto title loan if you have less than perfect credit. People with ALL TYPES OF CREDIT are encouraged to inquire with LoanMart. Our goal is to help as many people as we can.
No Balloon Payments – A balloon payment is when a borrower is forced to pay off their loan in its entirety at the end of a set period of time, all while paying interest throughout this time. LoanMart doesn't want to play those kinds of games with you, that's why we have never required balloon payments.
No Early Payment Penalties – If you want to make payments on your loan earlier than you have to, LoanMart thinks that is great! We won't punish you for being responsible, so we don't have any fees for making early payments.
Over 150,000 Satisfied Customers2 – LoanMart has given financial assistance in the form of an auto title loan to people throughout the United States, you could be next! Join the LoanMart family and inquire about an auto title loan with us today!