---
If you are in need of fast cash and want to use your car's title as collateral for funding, you may be worried about the vehicle inspection. Not only do you have to plan your week around the appointment, but your car has to be rigorously inspected by someone that may disqualify your vehicle for funding.
There are generally three ways a lender may inspect a car:
In Person – the lender will ask the borrower to bring their vehicle to their place of business and take a look at it there.
Inspection Through Pictures – the lender will ask the borrower to send them several, specific pictures of their vehicle both inside and out.
Online Checklist- The lender will have some type of checklist online for the borrower to fill out at home. This means essentially the borrower is doing the inspection themselves.
Some lenders may combine these ways to check the vehicle being put up as collateral. Most lenders nowadays do not require an in-person inspection while a small fraction may feel more protected by seeing the vehicle in-person.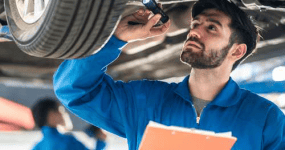 Call Our Team
Take the first step and call our toll-free hotline to speak with a specialist.
Getting a title loan without doing a vehicle inspection is possible. There are many factors that come into the decision-making process to getting your title loan, such as the condition of your vehicle and your ability to repay your loan. So how can you apply for a title loan with no vehicle inspection?
Why Do Title Loan Lenders Inspect Vehicle?
There is no shortage of vehicles on the road, but there are not many cars that hold great value. The car that one brings to receive an auto title loan needs to be evaluated to determine its level of value: how much they believe that they could sell it for.
Title loan lenders will inspect vehicles to help determine the amount and accuracy of your title loan, as well as to ensure the car is in working condition. There are many important factors of a vehicle that can affect its market value.
Because a car title loan uses your vehicle's title as the collateral of the loan, title loan lenders use the market value of the car as one factor for the loan amount. When estimating the market value of a car, you have to take many factors into consideration when estimating it. It's not just based on the year, make, model, and mileage of the car. These factors all effect the value of the car:
Brand
When it comes to two different cars, which is going to be more: a 2018 Toyota or a 2018 Mercedes-Benz? It's pretty obvious which will cost more, so that goes the same for value. When it comes to more basic car models, a Honda can be worth more than a Ford. It just depends on the brand and the model of the car.
After-Market Accessories
If you add any tricks or add any accessories to your car that it didn't come with when you purchased it, it can add some value. Special paint jobs, interior light additions, or any electronic enhancements could add value to a basic car.
Exterior Condition
The exterior condition is one of the bigger factors that can affect the cars value. If you have an older car with a lot of mileage, but the exterior has minimal to no damage, this could mean an extra $1,000-$2,000 in value of the car. If it's an older car with a lot of body damage, it can be worth almost nothing.
Interior Condition
While it may not be a lot of money that affects your car, the quality of the interior could raise the value of the car to the next thousand dollars. If you have missing fabric, holes, or ripped carpet, the value of the car can significantly decrease.
Mechanical Condition
While this may not entirely affect your car title loan value, it can affect the value of your car if you were to try and sell it. If there are interior, mechanical issues, it can severely damage the value of your car based on what type of mechanical problems it has.
Paint Color
Whether or not your car is black or red can determine a difference in value of the car. Most of the time it's because certain colors can be more difficult to replicate and produce than others. The rarer the color, the more value the car may have.
How to Get a Title Loan without a Vehicle Inspection?
While you still have to have a vehicle verification performed in order to qualify for an online title loan, you don't need an in-person inspection. Instead, you can just take pictures of your vehicle from every angle and email or upload them!
In addition to submitting your photos for a loan agent to review, borrowers can also access the title loan calculator to get a funding estimate!1 Using the title loan calculator, you'll submit a few pieces of information about your collateral to get a loan estimate:
State of Residence
Car Make
Car Model
Car Style
Current Car Mileage
There's no need to schedule a vehicle inspection, wait in line, or travel to a brick-and-mortar location when you inquire about an online title loan!
What are the Requirements for a Title Loan?
In addition to a vehicle inspection, there are some requirements for a title loan. While these requirements may vary, the basic requirements for a title loan are:
Borrowers Must Have Proof of Income or Alternative Income
Borrowers Must Have a Title in Their Name
Borrowers Must Be At Least 18 Years of Age
What is a lien?
A lien is a legal claim that is placed on an asset. It can be placed on the property for a multitude of reasons, including by companies that offer asset-based loans. Liens are typically recorded with a government entity such as the county or state. They can be removed by paying the debt that is owed on the vehicle or the lien holder can lift the lien at his or her own discretion.
Once a lien has been placed on a vehicle, the lien holder has the right to repossess and/or liquidate the property should the borrower default on their loan. This protects both the borrower and the lender, for the lender, if the debt is not repaid, will sustain a hefty loss that may only be recovered in a lawsuit or by a debt collection agency.
What If I Have More Than One Car?
If a person has more than one car it may be a good idea to let the lender know. Sometimes the secondary vehicle(s) may have more value than the primary vehicle that was being used for the car title loan. So it is a good idea to let the lender know about all of the vehicles that one has. For the other vehicles, the lender will go through the same type of vehicle inspection that they used on the first car.
Benefits of a Title Loan without a Vehicle Inspection
With an online title loan, you can not only go without a vehicle inspection, but you could also receive advantageous benefits! Take a look at some of the perks you could enjoy with title loans!
Long Repayment Terms<sup>1</sup>: Other types of loans may not give you much time to repay the emergency cash you borrow, leaving you struggling to keep up with high payments.
Low Monthly Payments: Don't worry about a high monthly bill because title loans usually offer affordable terms that work with your income! You could get repayment terms that work within your monthly budget!
No Prepayment Fees: If you want to pay your title loan back earlier than agreed upon, you can do so without facing penalty fees! You can become financially independent and save on interest!
Competitive Rates: Loan rates can vary depending on a lot of factors but with a title loan, you could receive competitive rates that don't make repayment stressful!
Fast Emergency Cash: If you want money for an emergency, you likely need it quickly. With a title loan, you could get that money in as little as 24 hours after approval!3
No Hidden Charges: You may have been cautioned against borrowing money because a lot of loans have hidden fees within the contract. Luckily, many title loan options do not have hidden fees for you to worry about!
Documents Needed for a Title Loan without a Vehicle Inspection
If you intend to inquire about a title loan without a vehicle inspection, know that you will need to provide some informational documents.
The documents required will vary depending on your personal situation, but generally you can expect these 5 documents to be requested:
Car Title
One of the most important documents for a title loan without a vehicle inspection is the car title! During the title loan process, the vehicle's title is used as collateral to secure the loan. The car title must be in your name.
Proof of Income
The second most important requirement for a title loan is income. You must receive enough consistent income to comfortably repay the title loan. You can show proof of income by submitting bank statements, paycheck stubs, etc.
Proof of Address
To show proof of residency, you can turn in credit card statements, a voter registration card, a deed to a residential property, utility bills, etc.
Proof of Identification
To acquire any type of loan in the U.S., you need to show proof of identification. For a title loan, you can show any government-issued photo ID, such as your driver's license, passport, state ID, military ID, etc.
References
Several references are required. You can choose to send in personal or professional references.
Multiple photographs of your car
Instead of making you find a participating store location near you and have a physical inspection performed, we just ask that you send in pictures of your vehicle. Having photos allows us to determine its condition without an inspection.
When sending your photos, it would be helpful to make sure you include photos of the following areas of the car:
Front view. This will provide us our first impression of what your car looks like.
Back view. We need to see what is going on at the back of your vehicle. Make sure you keep reflections from washing out your pictures.
Driver side view. We need to see the entire side of your vehicle from top to bottom as well as front to back.
Passenger side view. Keep yourself from being too far away from the car when taking this picture.
Odometer view. A close-up of the odometer is necessary, so we can know how many miles your car has on it. Turning off your camera's flash is a smart idea.
VIN (Vehicle Identification Number). You can find this inside the door on the driver's side (looks like a label) when the door is open. This number can also be seen through the driver's side window. Be sure that the entire number fits in the space of the picture and that it will be easily legible to our team.
The value and condition of your vehicle will be taken into consideration greatly, so your pictures need to be clear and framed correctly. When you line up your vehicle, make sure to take the pictures in good lighting, such as outdoor, daylight. Make sure your car is clean so that dirt might not be mistaken as wear and tear. Line up your car so that we can see the bottom of the tires to a few inches above the top of your car.
We evaluate the vehicle with these pictures so if you need more money, try to remember that and reflect that when you take pictures of your vehicle. You believe your vehicle is priceless and so should we.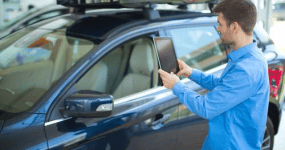 How to Qualify for a Title Loan without a Vehicle Inspection?
If you are interested in obtaining a title loan without a vehicle inspection, know that the process is quite simple and straightforward! Our team is committed to giving you a positive title loan experience. Another reason we don't require an inspection is because we want to make the title loan process hassle-free. Having to clear time out of a busy schedule can be a nuisance just to have your car looked at when taking a picture can work just as well.
Step One: Provide Some Basic Information
To start the inquiry for a title loan serviced by LoanMart, you can choose to either call 855-422-7412 or use the online title loan calculator.
Step Two: Send Some Documents for Approval
Once in connection with a title loan agent, you will be asked to upload your documents online. You can fax, email or text us pictures of your documents, and our helpful agents are available to help you, wherever you are. We will need photos of your vehicle in addition to other documents for the vehicle title loan process.
We have several ways you can send them to us as well. You can:
Step Three: Receive Your Approved Funding
The knowledgeable loan agent will go through your information, ask questions, and verify your details. Once a title loan agent has reviewed all your paperwork, they will go over your approval status! If you are approved, you will sign the title loan agreement and pick up your funding.
Borrowers can choose between a few different ways to get their funds:
Direct Deposit
Receiving A Check in The Mail
Pick Up Your Funds at Any Participating Money Transfer Location Near You
No matter what type of financial emergency you may be facing, a title loan could be the answer to regaining financial stability!1 If you prefer to go without a vehicle inspection, know that there are title loan options that allow you to forego the traditional in-person vehicle inspection!
Give us a click or call today to find out how you may be able to get fast cash without the hassle of a vehicle inspection1!