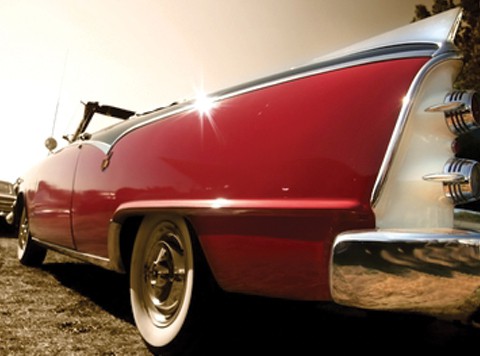 Car Title Loans on Classic Cars
Vintage and Classic Cars
Many potential borrowers are under the impression that you can only receive a title loan on a brand new car but that is not the case. Maybe you own an old Ford Mustang, Pontiac GTO or Chevrolet Chevelle. Maybe you've also found yourself needing a loan for yourself or your family. Whatever your vintage ride may be and whatever your situation, we at LoanMart want to help you understand car title loans on classic cars and how this may be able to benefit you.
When someone is in need of a loan, they may not be able to get the money they need from a traditional lender like a big bank. Traditional lending options usually take much longer and have more stringent qualification requirements than many people can afford. We, here at LoanMart, pride ourselves on helping those people. We have customers from all walks of life and all financial situations, and we try to work with people who have poor credit or constantly changing income due to self-employment. With the less traditional lending option of a car title loan, we are able to approve customers for certain amounts based on qualifying factors such as the current street value of their vehicle and their ability to repay the title loan.
As long as you have a verifiable source of income we may be able to approve you for a title loan on your classic car. This could include if you're on disability, social security or if you are retired. We have been able to fund people with many diverse circumstances in the past and we may be able to help you too.
At LoanMart, we serve people who bring in a variety of cars: new or old, even classic and vintage cars too! We would love to help you find out how you can get out of a tough financial situation with a title loan that will make real use of this treasured asset- without it leaving your garage.
These are the cars that their owners have dreamt of driving since they were kids; the cars that they worked so many years to track down, buy and possibly even customize. Owners of vintage or classic cars would never consider selling or pawning the car that they care so much for. Though in times of great need anyone's mind can wander to consider the most drastic measures to fix their situation. However, there is an alternative. There is no need to lose your beloved vintage car because through LoanMart our customers can obtain car title loans on classic cars without letting that prized car out of their sight.
We're happy to provide car title loans on classic cars when we can. These title loans work in the same way as those on cars that are modern or new: we hold the title and the borrower is allowed to keep their automobile and use it as they normally would. We are well-aware that owners of vintage or classic cars do not wish to lose possession of their beloved cars even if they need a title loan on it. At LoanMart, we can assure that customers receive the money they desperately need, in the event that they qualify, and keep driving their class cars.
Getting a title loan on your classic car may be the best option if you are looking to borrow a higher amount, as classic cars can often be worth more than your everyday vehicle. If you own more than one car, you can even apply with all of them to find out which one might be able to qualify for the highest amount of money in an auto title loan.
Better-Known Classics
1957 Cadillac Eldorado Brougham
1963-1965 Buick Riviera
1961-1969 Lincoln Continental
1967-1970 Toyota 2000GT
1949-1951 Jaguar MK V DHC
1970-1974 Dodge Challenger R/T
1960 Volkswagen 1200 Cabriolet
1966-1969 Chevrolet Camaro
1959 Cadillac
1953-1962 Chevrolet Corvette
1955-1957 Ford Thunderbird
Know Your Title Loan
It helps to understand some car title loan basics if someone wants to know how we're able to work with so many different types of people – and their wide variety of cars. We use the equity in automobiles as collateral against the amount being lended. As long as the car in question has value, it doesn't matter what type it is. That includes classic cars, too! Classic cars can have a lot of value in them which makes them prime options, in many cases, for title loans in Oklahoma City or the city you live in. When a car has a higher equity value held within it, it can get more money for the borrower.
Getting an auto title loan on a vintage automobile is a much better solution for many classic car owners because it means they don't have to sell their prized asset if they need money. You get to keep your classic car that you have invested so much in over the years but still receive assistance during your time of need. If you have unexpected bills or a financial emergency to deal with, before you put your car up for sale, talk with us about the possibility of using the equity in that car to get the check you need.
The amount of title loans in Texas, as well as all other states, will vary depending on the classic car. The amount of money a person borrows can't exceed the value of the automobile. Once they have their loan and are ready to pay it back, they can make payments as scheduled or are welcome to pay back what they owe early. There are no prepayment penalties on any of our loans at LoanMart. This means that you can pay back the loan much earlier than planned and save substantial amounts of money by avoiding any additional interest.
It is wise to remember that even though a borrower may be able to receive a much higher title loan on a classic car that might have a lot of value in it does not always mean they should take out a larger loan. One should always make sure to borrow only what they can reasonably pay back within a certain timeline. One good rule of thumb is that your monthly spending on all your loan payments put together should not exceed 50% of your monthly income. LoanMart is committed to making sure that all of our customers are properly informed so as to make the best decision possible.
Call LoanMart if you are interested in learning more about getting an auto title loan on a classic car. See if you may qualify today. Starting the submission process online is quick, easy, and best of all, free! Or, you can chat with us online or give us a call to speak with a customer service representative who would love to help you learn more.