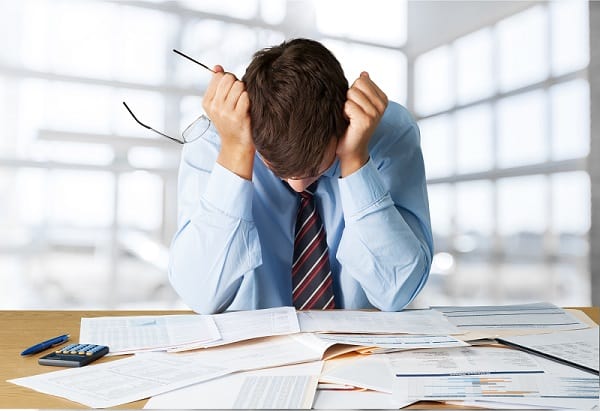 Declaring bankruptcy may help settle your debt and stop phone calls and letters from debt collectors. Whether you file for Chapter 7 or 13 bankruptcy, this last resort option may help you get a fresh start. But, it's a fresh start that comes with a lot of consequences. One of the biggest is trying to apply for loans after you have declared bankruptcy.
Whether you file Chapter 7 to discharge debts, or filed for Chapter 13 to use a 3-5 year plan to pay off your debts, the fact that you filed for bankruptcy can affect you long after your debts have been actually paid.
The bankruptcy laws and codes were originally set up to give people with debt a second chance, not to punish them. However, there's a cost to everything. In this case, bankruptcy carries some long-term consequences because it will remain on your credit report for 7-10 years after filing no matter what. When your credit report has the equivalent of a big, red "bankruptcy" stamped over it, it can be very hard to get loans or be approved for any line of credit no matter your current financial situation.
But, at LoanMart, we offer an alternative to these traditional lenders that will probably turn you down as soon as they see the word bankruptcy. At LoanMart, your past doesn't matter as much.
Approval Process at LoanMart
Here at LoanMart, we always take our customers' current situation in mind when going through the approval process. We know that everyone's past does not necessarily reflect their present or their future. We realize that even though you might have had a bankruptcy in the recent or more distant past that shows up on your credit report, you may still be able to repay a loan.
How We Look at Bankruptcy
A previous bankruptcy or bad credit history may not hurt your chances of qualifying for an auto title loan, since our auto title loans in Dallas and many other places are more heavily based on the value of your vehicle and your ability to repay.
If you have a current bankruptcy proceeding, you may need to get permission from the court to obtain a loan from us.
We will decide if we can lend you money based on your ability to make payments now. With respect to bankruptcy, we look to see if you are in credit counseling, have an active bankruptcy or anything else that might affect your ability to pay a loan.
We've been able to help people with all kinds of situations in the past that have to do with bankruptcies and we may be able to help you too.
How We Look at Credit
Similarly, your credit score might be badly affected by a past bankruptcy whether it's still on your report or not. At LoanMart we also have solutions for loans for those with bad credit, due to a bankruptcy or otherwise. Unlike other types of loans, credit is not a major deciding factor for us when we're making loan approval decisions. Primarily, it depends on these two things:
1. Equity in Your Vehicle
Equity is the amount of money your vehicle is worth minus any amount you still owe on it. If you own your vehicle outright, its equity is simply the resale value of your vehicle. At LoanMart, we do our own evaluation of your vehicle based on information, including photos, about your vehicle. Depending on how much we think your vehicle is worth as one factor, we will decide if and how much we might be able to lend you.
2. Your Ability to Pay Back a Loan
The second deciding factor is your ability to pay back a loan. We will use the paycheck stubs, bank account statements, etc. that you send us to decide this. We will look at how much you earn per month and decide if it looks like you'll be able to afford to pay back a loan amount.
Our auto title loan approval process for title loans in Michigan and other states where they are offered is based on this because we know that you still might be able to pay off a loan no matter what your credit score is. Here, we offer a true fresh start because we understand that everyone has financial troubles from time to time, but your past doesn't equal your future
Loans and Credit after Bankruptcy
Loans after bankruptcy are hard to get because building your credit after bankruptcy is also hard. After filing for bankruptcy, moving on financially becomes quite a puzzle: It's hard to get loans with bad credit, but you can't demonstrate positive credit behavior until you get a loan. In any case, you need to work on raising your credit score in the future. For now though, if you need a loan, you'll need to find a lender that offers loans for people with bad credit, even though they will typically have higher interest rates.
Some options are:
A Secured Credit Card
Bad Credit Personal Loan
Auto Title Loans
Bad credit personal loans and secured credit cards have their limitations though. Bad credit loans are unsecured and have higher interest rates because there is no collateral. And while secured credit cards do have collateral, it is in the form of money that you have to put down as a security deposit equal to the credit line, which you might not have.
Auto title loans, however, might have relatively high interest rates compared to traditional loans, but for people with bad credit and a vehicle; it might give a lower interest rate than a bad credit personal loan. Also, with an auto title loan, you can use the value in your car as collateral, instead of coming up with a deposit as collateral like with a secured credit card. They also could potentially be faster and give you a larger loan amount than these other two options.
Auto Title Loans after Bankruptcy with LoanMart
Here at LoanMart, we have been able to help people with all kinds of situations and credit for over 10 years. We may be able to help you too. The best way to find out how you might be able to get an auto title loan after bankruptcy is to apply now or give us a call. We'd like to help you get the real clean slate you deserve.