You may have heard of a title loan before, but do you really understand what they are; here's a title loan definition.
If you asked the average person on the street what a title loan was a few years ago, they probably would have responded with a head scratch and a confused look. But now, you might get an answer like, "My cousin got one of those, that's how he was able to buy his nice house!"
Title loans are definitely growing in popularity for people in the U.S. They are becoming a common way for many people to receive the financial assistance they need in a timely fashion.
If you aren't familiar with title loans, now is the time to get acquainted.
What Exactly is a Title Loan?
A title loan is a way to use your qualifying vehicle title as collateral to borrow money. Who knew you were driving around every day in the solution to your financial problems?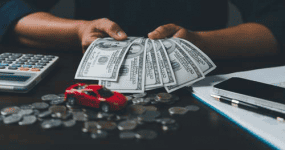 Call Our Team
Take the first step and call our toll-free hotline to speak with a specialist.
Title loans also go by many different names, so it is important to be familiar with all of them. Title loans can also be referred to as:
Auto title loan
Automobile title loan
Car equity loan
Auto equity loan
Cash for car title loan
Car title loan
Auto collateral loan
Title loans with poor credit
It is essential that you do not confuse an auto title loan with an auto pawn loan. When you get an auto pawn loan you usually are required to leave your vehicle at the pawn shop for the duration of your loan. Here at LoanMart we think that is absolutely crazy. How are you supposed to live your life without your car? When you get an auto title loan with LoanMart and make your monthly payments, your car stays where it should—with you.
Where Can You Get an Auto Title Loan?
LoanMart! LoanMart is a great place to get an auto title loan. We are proud to offer competitive rates, convenient terms, a high approval rating, and help available for you seven days a week with extended hours.
Since 2002, LoanMart has been a leader in non-traditional lending. We ditched the hassles that come with most lenders, so you can get the money you need in as little as one business day3! Don't wait weeks just to find out if you qualify, go to LoanMart for fast, efficient service you can rely on.
Over 250,000 satisfied customers have chosen LoanMart over the years, and now you can too2! We have participating stores all over the United States, so there is bound to be one near your neighborhood. Find the closest one and stop on by, you can talk to a representative and find out if you qualify on the spot!
What You Need to Get an Auto Title Loan
When you apply for most loans, the first thing the lender will look at is your credit score. If you have poor credit you're usually deemed unqualified right then and there. That's kind of ridiculous. LoanMart knows that there is more to you than just your credit score. That's why we look at other important variables such as the equity of your vehicle and your ability to pay off the loan. We approve people with all types of credit scores, so don't be discouraged from inquiring if your credit is less than perfect.
Getting started with an auto title loan from LoanMart is so easy, if you have an internet connection you can begin right from the comfort of your own home. Use your computer, smartphone, or tablet to visit our website here, try the convenient live chat feature, or email us at customersupport@800loanmart.com. We will ask you to fill out a quick information request, it should take about 5 minutes or less to complete.
After we have your information and you are approved, your LoanMart representative will ask you for a few documents including:
Government-issued photo ID – This can be a driver's license or a state-issued photo ID.
Proof of residence – use a piece of mail, like a utility bill, for example.
Proof of income – this can include but is not limited to a paystub, bank statement, disability, social security, or retirement.
Your vehicle title to your qualifying car with your name on it – if your name is not on your car's title, we still may be able to help you. Just ask us!
Sometimes other documents are requested to provide clarification on your information, but your LoanMart representative will notify you if we need any additional documentation.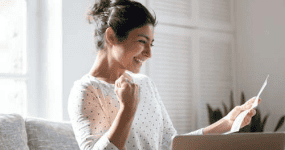 Why Should You Get an Auto Title Loan with LoanMart?
LoanMart has helped thousands of people across the United States do everything from achieving their financial goals to getting out of a tough economic situation. It doesn't matter where you come from in life, LoanMart is here to help you.
Enjoy the financial freedom that comes with an auto title loan from LoanMart. Upon approval, LoanMart will design a payment plan for you, so you don't have to worry about making one.
Check out just a few reasons why LoanMart is one of the most successful auto title loan lenders in the business:
High approval rate
Convenient terms
LoanMart agents available 7 days a week with extended hours
Competitive rates
No balloon payments
Absolutely no penalties or fees for paying early
Get started with the nation's leading alternative lender today!