Title Pawn vs. Title Loan: What's the difference between the two? Well, it may not be what you think.
Tired of unreliable lenders wasting your time? They can make you jump through hoops, charge you with all kinds of hidden fees and obligations, and then at the end of it all you aren't even "approved" for some unknown reason. The madness has to stop!
Save yourself the headache and just come to LoanMart. We can get you the money you need in as little as one business day3! Our process is quick and efficient because we know your time is valuable.
But it is important to know all your options. There are title loans and title pawns, but do you know what the difference between them is? Don't worry if you don't, they are very similar. However, note that there are also some major variations that could greatly impact your ultimate decision.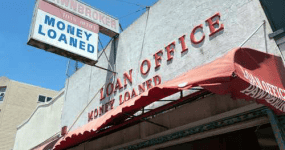 Call Our Team
Take the first step and call our toll-free hotline to speak with a specialist.
What is a Title Pawn?
A title pawn is a way to use your vehicle's title as collateral, so you can borrow money. There is no need for an in-depth credit check when you get a title pawn because your title is being used as collateral. A title pawn may be the option for you if you are willing to part with your vehicle title for a while.
What is a Title Loan?
A title loan is also a way to use your vehicle title as collateral, in order to borrow funds. Similar to a title pawn, you don't need perfect credit to receive approval for a title loan with LoanMart. However, LoanMart may still look into your credit score when you apply for title loans in Detroit and many other cities, but this is to make sure you are not presently filed for bankruptcy or currently going through credit counseling. LoanMart always cares more about your ability to repay your loan and the equity of your vehicle than solely about your credit score.
Title loans can be a bit tricky because they go by many different names, so you are best off familiarizing yourself with them. Title loans can also be referred to as …
Auto title loan
Pink slip loan
Auto equity loan
Title loan with bad credit
Automobile title loan
Car equity loan
Fast cash for car title loan
Auto collateral loan
Advantages of Borrowing Money with LoanMart
LoanMart is a great choice for you if you are interested in a title loan! People across the United States have come to us seeking reliable financial assistance, and we are happy to help out! When you achieve your dreams, so do we!
Check out just a few reasons why LoanMart is one of the leading lenders in the industry:
Efficient Service: LoanMart won't drag our feet making you wait forever for your loan process to move forward. We work quickly and efficiently to ensure that you get your money in a timely fashion. If you fill out your initial information request early in the morning, a LoanMart representative will most likely be in contact with you that very same day! Or, if you filled out your form late at night after business hours, you will be one of the first people contacted in the morning when we open up for business.
Quality Customer Assistance: LoanMart is here to help you along any step of the way during your money borrowing process. We have qualified LoanMart title agents available to help you 7 days a week with extended hours. LoanMart knows that life doesn't stop because it's Saturday, we won't shut you down just because of the day of the week.
High Approval Rate: We know many people shy away from applying for a loan because they don't have a fantastic credit score. But LoanMart knows that you are more than just a number. We look at other important factors such as the equity value of your vehicle and your ability to repay your loan, rather than just at your credit.
No Balloon Payments or Early Payment Fees: LoanMart won't punish you for needing money. That's why we won't throw ridiculous requirements, like balloon payments, at you. LoanMart won't set you up for failure by making you pay a huge balloon payment at the end of your loan period. Also, if you want to be ahead of the game and make payments on your loan early, go for it! LoanMart won't charge you extra money for making your payments earlier than scheduled.
Competitive Rates: Like we said, LoanMart doesn't want to set you up for failure. We give you the best rates in the business that are designed to fit your specific financial situation. Furthermore, with your approval for your LoanMart title loan, we will create a payment plan for you to make sure paying back your loan is a stress-free, manageable experience.
Head on over to the LoanMart home page today and get started on your journey towards financial stability!