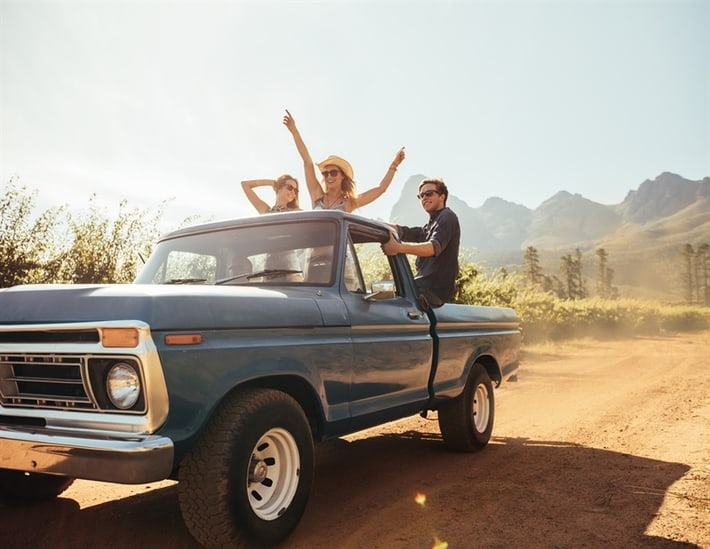 Types of Vehicles for Car Title Loans
Are you curious about what types of vehicles qualify for car title loans with LoanMart? Different types of vehicles are frequently considered for title loans, including classic cars, trucks, and in some areas motorcycles. The amount you may be eligible for with a LoanMart car title loan is based on the equity and value of your vehicle1. Find out with LoanMart today!
You can submit information on more than one vehicle with LoanMart. Your LoanMart agent will help you figure out which one will work in your favor and help you to get approved!
Not all car title loan companies give the same amount for the loan. The industry term is "LTV" or loan to value. Same car, same mileage, same conditions… different amounts AND THAT is one of the biggest reasons to use LoanMart… our LTV is considered the best in the industry.
You have seen it before when you travel with multiple hotel sites offering different rates for the same exact room. You want the best LTV then LoanMart is your answer. How do we do it? We ask more about your vehicle and even look at pictures to get a decision on the amount. You might have a trim package on your vehicle that raises the value by thousands but unless the lender asks, and they typically do not, you will get the lowest value.
Deciding Factors: Value and Condition
Your vehicle is considered an asset and can hold value that is used as collateral. To qualify for a loan one has to have equity in their vehicle. It is usually calculated by subtracting the amount that you owe the bank or the dealership from the actual value of the car. Those who own their cars outright are in a better position to get a car title loan because the equity of the cars is higher1.
Finding out the current value of your car is the best way to know how much of a loan you may be able to get. Remember that wear and tear reduces the value of any drivable vehicle. You can also use online tools or a dealership to appraise the actual value of your car.
Knowing the Value of My Car
Check your car's value online if you are looking for estimates without having to go to a physical location. There are some simple ways to know the actual value of your car. Having a good understanding can help get a good auto title loan offer. A reputable used car dealer can help you to appraise your car and get a current market quote. Another venue that provides real time information would be a car auction.
You can ask questions for clarification about the value of your automobile. They will inspect your car for any possible wear and tear and then compare it with others that have a similar make, model or condition. A manager at a dealership shop will also look at the demand for the car to help determine its current value. They should be able to tell you about both the trade-in value and the market value of the car. These two prices often differ and can comprehensively explain the various aspects of equity in your vehicle.
What Types of Vehicles Can Be Used for a Title Loan?
At LoanMart, we accept all types of vehicles. Classic cars, trucks, motorcycles and utility vehicles can be eligible for a title loan, while considering the mileage and the age of the engine when determining the equity1. Based on your unique situation and vehicle, we could accept new or old cars for a title loan application1. People with vintage classics and can get title loans as well.
The status of the title matters a lot when you are applying for an online car title loan. At LoanMart, we check that you have a clear title, but can work with customers from all types of financial situations1.
How Do I Know if My Title Qualifies?
We invite title holders who may need a loan to apply with LoanMart. You can qualify for a loan with LoanMart even if your vehicle is not fully paid off. If you are a title holder, the vehicle may qualify1. Just submit an online application and our customer support representatives will be happy to address your concerns and help you to get the help you need.
If your car title has a zero balance and no one has a lien on your car title, then you will most likely be able to qualify for a higher loan amount than a car that is not paid off1.  There are only a few documents needed to apply. LoanMart will lend you the needed money immediately after the approval of your application.
Is A Car Title Loan Good For My Vehicle?
A car title loan can be a good option if you are low on cash or need funds in an emergency. LoanMart offers all types of car title loans at affordable competitive rates. Our satisfied customers have benefitted from car title loans. Ultimately there are a variety of vehicles that can qualify for a car title loan. You can find out which vehicle is based on the equity or other value determining factors. Getting the help you need could be as simple as getting a car title loan on your spare vehicle1.
Only a few documents are needed and the application process takes place online. If you are planning to request a loan from LoanMart you can use your car title, while keeping your vehicle. That way you can keep driving your car throughout the loan period. At LoanMart, we are aware of these concerns and are happy to help you understand the risks. Car title loans with LoanMart have advantages with our easy to use system and friendly support representatives. Find out how you can get the help you need today.