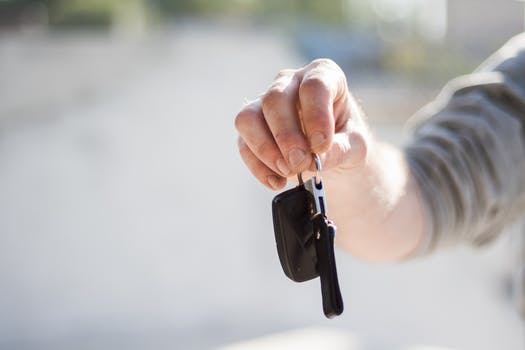 Why Should You Get an Auto Title Loan?
LoanMart, being an industry leader since 2002, has developed many features and advancements in loan technology that other companies are years behind with getting. You can benefit TODAY by getting a title loan with LoanMart and using these tools to make your loan experience faster, more convenient, and most importantly modern. We never stop innovating ways to make the process hassles free, like having online access to your account (like you would a bank account) to helping you avoid unnecessary documents at the beginning of the loan which people stumble on getting. This makes the process fun and fast. You must check out the LoanMart difference!
An auto title loan with LoanMart is simple: it's fast, efficient, and gets you the money you need without the hassle in as low as one business day3, even if your credit is less than stellar.
FUN FACT: LoanMart is the largest lender in California and has helped thousands2 obtain auto title loans, in a handful of states for a variety of reasons.
If you're still deciding whether or not getting an auto title loan with LoanMart is a good decision, what you probably need to know are the benefits of having an auto title loan—after all, not all loan providers are the same – so it makes good sense to be aware about the ones that go the extra mile, like LoanMart.
Here is a quick rundown of some of the advantages as to why you should get an auto title loan with LoanMart:
LoanMart has a fantastic presence across a number of states in the country. LoanMart serves residents in the states of Alabama, Arizona, California, Georgia, Missouri, New Mexico, South Carolina, and Utah. As long as your car title is from those mentioned states and you demonstrate the ability to repay your intended loan, it is very likely that you can get the money you need from LoanMart in as little a time as the following business day. We are growing and not a small loan provider which means we have a reputation that is critical to us. We need your good word of mouth to help us grow and you need money which we can get for you as long as you qualify.
LoanMart doesn't charge for inquiries. Top service involves care and concern for clients, both current and prospective. Because of this, you will not be charged even one cent for making an inquiry with LoanMart, even if your inquiry does not materialize in an actual loan agreement. We never ask for money from you to get a loan. After all, you need money from us so why ask you for money to get that loan? We don't. Some do.
 As a large and well-established leader in the lending industry, LoanMart has the best resources and tools to serve clients. You can enjoy secure, safe, and efficient tools of convenience such as online account access or direct links through your phone via a mobile app.
Loan application processes can be approved within the day if everything is in order. If you submit all the necessary documents and photos of your vehicle, you may be able to get your money the following business day or in some cases, even before the day ends. How about cash today? Sound's good? Let's get started early!
LoanMart makes it convenient for you to receive your loan money. The last thing anyone wants to do is to line up for one long line after another just to put in a loan application and then be told what you should have taken with you on this visit to get your money! Over the phone and through email and text messages we get the things we need so you don't waste time in lines! We never put you through a situation where you go to a friendly participant of ours and then get turned down. You know before you get your money, that your money is waiting for you and that it. LoanMart is able to give you your loan amounts through electronic deposits, checks, via MoneyGram, and more. In fact, in some cases you will even be able to state how you wish to receive the funds, making the entire process all the more convenient for you.
Applying for a car title loan with LoanMart does not require a laundry list of documents and paperwork. LoanMart has simplified the entire process by asking for your car title, your proof of identification, capacity to pay, and residence. One of the most challenging parts of applying for traditional loans or bank loans would be collecting all the documentation that one will need just to comply with the loan requirements.
We use Secure Sockets Layer (SSL) encryption. Your information will always stay safe and secure with LoanMart. The company recognizes the importance of information security, so no personal details are stored on their web servers, the use of Secure Sockets Layer (SSL) encryption is in place, compliance with federal and state laws on privacy are followed, and routine shredding of any paper copies of customer information are done when such documents are no longer needed.
Loan approvals for this are largely based on the value of one's vehicle as well as the loan applicant's ability to pay back their loan. When we have this information a personal loan underwriter will take ALL your factors into account, not just one, giving you a great chance to get the loan with a computer spitting out automatic denials. Individuals with bad credit scores can still qualify for an auto title loan with LoanMart. People who have bad credit might think that they have no chance at all to become approved for an auto title loan. Having said that, your past "black marks" have little to no bearing when it comes to applying for a car title loan! If you need more time to pay off your intended loan, simply come forward with that concern and the loan officer attending to your needs will gladly sit with you to discuss the best plan that will make loan repayment more manageable for you and your situation.
LoanMart allows for loan approval without keeping your car. One of the biggest concerns of people who apply for loans using their car title is whether or not doing so will impact their ability to get around. Luckily, with LoanMart you are completely free to use your vehicle throughout the duration of the loan because it is only the auto title that the company will secure prior to giving you your loan amount. This also applies even when your car is not yet fully paid off.
You can conclude after reading all these reasons is that LoanMart prioritizes their clients and would-be clients above everything else These details are but a short list of all the reasons why you should get an auto title loan with LoanMart. As you begin or continue to transact with LoanMart, you will find so many more things that demonstrate the company's professionalism, years of experience, and sincere desire to really be of service to you.