In this day and age, it is almost impossible to be financially prepared for every single thing life throws at you. Whether there is an unexpected death in the family, or you're struggling to pay rent, life can be unpredictable. If life is happening to you, and you feel like you're just trying to keep your head above water, a title loan may be the best fit for you. Before you run to google and type in, "title loans near me," you will be happy to know that you can actually apply for a title loan online.
Title loans can be a great solution for those with compromised credit.3 This is because LoanMart can allow borrowers to use their assets as leverage for the loan. If you own your vehicle or you have a few payments left, this loan may accommodate you during life's challenging season.
You may be thinking, "This sounds great, but what are the benefits of applying for a title loan?" Below are some wonderful perks that come with approval for a title loan serviced by LoanMart.
---
What are the Benefits of Applying for a Title Loan Near Me With LoanMart?
Here at LoanMart, you can expect your title loan experience to be different. Does it feel like your family has gone through emergency after emergency? Has your credit utilization increased resulting in a dip in your credit score? Who could blame you; life gets expensive sometimes. That's what your credit card is for, to provide you with additional financial support when your main source of income does not cover the entirety of your expenses. LoanMart understands that and does not punish borrowers for having less than stellar credit.1
LoanMart uses the value of a borrower's vehicle as the primary determining factor when reviewing an applicant's loan request. Now, you may be thinking, "This all sounds great, but why choose LoanMart?
Below you will find amazing benefits that borrowers choosing LoanMart are privy to.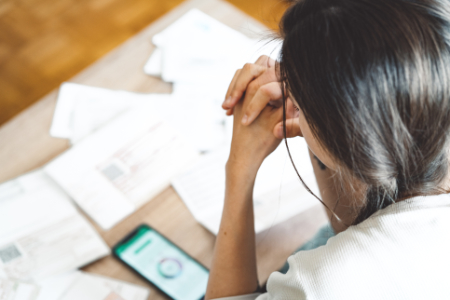 Personalized Payment Plan - Wouldn't it be a shame if you went to the doctor and they prescribed you another patient's prescription? The ailments you face are different from your neighbor's, and vice-versa. LoanMart understands we do not live in a one-size fits all world, so they know a payment plan that worked for another individual may not work for you. With LoanMart, you'll have a chance to speak to a title loan professional to determine the best payment plan that suits your financial needs. No two people are exactly the same, so your payment plan shouldn't be either.
Quick Funding3 - Have you ever needed money immediately? Was there a child who was sick, or a loved one in trouble? When it comes to your family being in need, you may not have ample time to wait. LoanMart understands that people have time-sensitive emergencies that must be dealt with as soon as possible. That is why some borrowers may potentially receive their funds the next business day.3 When an emergency happens, you don't have weeks to wait. You need cash right away, and LoanMart can be a great option for borrowers who need speedy financial relief.3
Professional Process - Have you ever inquired about a loan, and you felt like too much of your personal information was being recorded for a simple inquiry? LoanMart does not require copious amounts of information upfront. Most traditional loan servicers have hidden fees, and extra charges, but not LoanMart. LoanMart prides itself on being transparent with potential borrowers. No upfront commitments and no hidden fees. You can easily receive a title loan quote free of obligation!
Superior Customer Service - Have you ever called customer support with an urgent problem, and you were on hold for what felt like centuries? Finally, when you speak to someone they aren't very helpful, and you feel like you've been waiting for so long only to get nowhere at all. Well, at LoanMart, customer service agents are committed to providing you with top-tier support and are well-informed to answer any questions you may have.
---
What Document Do I Need to Apply for a Car Title Loan Near Me
Now that you know the benefits of applying for a title loan near you with LoanMart, you may be thinking, "Okay, what else do I need to know? What documents do I need to actually apply for a title loan near me? " Just like with any loan, there are a few documents needed for verification. Finding title loans near you makes it easy because you can find most of these documents in your home, in your wallet, your mailbox, or in your car.
Most loan providers expect potential borrowers to send in copious amounts of paperwork before they are even approved. With LoanMart, the paperwork you send in can be conveniently submitted online with ease. Below are just a few documents you need to submit when going through the application process.
Photo ID - This needs to be a valid form of government-issued photo identification. This is to ensure that the person applying for the loan is who they say they are. So, pull out your driver's license or passport and send a photo in as verification.
Photos of Vehicle - While a title loan inspection is required, you do not need to drive anywhere. Just take a few photos of your car and submit them online. In the photos please include the following: vehicle identification number, photo of the roof, passenger side, backside, and driver's side. Once you take a photo on your smartphone, upload it online when prompted.
Proof of Residency - Unfortunately, title loans are not available in every state. However, if they are available in your state, you can easily prove you live there! Like most United States residents, you still receive physical statements in the mail; even though most agencies are going the paperless route. Check your mailbox for any utility bills that came in, or check it for any bank statements that have your address on it. When showing proof of residency, opt for a recent utility bill or bank statement. Other forms of mail may also be accepted.
References - These can be two to three people who can vouch for you personally or professionally.
Vehicle Title - The title of your vehicle should have your name on it, and if it does not, there are ways you can change the title to your name.
Proof of Monthly income - Proof of income is extremely important because it is one of the major determinants of your eligibility for a title loan.1 Now, if you do not currently have a traditional 9-5, it's okay. No need to panic. Several United States citizens today are making ends meet through other channels of income. Let's face it, people today are leaving the limiting advances of the corporate world in an effort to find another way to provide for their families. While you are more than welcome to submit pay stubs as proof of monthly income, there are alternative forms of income that can be submitted. Below are a few:

Small Business Owners - Were you absolutely exhausted commuting to your 9-5 every day?. One day you finally decided that you had enough, and you decided to open up your own business. It took a while, but you are finally seeing consistent income coming in. For the entrepreneur, monthly bank statements will suffice as proof of income. While paid invoices from clients cannot be used as proof of income, you are able to send in your bank statement that shows how much you are bringing in every single month. Or, use your tax returns!
Alimony - Was your husband or wife the primary breadwinner in your household? Once you decided you were headed for divorce, you knew you still had a lifestyle to maintain. If you receive spousal support from a separation or divorce, that may qualify as proof of income.
Child Support - Do you receive monthly forms of court-ordered payment from your child's mother or father? If so, you may be in luck. Taking care of a child is far from easy, they need school supplies, clothes, food, electricity, and a roof over their head. If you are fortunate enough to receive court-ordered child support, it may qualify as proof of income when applying for a title loan.1
Settlements - Let's say, you were driving home from work one day. There is ice on the road, but instead of calling in, you decided to go into work anyway. On your way back home, while at a red light, another car slides into you. In that scenario and others, you may have been awarded a settlement. If you received a settlement, you may be able to use that as proof of income.
Disability Check - Are you facing a chronic health challenge that prohibits you from working? Not to worry, you may be able to send in your disability check as proof of income.
Social Security - Are you past the age of retirement and haven't worked in over five years? It's been so long that you're not sure if you're even able to find a previous paycheck from your employer. The good news: monthly social security checks qualify as proof of income.
Workers' Compensation - You were finally getting the hang of your job. You were finally getting into your "workflow" where your routine felt like a well-oiled machine. All of a sudden, one day while you were sorting goods on the top shelf you had a terrible fall. Your back hasn't been the same since the accident. Do you receive worker's compensation? If so, that may be a qualifying piece of document to show proof of income.
---
What Type of Car Do I Need to Apply for a Title Loan Near Me Today?
At this point, you've probably mentally pinpointed where you can find some of the documents mentioned above. Once you realize you have all of the necessary documents, you may be wondering if your vehicle itself will qualify as collateral for a title loan. The good news: if you own your vehicle and the title is in your name, you are encouraged to apply. Now, there are some cars that are seen as more valuable than others. The value of your car plays a major role in the amount of money you may qualify for.1
The value of a vehicle is determined by how the consumer market would view it. There are several factors that play into a car's value. A car's equity is one of them. Now, when you think of the word "equity" what comes to mind? You may think of the word "ownership" or "percentage of ownership." When it comes to equity in a vehicle it can be split into two separate categories.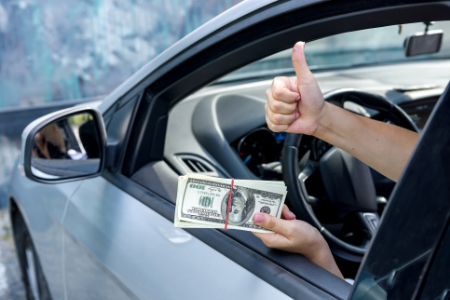 Positive Equity - If you only have a few more payments on your vehicle until it is completely yours, you may have positive equity. Positive equity is when you owe less on your vehicle than what it is worth.
Negative Equity - Negative equity is when you owe more on your vehicle than what it is actually worth. This can happen in many ways, including through depreciation and small monthly payments if you financed a car for too long.
Determining what type of equity you have in your vehicle is extremely important, but it is not the only factor when determining a car's value. Below are a few more variables that come into play.
Make and Model of Vehicle
Year of Vehicle
Current Mileage on the Odometer
Current Condition of Vehicle
---
How Do I Apply for a Title Loan Near Me?
Now that you have all of the information that you need, you may be thinking, " How do I apply for a title loan near me?"
You can go online and follow these three easy steps to apply for a title loan serviced by LoanMart today. No need to leave your house to inquire about the cash you need! Simply pull out your smartphone or laptop to get started.
Step 1: Inquire about the title loan
Click here to go online, and follow the prompts. The prompts will have you answer some basic information about yourself and your vehicle. Once you answer a few of the questions, you may be pre-approved for the cash you need.1
Step 2: Send in Paperwork
If you decide to move forward with the application process, you may then submit some of those important documents mentioned above. The great part about doing it online is that you can simply send in photos of your documents from the comfort of your own home.
Step 3: Get Approved for an Auto Title Loan1
As soon as your loan agent verifies your submitted information, you may be approved for your title loan. Once you are notified about the approval you will discuss with your loan agent the best method to receive your emergency cash.
If you can get your cash in as little as one business day, why wait to apply?3 Call a loan agent at 855-277-4847 today!