A challenging financial situation can often come out of nowhere. A few unexpected expenses or bills could set your budget back this month, and you may not know where to turn. You could go online to sell household items or start searching for multiple jobs, but these options are inconvenient and time-consuming. Out of all of your options available, you may consider a loan the best one. You may be right in that assumption, but many loan options, unfortunately, may turn you down if you are not in the best financial shape.
Thankfully, a title loan may be the best alternative resource to consider for your financial needs.1 Title loans, also known as auto title loans, are secured through collateral. It's a loan type that is convenient and flexible for people of all different kinds of financial backgrounds and credit histories.1
Inquiring about a title loan can be easy as the approval process can be just as quick as the money you would receive.3 If a loan agent approves you for a title loan, you could receive funding in as little as one business day!3 You can also save the hassle of driving to an office to start on your application process when you can do everything online from the comfort of your home!3
With loan options like LoanMart, it only takes a few minutes to inquire about a title loan.3 Get started online or call 855-277-4847 to see how you could qualify!
---
How Do Title Loans Work?
Most financing options through a bank or credit union can often come with complicated terms if you are not in your best shape financially. Additionally, the requirements may not be easy to meet. One of the multiple benefits of getting a title loan is how flexible and easy it can be to qualify, even if you are not confident with where your credit is at.1
With a loan option like a car title loan, you are essentially borrowing off of your car's equity. You secure the cash you need by using your car's title as collateral for the loan. You wouldn't need to have a perfect credit score to be eligible, which is how the flexibility of a car title loan comes into play.1 By using your car's title to secure the cash during the loan process, you are essentially borrowing enough positive equity from your car and turning it into cash! You could get more money from your loan if your vehicle has a high-value rate and you have enough income to support the loan payment.1
But the collateral goes both ways for any title loan you apply for, as it provides the lender with security that the borrower will repay the loan in its entirety. The lender will place a lien on the title from the vehicle until you have completely paid off the loan. If you start to miss your monthly payments and fail to repay the loan amount, your lender can decide to repossess your car and auction it to sell it.
It's safe to say that your ability to repay the loan is an essential requirement in qualifying for a title loan. A loan agent uses your income to determine your loan amount and monthly payment. It's essential to choose a loan that you can afford, which is why LoanMart offers you the chance to select loan terms that are convenient for you.1 You can either pay the loan amount in a single installment or space yourself out by dividing the cost into multiple payments. Title loans are generally installment loans that are paid over a period of time, but there is no prepayment penalty for paying them off in a single installment if you have the means to.5
You may be wondering if you will be able to keep your car after being approved for a title loan. As long as you're on time with your payments, the vehicle will remain with you.1
If you're like most borrowers, you might not know the available equity in your vehicle. Fortunately, LoanMart has an online calculator tool to help you find an estimate with a quote free of obligation.1 All you need to do is input a few details about your car:
The Make, Model, and Style of the Vehicle: ome variations of makes and models, in addition to luxury vehicles, can slow the declining value of a car. If the vehicle is manufactured from a popular make or model, its chances of a high value are excellent no matter what year it came out. If the car has substantial fuel economy, it could also add a high-value rate. The color, style, and technology packages are other factors that can help boost the resale value of a car. The style can refer to sedans, sports cars, minivans, convertibles, station wagons, or other variations.
The Year of the Vehicle: Recent models usually value more than older cars. Typically, newer cars will have less mileage on the odometer, increasing their market value. However, if the vehicle is a classic car, a luxury car, or a popular make from a manufacturer, the vehicle may still have substantial value. No matter the vehicle's age, your vehicle may still have a good amount of value if you have maintained it well.
The Current Condition of the Vehicle: Your car's current state is the key factor in determining its value. The condition of an automobile refers to any damage to the interior/exterior surface of the vehicle. If you have maintained the car well, it could receive a high amount of value.1 Things to look out for include no mechanical malfunctions and a clean engine compartment. Make sure your car is up to date with regular tire rotations or oil changes to maintain the vehicle in good condition. Keep clear of visible damages or at least keep them to a minimum. The damages can include paint scratches, dents, or a chipped windshield.
The Mileage on the Odometer: The mileage on the odometer is essential to a vehicle's value, as it demonstrates how much its engine has been used, and if it's well-traveled. The higher the mileage is on the car, the less value it could hold. However, high mileage doesn't immediately disqualify you for a title loan, as it may still have enough equity to be eligible.1 Still, it could have a higher value rate if its mileage is kept low.1
Any Modifications to the Car: In some instances, modifications can decrease the value of a vehicle. Modifications such as alloy wheels, custom stereo, or spoilers could negatively affect its value. But some changes and upgrades can potentially increase a car's value on the market. If you decide to upgrade its engine or exhaust, there's a chance that it can hold a high-value rate!
With this information, you could easily use LoanMart's online calculator tool to calculate your vehicle's equity and determine if you qualify for a title loan.1
---
What Documents Do I Need to Apply for Car Title Loans?
In addition to using your vehicle's title as collateral, a loan agent will ask you to submit a few documents to verify your information and vehicle ownership. While it may sound like it would take an extended amount of time and effort to retrieve these documents, you may already have these on hand! While most loan options would require you to submit these documents traditionally through the mail or in-person at a physical address, it can be inconvenient when you need your money now! Thankfully, LoanMart offers you the convenience of sending them all online!
Here is a list of the following documents you can present in different ways:
Car Title: When inquiring about an auto title loan, a loan agent will ask you to submit a title to a vehicle that must be in your name. If your name is missing on the title or you have lost it, a LoanMart representative can help you find out how to request a transfer or replace it. You must also send a few pictures of your vehicle to verify its condition. Take clear photos of the front, back, and sides of the car, as well as its odometer reading and Vehicle Identification Number (VIN #).
Proof of Income: As long as you can meet your payments, you don't need to be actively employed to qualify for a title loan.1 The documents you can use to verify your income could be pay stubs, bank statements, proof of pension income, SSI income award letters, a letter of employment from your employer, or some other alternative forms of income.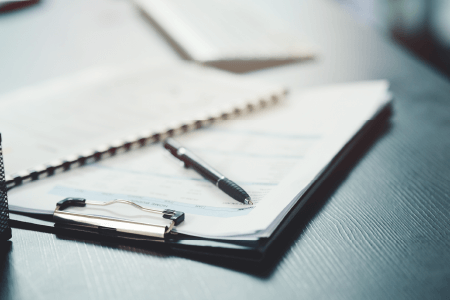 Proof of Address: To prove your residency to a loan agent, you can use different documentation to do so: recent utility bills, credit card statements, mortgage/rental agreements, recent phone bills, etc.
Proof of Identification: You can validate your identity using a government-issued photo identification card. You can use documents like a driver's license, passport, or even a military ID.
Any References: loan agent might still ask you to provide personal or professional references during the approval process for a car title loan.
With LoanMart, once you send these documents, you can typically find out if you're approved for a title loan in less than an hour!3
---
Will I Go Through a Credit Check Once I Inquire About an Auto Title Loan?
Since car title loans are secured through collateral, it allows a variety of individuals to inquire about a title loan despite their financial background or credit history.1 Although it's not the most important aspect when qualifying for a title loan, your credit may be considered during the approval process.1
When a loan agent evaluates your credit, it will go through what is known as a hard inquiry check, which happens when you inquire about a title loan and receive the money. It could negatively affect your credit score, but time can reduce the damage. Even if your credit is not in perfect standing, you could still be eligible to get funding through a title loan.1
---
What are the Benefits of Applying for Auto Title Loans?
Being approved for a title loan serviced by LoanMart can come with many advantageous perks that benefit your loan experience.1 Alongside a flexible approval process, take a look at what you can expect if you're a qualified borrower:
Incredibly Quick Funding3: When you inquire about a title loan online, you could receive funding in as little as one business day!3 It could only take about 5 minutes to inquire about a title loan serviced by LoanMart.3 You could get funded in as little as 24 hours compared to other methods by choosing to receive your money through a direct deposit.3
Competitive Interest Rates1: Borrowers that inquire about a title loan would have to repay the loan amount with interest. Since title loans serviced by LoanMart are secured through collateral, an approved borrower could receive more competitive interest rates than other loan options.1
No Hidden Fees5: Many loan options surprise you with hidden fees that can leave you in a cycle of debt. With loan options like LoanMart, there are no hidden fees or balloon payments to worry about.5 If you decide to pay your loan early, there are no prepayment penalties to do so either.5
Convenient Online Process: The entire loan process with a title loan is quick and easy to do by doing it all online.1 You can take advantage of helpful and reliable customer service with a team dedicated to making your loan experience convenient and clear of any issues. Let the experts from LoanMart help with any questions or concerns you may have by calling 855-277-4847 today!
---
Where Can I Inquire About a Title Loan Online?
Now that you know what title loans are, you take advantage of a fast and flexible approval process with the exclusive benefits that auto title loans serviced by LoanMart can do!3 It only takes three easy steps to get started1:
Inquire about a title loan online by submitting a quick form or call a loan agent at 855-277-4847
Submit your documents to a loan agent
Get your money!
It takes no time to get the money you need by inquiring about a title loan with LoanMart!3