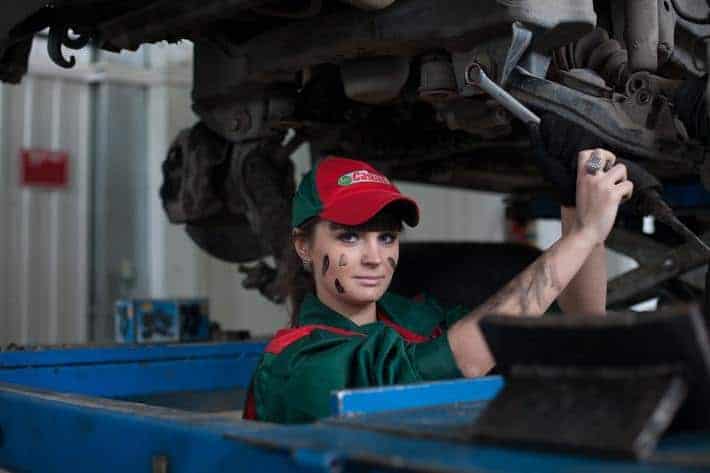 Car repairs can be expensive, especially when they're least expected and they happen to be major parts that keep your car running. If you find yourself looking for a title loan to fix a car in South Carolina, then you've stumbled across the right place. With LoanMart, we may be able to help you with a title loan to fix a car in South Carolina1 and provide you funding in less than 24 hours3.
Title Loan to Fix a Car in South Carolina
If you need emergency funding to fix your car, getting a title loan might be your best option. Auto title loans with LoanMart allow you to get the funding you need without the hassle of traditional banking1.
How Title Loans Work
Using the qualifying title of your vehicle as collateral for an auto title loan, this allows you to get the money you need. Instead of basing your approval and funding off of your credit score, we use the title of your vehicle, your source of income, and the equity in your car to determine your eligibility and loan amount.
How to Get a Title Loan to Fix a Car in South Carolina
We don't ask for much when you need to get your car fixed! Our title loan process is quick and easy, and you could qualify for funding up to $30,000 to repair your car1. All you need to do is follow the simple steps of LoanMart's title loan process:
Apply for a Title Loan
The first thing to do is send in your inquiry. You can start at a participating store near you, over the phone at our toll-free number, or by using your phone, tablet, or computer to apply online! It could take less than 5 minutes to complete your inquiry.
Send in your important documents
In order to verify your information, you'll have to send a few documents in to your LoanMart representative. Don't worry about trying to fax them either! You can just take pictures using your phone and send it over our online system. You can find out what you'll need on our informational site!
Sign your loan agreement and collect your funds!
Once you've sent in your documents, your LoanMart representative will gather your information and create an individual loan agreement. It will list all the important payment information required of you, the funding amount, and the length of your loan terms. After that, you may be able to collect the funds – all in less than 24 hours3!
10 Expensive Car Repairs
Sometimes, it seems like the most expensive car repairs happen when you least expect it. Here are some of the most expensive car repairs that are rare, but when they happen, you should need to repair them as soon as possible.
Catalytic Converter
Essentially, the catalytic converter is supposed to make the planet greener. It should last the life of the car, but many uncontrollable factors like your engine burning oil, the wrong oil or fuel additives, or running over something oversized.
Cost: $947-$2476 (89% parts, 11% labor)
Clutch Assembly Replacement
As it starts to wear out, you can normally get a fair warning before you need to get it replaced. There is no way to really prevent it except gentler driving, which we all know can be difficult with highway stopping and going. You could replace it by yourself, but it can be difficult without a lift.
Cost: $764-$1534 (25% parts, 75% labor)
ECM (Engine Control Module) Replacement
Ideally, this would last forever. Unfortunately, the computer can get damaged from things like someone trying to jump start your car improperly or shorting out during a stereo installation.
Cost: $440-$1623 (83% parts, 17% labor)
Alternator Replacement
This part in your car is often taken for granted. When it's dead, the entire car electrical system is dead. It usually needs replaced every 50,000-100,000 miles.
Cost: $500-$1000 (69% parts, 31% labor)
Fuel Injector Replacement
The fuel injector puts fuel into your engine. When they go bad, they stop working.
Cost: $642-$1671 (75% parts, 25% labor)
Head Gasket Replacement
These parts fit between the cylinder block and head to keep the combustion chambers, oil, and cooling system separate until they fail. It may not happen for years, but it is most common in old, infrequently used cars.
Cost: $1000-$1900+ (19% parts, 81% labor)
Timing Belt Replacement
It's important to keep up maintenance and to not neglect the timing belt. It connects the crankshaft at the base of the engine to the camshaft at the top of the engine. For preventive measures, you'll find yourself spending about $500-$900. The following price is for replacing a broken one.
Cost: $2000+ (29% parts, 71% labor)
Radiator Replacement
There is rarely damage to the radiator unless you experience front-end damage to your vehicle or neglect the proper antifreeze mix. Before you replace a radiator, make sure it is the radiator that's the problem when there's a leak in the coolant. There are many other parts that could also be causing it – cheaper parts.
Cost: $400-$800 (42% parts, 58% labor)
Starter Replacement
The one job of the car is to run and start, and when it doesn't start, you're left hopeless. The starter is what you need to get the car running, so when it dies, you have some problems. Most of the time, you can go years without any problems.
Cost: $300-$800 (76% parts, 24% labor)
Water Pump Replacement
It may be small, but it is a vital part of the cooling process. It may need replacement after 50,000 miles, but it could also last longer or never fail. When it does fail, the coolant doesn't get pumped into the engine, so it starts to overheat. This could cause a whole mess of problems.
Cost: $300-$750 (27% parts, 73% labor)
Don't let costly car repairs get you down. Paying for your car to bet fixed can be simple and fast when you have a helpful car title loan from LoanMart. Click here to learn more!