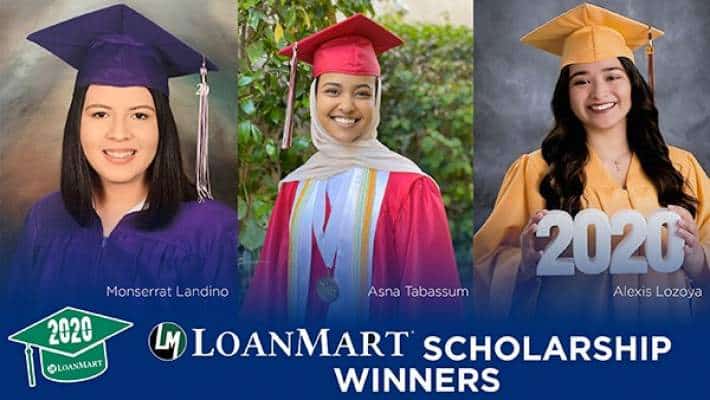 Announcing LoanMart Rancho Cucamonga Quakes Scholarship Winners
Since 2013, each year LoanMart has partnered with the Rancho Cucamonga Quakes Minor League Baseball franchise to provide three deserving high school students in the San Bernardino community a special scholarship of $1,000 each to pursue higher education. LoanMart has announced the three 2020 scholarship winners who will be using this special financial opportunity to pursue their educational dreams.
The first winner that LoanMart is pleased to announce for the LoanMart Rancho Cucamonga Quakes Scholarship is stellar student Monserrat Landino, who was an Honor Society Student at Rancho High School. Monserrat plans to use this scholarship funding to further her education at California State University, Fullerton.  As an avid member and volunteer of the IRS Income Tax Assistance Program, Monserrat plans to use this scholarship opportunity to pursue an accounting major. This tax program she dedicated her time to is geared towards helping low-income families with financial issues within Monserrat's community, which is a career choice she plans to incorporate after completing her education.
Additionally, other winners include Asna Tabassum, who was proudly the Valedictorian of her high school. As a medical science enthusiast, Asna spent many of her after-school hours volunteering and interning at medical facilities to pursue Biomedical Engineering at the University of Southern California.
The third winner, Alexis Lozoya, was an accomplished scholastic student and cheerleader with a passion for leadership. Alexis plans to pursue higher education at the University of California, San Diego. Winners of the LoanMart Rancho Cucamonga Quakes Scholarship all graduated with a cumulative GPA of 4.0 or higher and are active members of their California communities.
LoanMart is dedicated to providing financial opportunities across the San Bernardino Community and California. As a business that started in California and has since expanded across the nation, financial fortitude and community outreach is an important part of our mission statement. 
Qualifying for the Scholarship Program with LoanMart
This exceptional scholarship program hosted by LoanMart and the Rancho Cucamonga Quakes baseball franchise has reached its eighth year, having provided over $23,000 in academic funding to deserving students. Scholarship winners are chosen based upon a few factors, such as:
Community Involvement
Leadership Skills
Desired Educational and Career Pursuits
Community involvement and leadership skills are both essential to succeed in educational endeavors, and in many careers! Whether you are a business major, accounting major, etc., having these skills as a student is crucial. The scholarship was created to reward those students who have gone above and beyond with their communities.

To be eligible, 2021 LoanMart Rancho Cucamonga Quakes College Scholarship applicants must be graduating from a San Bernardino County high school, a citizen of the United States, and have completed a full scholarship application by May 22nd, 2021. Applicants can get started on their application by applying online!