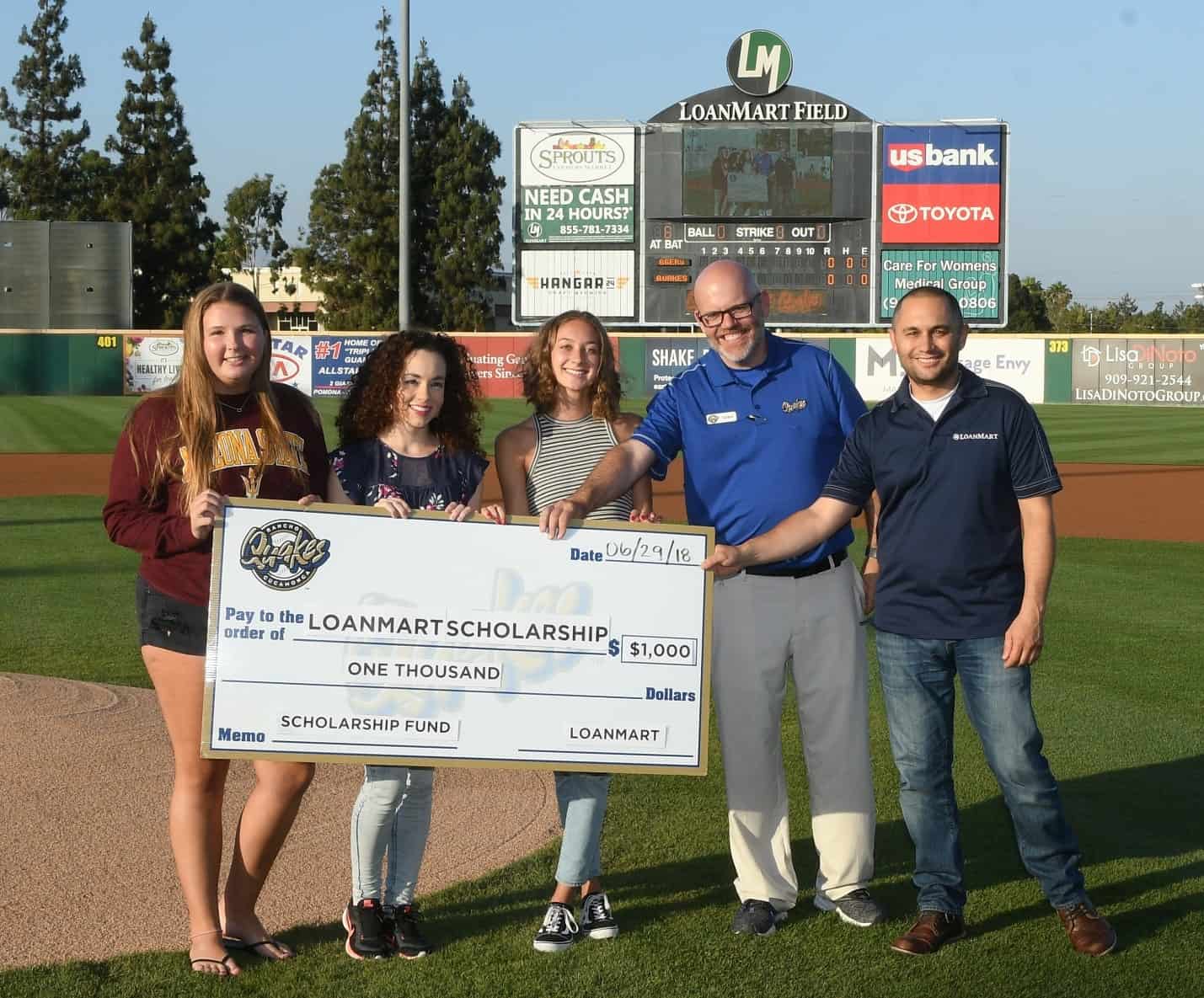 Ashley Fitzgerald, Destany Bennett, and Lauren Wright receive their scholarship from two members of the LoanMart team.
For the Rancho Cucamonga Quakes' sixth consecutive season at LoanMart Field, a pre-game ceremony recognizes the three official winners of the 2018 LoanMart Scholarship Program. Since 2013, the Quakes and their stadium naming rights partner, LoanMart, team up to award three graduating high school seniors in the San Bernardino County every season with the LoanMart And Rancho Cucamonga Quakes Scholarship Opportunity for Local Students.
The scholarship applicants were asked to write an essay on why they felt they deserved the scholarship, as well as submitting other information via application (e.g. intended major, school, class year, etc.). The winners are selected based on the criteria of leadership, community involvement and character.
"LoanMart is proud to recognize these accomplished students for their hard work and aid them in pursuing their goals and education," said LoanMart's Director of Sales Colby Estes about the winners for this year. "We hope the LoanMart Scholarship offers support in their continued academic success and beyond."
Congratulations to this year's scholarship winners:
Ashley Fitzgerald (Alta Loma High School)
Destany Bennett (Oak Hills High School)
Lauren Wright (Etiwanda High School)
Each winner was awarded a $1,000 scholarship toward their college tuition and were recognized before the Quakes game on Friday, June 29, 2018. All three students completed their high school career with a cumulative GPA of 4.1 or higher.
Fitzgerald, a four-year high school honor-roll member, had served as Vice President of the California Scholarship Federation, as well as captain of the Alta Loma High School Volleyball team. She is headed to Arizona State University and will be majoring in Business.
Bennett was a four-year member of the Principal's Honor Roll, while also being a player for the Oak Hills High School Varsity Soccer team. Bennett will be studying Biology at San Francisco State University in the fall of 2018.
Wright, an accomplished pianist and trombonist, was a multi-year member of the Pasadena City College Tournament of Roses Honor Band and San Bernardino County Honor Band. She will pursue a degree in Music Performance at California State Long Beach University in the fall.
According to Grant Riddle, the Quakes' Vice President and General Manager, the success of the scholarship has promoted winners that show excellence under the contest's criteria requirements "We have, once again, received an impressive pool of highly qualified and deserving applicants to choose from," said Riddle. "The growing reach of the scholarship program demonstrates the Quakes and LoanMart's commitment to our community and the success of our ongoing partnership."
Although the contest is over, you can check out how one can apply for the next scholarship for season seven by checking out the page's rules and application submission forms here. There will be later updates on the deadline for the next scholarship after the following season.
LoanMart also offers a Financial Literacy Awareness Scholarship of $2,000 for fall of next year. The final deadline will be on August 15, 2019. You can find more details by downloading the application here.
The Quakes return to the LoanMart Field on July 18 against the San Jose Giants. Tickets are available by calling (909) 481-5000 or online at rcquakes.com.