How Do I Find a Title Loan in Sarasota?
The process can seem daunting and tedious if you've never needed a title loan before. You typically begin by finding a company that will offer you a title loan. Then you must locate the company and visit in person to fill out an application. After that, you must wait to be approved by a loan agent and figure out where and how you'll receive your funds. Title loans serviced by LoanMart understand that you have a lot going on in your life and don't want to waste time going the conventional route for your title loan in Sarasota.
That's why the online loan process is designed to be super easy and convenient. You don't have to leave the house or even your pajamas. You can apply and, if approved, receive your loan right from the comfort of your own home. Just answer the questions on the online inquiry and submit the form. A loan agent will then review your information. You can decide how you will receive your loan proceeds remotely when approved. Still, have questions? Call title loans serviced by LoanMart or use online tools to reach out.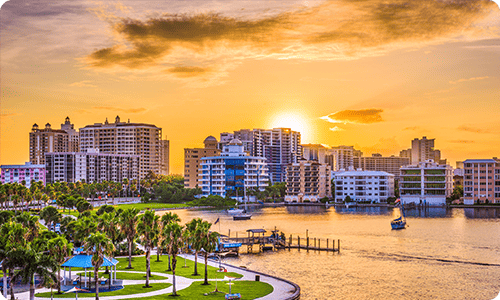 What Are the Requirements for a Title Loan in Sarasota, Florida?
When applying for a title loan, there are going to be a few requirements you must meet. Generally, you will need to have:
A Valid Source of Income – All kinds of income can be accepted as proof of repayment for a title loan. Check with your specific lender to find out what documents they accept.
A Working Vehicle – Because title loans are secured with a vehicle, the car you use as collateral must be in safe, working condition.
The Ability to Repay the Title Loan – Your ability to repay a title loan will depend on your expenses and existing debts. Additionally, your income is considered when your loan amount is decided.
How Much Will I Get from Title Loans in Sarasota, Florida?
If you're facing a tough financial emergency, you may need a specific amount of cash to get through it. When that is the case, you need cash, you may wonder how much you'll be able to qualify for through a title loan in Sarasota, Florida. Title loans can range anywhere from a few hundred to tens of thousands. However, the amount a borrower can receive will depend on the state the applicant lives in, as well as a few other factors.
The funding amount a person may get with a title loan in Sarasota, Florida, will depend on these two main factors:
The borrower's income and ability to repay the loan
A title loan lender wants a borrower to pay back the loan on time and without difficulty. Therefore, most title loan lenders will only allow applicants to borrow an amount based on their income and vehicle equity. The more equity in your vehicle and the larger your income, the more you can potentially borrow through a car title loan.1
What Documents Will I Need for a Title Loan in Sarasota, Florida?
The approval process for a car title loan serviced by LoanMart can be flexible and convenient, but there are some things you'll need to take care of on your end!1 When inquiring about a title loan in Sarasota, Florida, you'll need to have a few documents handy. These documents can help a title loan agent verify your income, vehicle ownership, and other personal information to verify your identity online.
Typically, you can expect to need these documents:
Car title (in your name)
Government-issued photo ID
References
Proof of income
Proof of residency
Photos of the car
Other requested documents (sometimes)
Can I Keep My Car with a Title Loan in Sarasota, Florida?
With most title loans in Sarasota, Florida, you will be able to keep and drive your car while repaying the borrowed funds. However, keep in mind that the title loan lender technically owns the vehicle until the loan is paid back in full.
Once the title loan in Sarasota, Florida, is paid back, the car title is returned to you! You can head to your local DMV to finalize ownership or discuss the retrieval process with the lender.
What Can a Title Loan in Sarasota, Florida Be Used For?
The funds from a title loan in Sarasota, Florida, can be used for all kinds of emergencies.
Here are a few examples of how you could spend your title loan funds:
Medical Bills
Veterinary Bills
Home Repair
Car Repair
Legal Fees
Rent Payments
Bill Payments
Mortgage Payments
Paying off Debt
Does Getting Title Loans in Sarasota, Florida Take a Long Time?
No, in general, the title loan approval process in Sarasota, Florida, does not take a long time. This is because title loans were made to provide emergency funds in a hurry–hence the speedy process.
The initial inquiry process, where you reach out to a lender, typically only takes about a few minutes. You'll either apply online, over the phone, or in person if the option is available. You will be asked about your vehicle, lending needs, and your income.
Next, you'll discuss title loan details with the lender. They will request that you send in some documents online to verify your information. This usually takes up to an hour.3
Finally, once approved for a car title loan in Sarasota, Florida, the funds can be made available! With most title loan lenders, the money retrieval process can take as little as one business day! However, with a title loan serviced by LoanMart, the emergency funds could be made available the same day!1
Do I Need Great Credit History for a Title Loan in Sarasota, Florida?
Struggling to make ends meet? Chances are, you may not have a great credit history to back you up. Typically, many lenders for unsecured loans will deny applicants that do not have a strong credit history. That is because a lack of strong credit history means that a borrower could be a risk to lend to. Lenders want to make their money back!
But, no, being approved for a title loan in Sarasota, Florida, does not require perfect credit or a sensational credit report.1
This flexibility is due to the vehicle being used as collateral in exchange for funding. And so, rather than focusing solely on a person's credit, title loan lenders will instead pay close attention to the borrower's income and the value of the vehicle. So, even if you are not currently confident with your credit history, don't give up! Still apply for the financial help you need through a car title loan in Sarasota, Florida.1
If you would like to talk to a qualified loan specialist to discuss your financial options now, feel free to call 855-422-7412!
Do I Need a Certain Kind of Vehicle to Get a Title Loan in Sarasota, Florida?
The flexible thing about title loans serviced by LoanMart in Sarasota, Florida, is that all kinds of vehicles may qualify to be used as collateral. You don't need a specific type of car or truck to apply for a car title loan! Instead, you can use a variety of makes, styles, and models to apply for the funds you need.1
Here is a general list of vehicle types that could qualify for a title loan in Sarasota, Florida1:
| | | |
| --- | --- | --- |
| Sedans | Minivans | Recreational Vehicles |
| Coupes | Sport Utility Vehicles | Motorcycles |
| Hatchbacks | Convertibles | Electric Vehicles |
| Station Wagons | Trucks | Classic Vehicles |
| Sports Cars | Trailers | |
What Should I Pay Attention to When Getting a Title Loan in Sarasota, Florida?
Before taking out any type of loan, it will be important to review a few things first. By doing so, you can make sure that the title loan you are getting is fair and a good fit for your budget.
When searching for a title loan in Sarasota, Florida, pay attention to:
The interest rates in terms of annual and monthly percentage rates
The length of the title loan
The total value of the loan before interest
Prepayment Penalties (if any)
Large payments at the end of repayment (if any)
Repossession policies
The monthly payments of the title loan
What if I Have Trouble Repaying a Title Loan in Sarasota, Florida?
Let's be honest- life happens, and your financial situation may change. A sudden job loss or bill could throw your finances out of wack! If you find yourself having trouble paying back a title loan in Sarasota, Florida, the first thing to do is reach out to your lender! Be honest and transparent about your financial situation. Let the lender know what is going on so that they may be able to offer a solution. A lender will try and work with the borrower to get repayment back on track, by either offering an extension or some other solution.
As a last resort, if the title loan cannot be paid back, a lender may proceed with repossession of the vehicle. However, even at this stage in the process, they will try their best to cooperate with the borrower instead of going to the trouble of selling the vehicle.
How Can I Get a Title Loan in Sarasota?
Don't feel like leaving the house? No time between work, the kids, and your social life to go through the long loan application process? If you are like most borrowers, you enjoy the convenience of applying for a loan online. Gas is expensive and time is money!
Getting a title loan serviced by LoanMart may be the perfect solution! The online process ensures you are able to get your approved money with the least amount of difficulty possible.
If at any point you have questions or are confused, please reach out to a representative who can answer all of your questions.
Interested in more details about how to get a title loan in Sarasota? Keep reading!
Step One: Answer the questions on the pre-qualification form about you and your car. Depending on the answers, your vehicle could possibly even receive a pre-qualification loan amount on the spot.1
Step Two: Keep your phone handy. Title loans serviced by LoanMart will likely need more information from you and a loan representative will reach out shortly to let you know what that information is. Some examples may include items such as a form of ID with photo, proof of income, and your car title. You will then be told where to send these documents.
Step Three: When approved for the loan, you will sign your loan agreement and then choose the way you would like to receive your funds. Signing electronically allows the process can move along even faster. It also helps you avoid an unnecessary trip down to the store to sign, plus your funds can be added to your account via direct deposit if you so choose.
Once all three steps are completed, you will receive your approved funds and be on your way.
Though title loans serviced by LoanMart have done everything possible to make sure the online title loan process operates accurately, please know that if any issues arise, you can reach out at any time by:
Speaking to a dedicated loan agent on the phone
Sending your documents via email or fax
How Do I Receive My Funds for My Title Loan in Sarasota?
Once your application has been approved by title loans serviced by LoanMart, you can choose how you would like to receive your funds.
Through a Bank – Simply provide your routing and account numbers, and then your approved funds can be deposited directly into your account. But please be aware that each bank differs in its payment process, and this means the amount of time it will take you to receive your money will depend on the bank you use.
With a Check – Not interested in giving out your banking information? Title loans serviced by LoanMart will be happy to issue you a check to cash at your bank or any other check cashing service.
In Person – By far, title loans serviced by LoanMart's most popular and easiest option! Stop at any participating money transfer location to pick up your approved funds. It can be that easy!
Get Started with a Title Loan in Sarasota Today!
It's time to start living the life you've always wanted to live. Don't despair and stay in debt or in a tough financial situation that you can't pull yourself out of.
Let title loans serviced by LoanMart help you reach your full financial potential. Receive your approved funds in as little as one business day with a title loan serviced by LoanMart in Sarasota, Florida.1
Pay Back Your Title Loan Funds in Person
While there are many ways to repay your car title loan, you are able to repay your title loan funds in person! If you do not want to pay online, with a check, or over the phone with a credit/debit card, just pay in person.
You can pay back title loans serviced by LoanMart by visiting a MoneyGram location near you. Check out the map below to find the closest one to you: