How Do I Qualify for Title Loans in Palm Bay?
Unfortunately, many Florida loan options will make you jump through hoops to receive a title loan. They ensure the qualifying process for getting title loans in Palm Bay is long and daunting, and if you don't meet their strict requirements, you are out of luck. But title loans serviced by LoanMart don't operate that way. In fact, LoanMart strives to provide qualified borrowers with a streamlined inquiry process that was designed to help people like you in a financial emergency.3
If you're faced with a tough financial emergency, you need a title loan approval process that can keep up with your needs. In fact, title loans serviced by LoanMart have done the best job possible to make qualifying for title loans in Palm Bay the easiest it's ever been!1 When inquiring about title loans serviced by LoanMart, you will be simply asked to provide proof of ownership of your car, proof of a reliable income, and the title of your vehicle.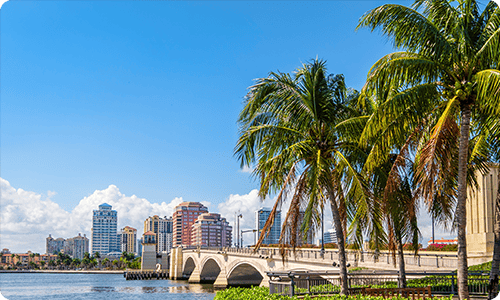 Do I Need to Have a Regular Income to Get a Palm Bay Title Loan?
No! Gone are the days when you had to have a twice-a-month paycheck to be able to apply for a title loan. Today many of us support ourselves in more and more non-traditional ways. There are many ways to earn a living besides working an office job! So don't feel like you need to have one to apply for a car title loan in Palm Bay.
Many lenders don't care how you get by financially, but not all forms of alternative income are accepted. To apply for title loans serviced by LoanMart, you are required to provide proof of a confirmable source of income. Essentially, you must be able to demonstrate that you can repay the title loan.
But what exactly is a confirmable income? Some examples include:
Paycheck Stub(s)
Bank Statements
Government Income Award Letters
Documentation of Legitimate Claimed Income
If you do not currently work a 9-5 job, you may wonder what types of alternative income are accepted. The answer is that a few different kinds can be accepted!1 Here are some of the most commonly used alternative income sources that can be used to inquire about an auto title loan serviced by LoanMart in Palm Bay, Florida:
Worker's Compensation
Disability/Supplemental Security Income
Settlement Income
Pension or Retirement Income
Alimony
And More!1
What Documents Do I Need to Have to Get a Palm Bay Title Loan?
While the inquiry process for Palm Bay title loans can be simple and straightforward, there are a few pieces of paperwork that are required to get the ball rolling. When you inquire about a car title loan serviced by LoanMart, you must provide paperwork verifying your age, vehicle ownership, and other information! This can speed your inquiry along, so it can be helpful to have these documents handy before you inquire.
While the exact documents can vary from state to state, you can expect to need these documents in order to inquire about a car title loan:
A Valid Government Issued Photo ID: Such as a driver's license, a state-issued ID, or a passport with a photo. You may be able to use a military ID as well! The photo ID must be government or state-issued to qualify as proof of identity.
Address Verification: Title loans are a great financial resource to consider when you need to get back on your feet, but they are not available in every state. Therefore, you must be able to prove that you reside in the state you are inquiring from. Some accepted documents are recent utility bills, a lease agreement, a mortgage title, or even recent credit card statements. However, it must be official mail!
Proof of Income: As stated previously, you must be able to demonstrate that you can repay the title loan during your loan inquiry. You can use documents like a recent pay stub, bank account statement, or another official document to verify proof of income.
Vehicle Photos: Provide pictures of all four sides of your car, the odometer, and the VIN.
Your Car's Title: The title must also be in your name at the time of inquiry. If it is not currently in your name, you will need to contact a title loan agent to see what you can do to get your title in the right shape to apply. LoanMart title loan agents may be able to guide you toward the right steps to transfer the car's title into your name.
References: Please provide professional or personal references.
After submitting all the correct documents, the loan process typically moves at a quick pace.1 If we require anything else from you, your loan agent will let you know.
Is a Vehicle Inspection Required to Qualify for a Car Title Loan in Palm Bay?
With a car title loan, your car's equity is one of the most important factors in the approval process. Vehicle equity is not important to apply for unsecured loans like payday loans or personal loans. Since you are borrowing off your car's value with a title loan, it must have a certain amount of equity to qualify. But what is vehicle equity with a car title loan? Equity in this context is just the difference between the current value of the car and what is potentially owed on it, if anything.
One factor contributing to your car's equity is the current condition of the vehicle. In order for title loan agents to identify your car's current condition for a Palm Bay title loan, you will need to undergo a vehicle inspection. However, with a title loan serviced by LoanMart, that inspection can take place online! Just submit a few clear photos of your vehicle to bypass an in-person inspection. LoanMart is all about convenience, so you will not need to waste gas or travel anywhere to complete this inspection.
Just send these required photos in with your documents during your inquiry. You can choose to do so via email or fax! You can inquire about an auto title loan from the comfort of your home. Just use your smartphone or computer to get started today!
Visit the website or call 855-422-7412 to speak to a title loan agent directly.
How Can I Find Title Loans in Palm Bay?
When you're low on funds and need cash in a hurry, tracking down that cash can be difficult. First, you have to search for and find the right company to give you a loan. Once you've found the right company, you have to take time out of your busy day to drive down to the location of the store and spend even more time filling out an application and waiting. At the same time, an agent looks over your information to determine if you qualify. Then there's even more waiting while the agent figures out how you'll receive your funds. Most don't have the luxury of taking a whole day off work or using one of our busy Saturdays to go through this process.
That's why title loans serviced by LoanMart have created an online method for applying for title loans in Palm Bay. Yes, you read that right, it's entirely possible to apply for a title loan while lounging on your couch or bed and using your phone. Simply answer some questions on the online form, submit the form, and a loan officer will review your information and decide how you will receive your payment remotely.1 Still have questions? Call 855-422-7412 or use the online portal tools to get in touch.
Do I Need Great Credit to Qualify for Palm Bay Title Loans?
Behind on bills? If things are getting tough for you financially, chances are, your finances may not be in the best shape. Therefore, your credit history may be a reflection of that. Missed payments and other negative factors can seriously impact your score.
While you may not be able to qualify for an unsecured personal loan without great credit, it is not necessary to qualify for Palm Bay title loans.1
With a car title loan, collateral is used to secure the funding. The collateral is the title to the borrower's vehicle, which helps minimize the lending risk if the borrower does not have a strong credit history. While your credit history will still be considered during the inquiry process, it is not the entire focus. Instead, these two factors will matter more:
Your Ability to Repay the Title Loan
The Equity in Your Vehicle
How Long Will It Take to Get Palm Bay Title Loans?
If you find yourself stuck in a tough financial situation, you may not have any time to waste. Understandably, you want to be able to get access to your title loan money as soon as possible! Some qualified customers have been able to get their title loan serviced by LoanMart within one business day after applying! Some customers even receive their cash the same day they apply.3
So if you are faced with a financial emergency, don't face it alone! Find out if your income and vehicle can qualify for a car title loan serviced by LoanMart in Palm Bay, Florida. Visit the website to learn more about title loans in Florida!
What Happens if I Default on Palm Bay Title Loans?
We all have times when our financial situation is not as stable as we'd like. This is why it's important to be absolutely positive you can pay your loan every month. If you cannot, you may want to look at other options. If, on the other hand, you do decide to move forward within the loan process, please be aware that if you cannot fulfill the terms of your loan at any point, you will be at risk of repossession, and your vehicle could potentially be sold at auction.
If you realize you will fall short of the amount you owe, please contact title loans serviced by LoanMart. Do what you can to make sure that your financial situation is known. Title loan agents with LoanMart are available six days a week for extended hours to take your call, so take advantage of that when you can!
How Do I Get a Title Loan in Palm Bay?
With title loans serviced by LoanMart's easy online process, of course! The main goal is to make getting a Palm Bay title loan straightforward and brief, so you can borrow more reasonable terms and receive the money you need in your hands as quickly as possible.3
Want more details about how the title loan process works? Keep reading!
Step One: Answer the questions on the pre-qualification form so the title loan agents can learn more about you and your car. Depending on how you answer, your vehicle may even receive a pre-qualification loan amount on the spot.1
Step Two: Don't stray too far from your phone! A loan agent will give you a call shortly to let you know what other information is needed to move you along in the loan process. These documents typically include a form of identification, proof of income, and your car title. You will then be told where to send these items.
Step Three: Sign the loan agreement and choose the way you'd prefer to receive your loan. To move the process along even faster, you add your signature electronically. Another advantage of an electronic signature is that your funds are added to your account via direct deposit.
Once all three steps are completed, you'll receive your funds if you qualify.1
But please be aware that if any problems arise during this process, you can:
Talk to a dedicated loan agent on the phone
Send your documents via email
How Do I Receive the Funds for My Palm Bay Title Loan?
After a loan officer has accepted your application, you can choose between three different options for collecting your funds.1
The Bank – Provide your routing and checking numbers and proceed to pick up your money at your bank. Please be aware that the payment process of each bank varies. This means the amount of time it will take you to receive your loan may differ based on the bank you use.
A Check – Not comfortable handing out your banking details? No problem. Title loans serviced by LoanMart can issue you a check to cash at your bank or any other check cashing service.
In Person – Stop by any participating money transfer location in Palm Bay to pick up your funds.
Payment Locations for Your Palm Bay Title Loan
Some borrowers choose to repay a car title loan in person, and that's okay! Choosing MoneyGram means you can pay your funds back at a variety of locations around the city. Find a MoneyGram location in the following Palm Bay stores:
CVS
Walmart
Ace Cash Express
Get Started with a Title Loan in Palm Bay Today!
If you're ready to start living the life you've always dreamed of, title loans serviced by LoanMart can help. Receive your funds in as little as one business day with a title loan serviced by LoanMart in Palm Bay, Florida.3
When you're ready to pay back title loans, you can go to any MoneyGram close to you to make payments. Check out the map to see where you can go: