Why Choose a Car Title Loan in Miami?
Life can take us by surprise sometimes. Emergency doctor visits, unexpected home repairs, and a sudden increase in rent. Do you qualify for a personal loan at your bank? Can you get another credit card? Will your boss let you pick up a few more shifts at work? If you've exhausted all your options but aren't sure where to turn, turn to title loans serviced by LoanMart to help you dig out of a financial hole.1 Debt can be overwhelming, but you don't have to stay in a cycle of stress forever. Find out if your income and vehicle can qualify for a title loan in Florida serviced by LoanMart today!1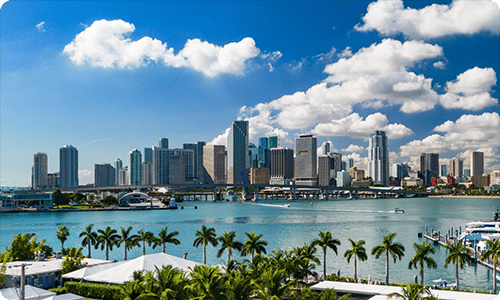 How Does a Title Loan Work?
An auto title loan is a type of secured lending that uses the borrower's vehicle as collateral for the loan. Title loans are installment loans that can offer more flexibility than other alternative loans. In order for your vehicle to qualify as collateral, however, your car will need to have a certain amount of equity.1
Title loans may also be called:
Auto Advance Loans
Auto Equity Loans
Regardless of the name, title loans are secured installment loans that use the title of your vehicle as collateral for funding. This means that your car must be worth a certain amount of money, as it will act as added security for the lender.
Those with poor credit or challenging past financial history may still receive the title loan funding that they need in Miami, Florida!1 In addition to being flexible with loan approval, secured loans can offer additional benefits as well!
As a result of using collateral to obtain the loan:
Lenders can potentially offer more funding than unsecured loans due to the value of the collateral.1
Even those that have low credit may still receive approval.1
Loan terms can potentially include competitive interest rates.1
More advantageous loan terms for your financial situation.1
Generally, title loans are an efficient way to receive emergency funding if you are insecure about your credit history, as they can be more flexible in terms of loan approval and loan terms.1 Due to the competitive rates and ease of the loan, borrowers from all different types of financial backgrounds may be approved.1
If you prefer to​​ talk to a qualified loan specialist, you can call now at 855-422-7412.
What is a Lien on a Car Title?
Simply put, a lien is a legal right to an asset.
When a lien is put on a vehicle title, it can mean a couple of different things:
The lender becomes your lienholder.
The lien will exist until the loan has been paid in full.
Once the loan has been paid off, the lien is removed and the title is returned to you.
Required Documents for Title Loans serviced by LoanMart in Miami, Florida
For most loans, alternative or not, there are a few documents that will be required. A borrower will need to submit the following to a lender in order to be deemed eligible for a title loan serviced by LoanMart.1
While the exact documents may vary from state to state, residents in Miami, Florida will typically need to have the following documents:
Photos of Your Vehicle: All four sides of your car as well as the VIN and odometer.
A Valid Government-Issued Photo ID: This could be a state ID, or passport.
Proof of Residence: A rental lease, home title, cellphone bill, or utility bill.
Your Vehicle Title: The title must be in your name. The car you intend to use as collateral must have some value in order to be eligible for a loan.
Four References are Sometimes Required: These can be personal, professional, or both.
Proof of Income: These can be recent pay stubs, pension documentation, Social Security Administration account statements, etc. If you do not have traditional forms of income, alternative forms like benefits may be accepted as proof of income.
If you would like to speak with a title loan specialist to discuss your financial options now, feel free to call at 855-422-7412.
Is it Risky to Get a Title Loan in Miami, Florida?
One concern that potential borrowers may have is if there are a lot of risks associated with title loans. However, there are risks associated with applying for any type of loan. If you choose to not repay your loan, there are consequences! Some of these consequences include a damaged credit score or a mark on your credit report. Since title loans are secured with collateral, if you choose to not repay your loan or do not convey financial hardship to your lender and default on the loan, you could lose your asset to satisfy the debt. Before you default on your loan, make sure you communicate any issues with your lender! An alternative arrangement could be made.
Concerns or questions? Talk to a loan representative who can give you the answers you need now at 855-422-7412.
How Can I Qualify for a Title Loan in Miami, Florida?
If you've been facing a tough financial situation, you may not have a great credit history to back you up when you go to apply for a loan. Fortunately, your credit does not need to be in top shape to apply for a title loan in Miami.1
Some lenders have a long list of requirements for who they will lend to, especially if it is an unsecured loan. But with title loans serviced by LoanMart, the entire process of qualifying for a title loan in Miami, Florida as easy as possible.1 In order to qualify for a title loan serviced by LoanMart, you need proof of ownership of your car, proof of a reliable income, and the title of your vehicle. You must also be at least 18 years of age to apply for a car title loan in Miami, Florida! That is because a loan is a huge financial commitment. Therefore, you must be of legal age to apply for one. You must have a qualifying vehicle with a title in your name at the time of inquiry.1
A qualifying vehicle is simply a car that has enough equity to borrow from! Not sure how much equity is in your car? Don't stress! Many car owners do not know off the top of their heads. Fortunately, LoanMart has an online title loan calculator that can do that hard work for you- free of obligation.
Is a Traditional Job Required to Get a Title Loan in Miami, Florida?
Some Florida lenders won't even consider applicants who don't meet their strict standards. But not title loans serviced by LoanMart! As long as you provide a verifiable source of income and you have a qualifying vehicle, you may qualify for a title loan in Miami, Florida.1 However, there are many different ways to earn an income. You do not need to work a 9-5 job to qualify for the financial help you need! LoanMart understands that in this day and age, there are many ways to earn a living besides an office job. You just need to prove that you have verifiable income during the inquiry process for a car title loan in Miami, Florida.
You may be wondering what counts as a verifiable income. Some examples include:
Paycheck Stub(s)
Bank Statements
Government Award Letters
PayPal Transaction History
Documentation of Legitimate Claimed Income
If you have questions about what types of income qualify for a car title loan in Miami, Florida, don't wait to ask! Call a title loan agent at 855-422-7412 today to learn more about the title loan inquiry process. Loan agents are available for extended hours six days a week to take your call and answer your questions.
How to Get Started on a Title Loan in Miami, Florida
If you've found yourself ready to apply for a title loan serviced by LoanMart, qualifying is a lot simpler than you might think.1
To initially get qualified for a title loan, you'll need to meet the following requirements:
Have a Steady Income
Own a Vehicle in Your Name
Be 18 Years of Age or Older
Have a Qualifying Vehicle
First Step – Fill out a Loan Inquiry
Ready to start your title loan inquiry? You can do so online or over the phone! The initial step to qualifying for a title loan is to fill out an inquiry online.1 This can take just minutes to do, as the process is fairly simple. The questionnaire will ask for basic information about your financial situation, your residence, and your vehicle. The online form can be completed entirely online from the comfort of your home in as little as 5 minutes!3 Or, if you prefer to contact a title loan agent over the phone, you can call toll-free at 855-422-7412.
Second Step – Turn in the Right Documents
After you've submitted the initial loan inquiry form, there are a few additional documents that can better help a loan agent determine your eligibility.
The exact documents needed can vary by state, as the laws can change the requirements. These documents can be conveniently submitted via fax or email to a loan agent as well! Simply scan the paperwork and send the files to an agent. Or you could take pictures of your documents with your smartphone to quickly get an approval decision in Miami, Florida.1
Third Step – Find Out if You Can Get Loan Approval
Once your documents have been submitted, a loan agent can inform you of your eligibility status. One of the benefits of choosing a title loan serviced by LoanMart is that you can choose how you would like to receive your money!
You could decide on a few different ways to get your emergency title loan money:
Get a Check in the Mail
Receive Direct Deposit
Pick Up Your Funds at a Participating Money Transfer Location in Miami, Florida.
Choosing title loans serviced by LoanMart in Miami, Florida can mean getting your funding in as little as one business day!3
If you need quick funding in Miami now, call 855-422-7412 to learn more!1
How Long Does It Take to Get Title Loans in Miami, Florida?
It's possible to receive your loan within one business day!3 Title loans serviced by LoanMart have also had qualified customers even walk away with their cash the same day they applied.1 3
What Happens if I Default On My Title Loan?
No one wants to default on their loan or even think about the possibility of defaulting on their loan in the future. But sometimes, life throws you a curveball, which is why it's a good idea to have a plan to make sure you can keep up with your payments. However, if at any time you find yourself unable to fulfill the terms of your loan, you will be at risk of repossession, and your vehicle could potentially be sold at auction. If you suspect you cannot make a payment, please do not hesitate to reach out and contact title loans serviced by LoanMart. Title loans serviced by LoanMart will try to work with you to find a way to help you keep your car.1
How Do I Receive The Funds for My Title Loan in Miami, Florida?
Once a loan representative has given you the all-clear, you have three separate options to cash out.
Through a Bank – Simply provide your checking and routing numbers to receive your funds from a bank of your choosing. Be sure to keep in mind that all banks will process payments differently, so the amount of time it will take you to receive your loan may vary.
With a Check – Not comfortable giving out your banking information? No problem. Title loans serviced by LoanMart will give you a check to cash at your bank or any other check cashing service.
In Person – Pick up your funds at any participating money transfer location near you.
Pay Back Your Loan in Miami, Florida
There are many ways to repay your title loan funds. If you are approved for a title loan serviced by LoanMart in Miami, you will begin the repayment process once you have signed your loan agreement. Your title loan payment is due the same day each month. Fortunately, there are a variety of ways you can repay your title loan! Here at LoanMart, you can expect convenience every step of the way.1 Take a look at these ways you can repay your title loan:
Mailing Your Payment To Our Center
Pay By Phone Through A Debit Or Credit Card (Fees May Apply)
Set Up Automatic Payments With Your Bank Account
Pay Online Through Your Account
Pay On Your Phone With Our LoanMart App
Visit A Payment Location In Person
If you prefer to repay your title loan in person, you can do so as well. Just find a participating money transfer location, like MoneyGram! You can pay back your funds at any Miami MoneyGram location nearby, including:
CVS
Walmart
Ace Cash Express
Get Started with a Title Loan in Miami, Florida Today!
If you're ready to reach for the stars and set some new financial goals this year, let title loans serviced by LoanMart help. Receive your funds in as little as one business day with a title loan in Miami, Florida, if you qualify!1 3
Are you ready to repay a title loan? You could do so by visiting a local MoneyGram location in Miami, Florida. Check out the map to see the closest location: