What is a Salvage Vehicle?
If you need cash to pay for an unexpected bill this month, you could benefit from a loan that gives you just that! While there are plenty of options to choose from, like a personal loan, you might see how difficult it could be to qualify if your finances aren't in the best shape. Since approval for a personal loan is dependent on the borrower's income and credit background, it might not be a reasonable loan for those with a low credit score. However, almost anyone could acquire a title loan by securing their funding with a car title!1 While your credit history is still considered, it isn't the most important part of the approval process when you are looking to retrieve the money you need right now.1 Simply go through a flexible and convenient approval process that might take you a few minutes to complete with LoanMart.1, 3 But if you have a salvage vehicle, you may wonder if that denies you from financing it.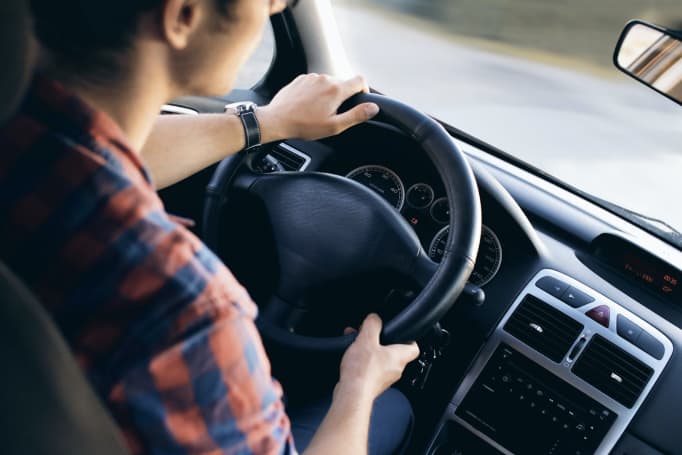 A salvage title car is a vehicle that has been through a serious accident or has extensive damage, to the point that an insurance company deems it a "total loss." The title would then receive a branded title, which indicates that the vehicle is not worth repairing in the eyes of an insurance company. Keep in mind that you could fix a salvage car, but the costs of repairing it might be higher than its projected value. Salvage title cars can also be vehicles that were "created" from the parts of other vehicles; car enthusiasts usually try to repair them for good or put them up for sale so they can purchase the parts. Also, be aware that salvage titles apply to all kinds of significant damages, including:
Fire
Vandalism
Floodings
Bent Frames
Storms
Major Collisions
Also, not every car with a salvage title has been through the same accident, which means some conditions could be better than others. While the cost of repairs can be expensive, your salvage title car may have enough equity to qualify for a title loan.1 What's even better is that if you have more than one vehicle, you may be able to use the other car to get an auto title loan to fix the salvage one!1
Read below to learn more about financing a salvage title vehicle! Get the money you need by applying for a title loan serviced by LoanMart, or contact a title loan representative at 855-422-7412 for more information.1
---
How Can I Finance a Salvage Title Car?
In most cases, financing a car with a salvage title can be difficult. A bank or credit union may see salvage title cars as a liability and a risk to invest in; not only that, but a traditional lender might deny you funding for that fact alone.
While it is possible to finance a salvage title car, you will need to convince a lender that you are a low-risk borrower. This means you can prove that you are not likely to default on your loan. This can be done through strong credit history, or even through your income. Lenders are more likely to approve an individual that has a stable income and can afford to repay their loan back on time each month.
If you aren't able to prove that you have a strong credit history, you may want to search for lenders that can work with subprime borrowers. If you search online, you may be able to find some second or third-tier lenders who claim to finance salvage title cars. Just be prepared for high-interest rates if you go this route and your credit history is not the greatest! It is possible to finance a vehicle with a salvage title, and it is also possible to use that title to apply for a car title loan!1
---
Can I Use My Salvage Title Car to Apply for a Car Title Loan?
Salvage titles are generally considered less than desirable on the used car market. You may think vehicles with branded titles like that may not get much money if they are used as an asset, but that's not always true! When you inquire about title loans serviced by LoanMart, you may have the opportunity to obtain funds by meeting the following basic, initial requirements1:
Borrowers Must Have Their Car's Title in Their Name (Or Be Close to Paying it off)
Possess a Qualifying Vehicle with Enough Positive Equity (Salvage Title Cars are OK)1
The Ability to Responsibly Pay Off the Loan with a Steady Income/Alternative Income
Borrowers Must be 18 Years of Age or Older
Even though you have a vehicle with a salvage title, you may still be eligible for a title loan if your car has enough equity to justify a loan amount.1 Even if you are financing a vehicle, you may still qualify for the money you need through a title loan!1 A vehicle's equity is an essential component in obtaining funding from a title loan. It helps title loan lenders feel secure that you will fully meet your auto title loan payments one way or another.
This is because you are using your vehicle's title as an asset to secure funding. If you don't know what vehicle equity is, it's the difference between the market value of your vehicle and what you owe on it. It's important to understand that cars have positive or negative equity, which depends on various factors.
If the vehicle's market value is more than what you owe on it, it likely has positive equity; but if you owe more than what the car is worth, it probably has negative equity. With salvage title cars, it's easy to believe they'd have negative equity, but it may not always be the case.1 In a lot of cases, salvage title cars have been rebuilt. Borrowers who managed to rebuild their cars may retain a reconstructed title that could hold enough equity to obtain a loan.1
People that want to know their car's current equity rate can use different tools to find it. While people often use Kelley Blue Book, LoanMart has an online calculator tool available for title loan borrowers to quickly acquire an estimate with a no-obligation quote.3 Just simply input a few details from your vehicle to use the calculator1:
The Car's Current Condition
The Year a Manufacturer Released the Vehicle
The Current Odometer Reading Found on the Car
The Make and Model of the Vehicle
Any Modifications or Alterations Done to the Car
The Style of the Vehicle
With this information, you can see if your vehicle has the qualifying equity for the amount you're looking for.1
Prove You Can Afford to Finance a Salvage Car
The ability to pay off title loans is another essential part of the approval process. Thankfully, you don't need a full-time occupation to validate your ability to afford a loan!1 You could always present different alternative forms of income to satisfy that requirement.1 Contact a title loan representative from LoanMart to see what documents are acceptable.
But, be aware of the consequences of not paying off a loan. Borrowers who start missing their monthly payments and fail to repay a title loan could lose their vehicle to a repossession. A title loan lender has the legal right to sell the car for its worth to recover the lost amount. But many title loan lenders prefer to avoid that decision since a salvage title vehicle could potentially have a low value, and repossessing a car is a huge hassle.
Speak to a title loan agent from LoanMart at 855-422-7412 if you have any issues during repayment, as communication is key.
---
What are the Pros and Cons of Financing a Salvage Title Car?
One huge reason why people purchase salvage title vehicles is because of how cheap they can be! But as you may have noticed, there are plenty of responsibilities that come from getting one. That's why it's important to weigh all your options before deciding whether a salvage title car is worth it.
Here are some of the pros and cons of cars that have a salvage title:
Pros
As you may have read previously, a significant benefit of vehicles with a salvage title is how affordable they can be! Since salvage title vehicles usually have a low amount of equity, you could probably pay for one in full, saving you the hassle of making car payments that typically come from acquiring another vehicle. It might be a good resolution if you're on a strict budget and aren't traveling long distances. A vehicle with that branded title would best serve as a backup car for short trips, rather than lengthy daily commutes.
In addition to this, not every vehicle with a salvage title suffers a total loss of function, which means you could find an intact and functional car to buy! People can also sell or use their spare parts from a salvage title to repair their vehicles.
Cons
It can be challenging to find insurance coverage when you own a vehicle with a salvage title. An insurance company can see those cars as liable and therefore they can be difficult to insure because of the risk. The vehicle could also have plenty of damage that could cost you in the future! It could be even worse when some damages are hard to measure because of the difficulty of finding them. The salvage title would, unfortunately, remain even if you could get your car repaired. While cars deemed worthy of being driven on the road again could earn a "rebuilt title," they may have a lower value than those with a clean title.
Remember, you could still get a title loan even if your car is salvaged!1 As long as it has enough equity, you could obtain the funding you need if you can meet the other necessary requirements!1 Don't forget that you need to have the income level to support the loan payment each month.1 If you are approved for title loans, you could receive money in as little as 24 hours!3 Talk to a title loan representative from LoanMart if you have any questions.
---
What Documents Do I Need for Salvage Title Loans?
Assuming you decide to obtain title loans serviced by LoanMart, you would need to submit some documents to a title loan agent. You may worry about finding the right documentation, but it could be easier than expected!1 These are forms you could find lying around your house, in your car, or in your mailbox. Since LoanMart has streamlined the online approval process, you may receive a response from a title loan agent in no time!1, 3 Just take a few minutes to upload each document online!3
Generally, you can anticipate handing in the following information and paperwork:
Proof of Current Residence: Borrowers can use different documents to prove they live in their state. Examples include mortgage statements, recent utility bills, lease agreements, recent phone bills, mail, credit card statements, etc. Contact a title loan agent at 855-422-7412 if you're wondering what other documents work for this requirement.
The Title to the Vehicle: It's important to remind yourself of how the salvage title must be in your name to qualify for funding.1 However, if you share a name on it, you may still be able to acquire a title loan!1 If the title is not currently in your name, a title loan agent could assist you in finding out how to request a title transfer. Don't worry if you lost or misplaced it, as they could also help you by letting you know how to request a duplicate title.
Proof of Reliable Income: As long as you can repay title loans without an issue, you wouldn't need a 9-5 job to prove your affordability. Instead, you could use various alternative forms of income, such as bank statements, pay stubs, Social Security/Supplemental Security Income, pension income, worker's compensation, a letter of employment from your employer, settlement income, or other types of alternative income!1
Proof of Government-Issued Photo Identification: A valid, government-issued photo ID card is required. You could easily validate that using your real-ID driver's license, passport, or other valid state identification cards.1
References: You may have to provide personal or professional contacts to a title loan agent. If you prefer, you can present both.
For your convenience, you could immediately send your documents online through an email/fax or by taking photos with your smartphone. Through those methods, you could quickly move on to the final step of the application process: your funds!3 Speak with a title loan representative if you have any questions or concerns about this step.
Don't wait to see if you qualify for funding! Use your salvage title to apply for a car title loan serviced by LoanMart today. Call 855-422-7412 or fill out this short inquiry form to get started!