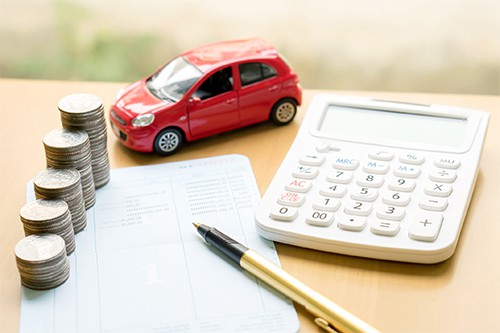 What Happens if Someone Defaults on Their Car Title Loan?
At LoanMart, we consider it our duty to inform you about what takes place if a borrower defaults on a title loan along with all other aspects of the title loan process so that you feel equipped to make the best decision. We also wish to inform you of all the ways in which we can help during those times.
There are countless options for borrowing money in the financial lending industry. All of these options serve different purposes while all contain both pros and cons. When a person uses an automobile they own as collateral to borrow money, they're getting what's called a "Car Title Loan". People take out title loans on cars for many reasons. There might be a medical emergency. There might be some unpaid bills. One thing that most reasons have in common is that they are time sensitive. Car Title Loans are often a convenient way to get a check quickly, and depending on the situation, it is possible to get a Car Title Loan even when someone has a poor credit score. This is able to work because lenders take more than just credit scores into account when deciding whether to approve a loan. The loan is mostly based on the current collateral value found in the vehicle and the ability of the potential borrower to repay the loan in monthly installments.
But many people ask, and rightly so, what happens if a borrower defaults on a title loan on their car? It is very important to learn all that you can about the ins-and-outs of a financial decision before you make it and how a responsible loan company like LoanMart can offer help when needed.
What is a Default?
Defaults occur when a borrower fails to adhere to the terms previously agreed upon between them and the lender of the loan. Common examples are missing a payment, not paying the agreed amount, or doing something the loan agreement says the borrower can't do. After a default takes place, the lender will attempt to contact the borrower to discuss whether the default can be remedied in a simple and efficient way before needing to find a solution elsewhere.
At LoanMart, we do all that we can to help you in the event of a default. Unlike many other lenders that are unavailable or not understanding, we make ourselves accessible and very open to working through issues to meet an agreeable end for both parties. In times of default, we may be able to customize payments with our customers to fit their budget and extenuating life circumstances.
What Happens if a Borrower Defaults on their Auto Title Loan?
The way a Car Title Loan works is that a person gives the lender the title to their car and the lender signs on as the lien holder of the title, which effectively makes the lender the owner of that car. This is in exchange for an agreed-upon sum of money, which is the loan amount that must be paid back with interest. There is a regular monthly payment that the borrower is to pay as the standard minimum payment although borrowers are welcome to pay more. This is the case especially with LoanMart as we have no prepayment penalties.
If that borrower then defaults on the title loan, the lender may either roll over the amount they owe and add on additional fees, or the lender can take possession of the automobile because the title was signed over to them in exchange for the original Car Title Loan.
If the lender chooses to take the automobile, this is known as repossession. If there is a default on an automobile and the lender chooses to repossess the automobile, they may also be responsible for those repossession fees.
At LoanMart, the last thing we ever wish to happen is a repossession. We much prefer to work one on one with you to figure out a good solution. To make this possible, our customer representatives are waiting by the phone to answer your calls. Many people feel afraid to call their lender if they are close to defaulting or have just defaulted but there is no need for fear. LoanMart is eager to work with you. Even if you are currently working with a lender who is not supportive or encouraging then we can help you refinance that other loan. We pay off the outstanding balance on your loan then figure out a new payment plan.
What Happens if a Car is Repossessed?
Depending on the situation, if the borrower is able to get the amount of money they owe to the lender within a certain amount of time they may be able to get the car back. If the lender does, in fact, need to repossess the vehicle then they may be required to send the borrower a repossession notice prior to attempting to claim the vehicle. In the case that a borrower's car is repossessed, then the lender will likely attempt to sell it at auction. All the money that is acquired through the sale of the car at auction will go towards satisfying the outstanding balance on the loan. Sometimes the auction price can produce more than the original loan's balance combined with the repossession fees. In those cases, the lender is required to return those additional funds to the borrower who defaulted on the loan.
At LoanMart, we work with our customers to ensure that repossession is a last resort in the event of default. Repossession is the last outcome we ever want to happen. We believe that it is more beneficial for both our customers and our company to see the life of loan completed in a stress-free manner. It's always a good idea to fully understand what could happen if there is a default on any title loans on cars and how, by working together, we can solve the problem with a bit of communication. We encourage open communication with our customers so give us a call today if you have any concerns about your loan. We, also, encourage calls from those who have loans from lenders less helpful than LoanMart so we can discuss some of our refinancing options with you. Our customer representatives are standing by to help.