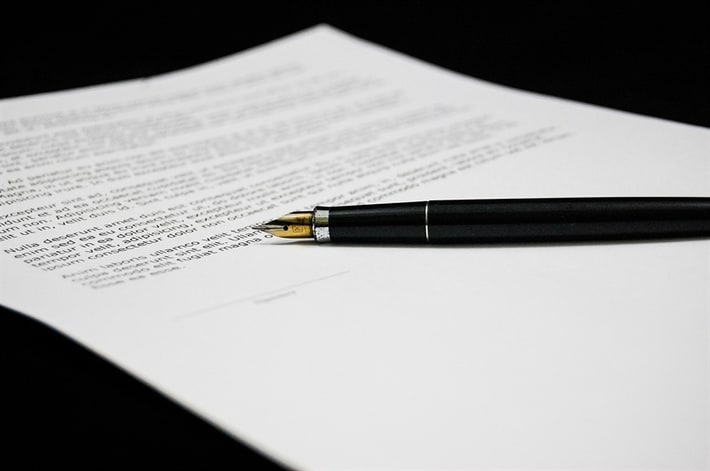 If you are trying to get a car title loan and you only have the bill of sale from your car's transaction, you might be wondering can you get a title loan with just the bill of sale. Unfortunately, you cannot get a car title loan with just your bill of sale. You can get a car title loan by using the vehicle's title by applying for a car title loan with LoanMart.
What is a Bill of Sale?
The bill of sale is like a receipt for the car you purchased. Not all states require it, but some state motor vehicle departments require you to obtain a bill of sale. It can be an important part of the vehicle process for both the buyer and the seller. It leaves a paper trail just in case anything happens with the car. States that require a bill of sale are:
Arizona
California
Connecticut
Georgia
Idaho
Indiana
Mississippi
Minnesota
Nevada
New Mexico
New York
North Dakota
Oregon
South Dakota
Utah
Vermont
Virginia
Washington
West Virginia
Transferring a Car Title
After you purchase a vehicle from someone, one of the first things you should do is transfer the title to your name. Most states have a certain deadline for you to submit all the transfer documents in order for them to be accurate. Make sure you do not miss those deadlines by visiting your state's DMV's website.
Transferring the title also ensures the car rightfully belongs to you. It helps ensure the safety of the seller in case anything happens to the car in your possession. If it gets into a wreck or something else happens to it, the owner of the car can be held accountable for the damages if their name is still on the title.
Before you apply for a car title loan, make sure you have the car title and the title is in your name. If the car title is not in your name, you will not be able to use it to get a car title loan and pay your bills.
Lost or Stolen Car Title
If you only have the bill of sale because you've lost your title, or it was stolen, you can request a new car title from the DMV. By submitting information like the vehicle's registration card and the bill of sale, you can get your new car title to apply for a car title loan.
Check with your local DMV to see if they print the same day or if you will receive a new one in the mail.
Car Title Loans with LoanMart
Getting a car title loan with LoanMart can be easy and swift. By using a qualifying car title in your name, you'll be able to receive money to put towards your bills, repairs, rent, debt, and even more. LoanMart uses your car's title as collateral for the vehicle for the money you need.1 By using the market value of the car and your ability to pay back the income, LoanMart estimates the value of your loan and the interest rate.
If you have little to no credit, or a bad credit history, a car title loan is perfect for you because your credit history won't determine your eligibility or your loan amount. So many people choose LoanMart for their car title needs because of how easy it is to qualify.1
What Do I Need to Qualify?
In order to qualify for a car title loan, all you need is a vehicle title in your name and a source of income. Once you've qualified, a LoanMart representative will contact you to send in additional documentation to confirm your identity and ownership of the vehicle. You will need:
Vehicle's title
Proof of income
Vehicle registration card
Proof of car insurance
Proof of residency
VIN, plate, odometer
Pictures of the vehicle
4 personal references
That's all you need to qualify! No long wait times or mountains of paperwork to fill out. There are no hidden requirements or fees. LoanMart believes in providing great customer service, so we make sure we're always honest and up-front with our customers.
How to Apply with LoanMart
Applying with LoanMart can be completed in one of three ways:
Apply online. LoanMart has made it more convenient for its customers to apply for car title loans by making it a lot easier to apply. Instead of searching for a location near you, you can apply for the car title loan when you need it, wherever you need to. You can apply with our online application using your phone, tablet, or computer.
Call us. We have representatives ready to talk to you about car title loans and any questions you may have. If you want to talk with a representative, they can guide you through the application process and get you started.
In person. As mentioned, you are more than welcome to stop in to our location and apply. We are open and ready for customers. Representatives  are ready to answer any question, and guide you through the application process.
Once you've decided how you will be applying, you can apply quickly and in just three steps!
Apply for your loan.
Submit your documents.
Receive your money.1
Don't miss out on the opportunity and apply today!