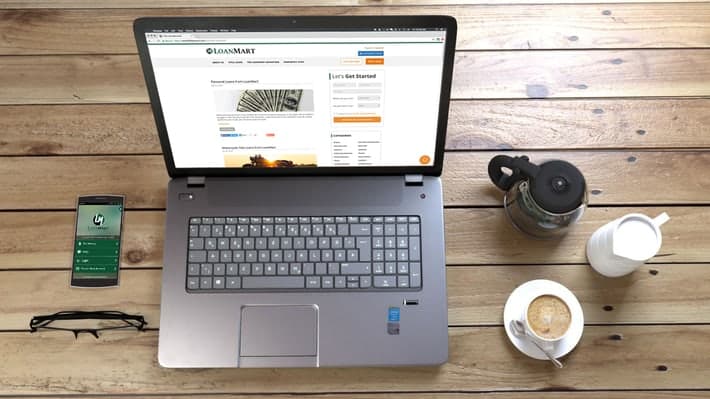 Can I Handle My Car Title Loan Completely Online?
Emergency situations call for a fast response time, and if you're facing an emergency financial dilemma, you might want a swift and easy car title loan process. If you're wondering, "Can I handle my car title loan completely online?", LoanMart can help you with that. With LoanMart, our streamlined application process allows you to complete your entire application process online.
Completely Online Title Loan Process
From start to finish, LoanMart's entire title loan process can be complete online. You don't have to leave your home or find time out of your busy schedule to stop at a participating store. We understand what emergencies can request from us, which is why we made the title loan process as simple and easy. Why make it harder and cause more stress on you? We care about our customers, and it is your finances we deal with.
Completely Online Title Loan Application
You can complete your entire title loan application process online. You don't have to meet in person or consult a representative at your nearest convenience. You can either submit your application online with our streamlined process, or you can give us a call if you want to talk to someone.
Once you submit your application, the next step is communication with one of our representatives. They can text or call you to verify your information and request your important documents. Documents you'll need to include are:
Your qualifying title
Government issued photo ID
Proof of residency
Proof of income
Pictures of the vehicle
Once you've taken pictures of your cars and your documents, you can either text them to 1-818-521-2470 or email them to lmdocs@loanmart.com. No need to drop them off at a participating store or find a way to fax them in. It's simple and easy.
The final step of the application requires you to review your LoanMart agreement and sign the document1. Using an online program, we can send you an electronic version of your agreement for you to sign, so you don't have to find a location to stop at. You just use your phone, laptop, or tablet to sign and send it back. Then, your funds will be ready1.
Collect Your Funds Completely Online
As we mentioned, we offer the entire process of your title loan online from start to finish. That means sending you your funds upon approval1. You don't need to go pick up your money or find a way to collect your funds. Using our safe and secure system, we make sure your privacy is secure so that we can send your money directly to your checking or savings account.
All you have to do is provide us your checking account and routing number, so we can send you your funds. Then, they'll be in your account for you to use as you want. No hassle of stopping at a participating store or MoneyGram to find your funds and then finding a way to deposit the money into your account. Instead, we skip a few steps for you and send it right to your bank!
Making Payments Online
With technology, LoanMart has made it a lot easier for customers to make their loan payments when the time comes. We give you plenty of options to choose from to make payments, including many options online to make your payments:
LoanMart Website
Using the "My Account" tab on the LoanMart website, you can have instant access to your title loan statement and your payment information. You can make your payments using your bank account or card information.
LoanMart App
LoanMart has also created an app to make the title loan payment and monitoring experience a lot less stressful. With the app, no matter your schedule or no matter where you are, you can use the app to make your monthly payment. You can set up alerts to remind you to make your payment, as well.
Automatic Withdrawal
Using your online account or your LoanMart app, you can set up automatic payments to withdrawal from your account. That way, you don't have to worry about missing a payment or any tardiness with your payment. It'll be taken out of your account for you!
Other Online Resources
LoanMart has taken the time to make sure our website is filled with resources and tools to help you with your title loan decision and your success with paying it off. On top of the account option, we also have resource blogs, information blogs, store locator, and the entire application process. On our website, you can even find a Live Chat that allows you to talk to a LoanMart representative if you find that you have any unanswered questions.