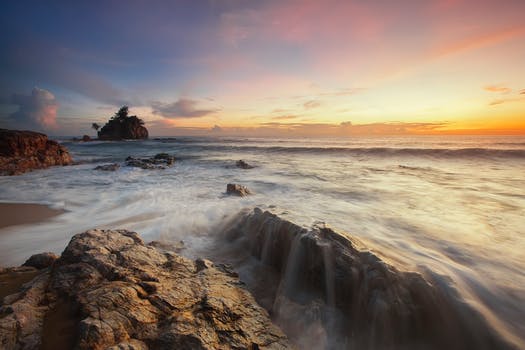 One day road trips are the best! You get a short get away without straying too far from where you started. There are lots of options for this in Long Beach. That's because California has numerous attractive destinations no matter which way you are going. You can easily get away to a beautiful beach towns, majestic mountain range or rugged desert scrubland. These interesting and attractive vistas from Long Beach and make for great day trips.
Long Beach is geographically located in Southern California. It is surrounded with sweet luxuries and amenities with multiple beach towns nearby. You can drive in almost any direction and find something fun and appealing to do. The west drive on a warm day can take you to a scenic point to bask in the sun and salt air on the sandy shores of a beach. You will experience beautiful time near the Pacific Ocean. Drive east to experience the vast and calm mystery of the Mojave. Going North will end up with you enjoying a beautiful mountain view. Journey to the top of these peaks and you will enjoy sledding and other adventure sports. There are even log cabins where you can enjoy a steaming cup of cocoa by the fireplace.
Road trips from Long Beach are fantastic when driving with good company and blasting music. Driving to the four corners from Long Beach only takes less than a gas tank, making a day trip viable and easily possible. Here are some fantastic options you are sure to love:
Long Beach to Manhattan Beach
Manhattan Beach is located 50 miles from Long Beach. Driving west from Long Beach leads to the bustling Los Angeles ports. You can travel through the Palos Verdes Peninsula from popular Hermosa, Pacific coastal town of Redondo to Manhattan Beach. Turn north on State Highway 47, which is a drive of about seven mile or so from the portside. You will cross over two bridges past military tankers and cruise ships before passing through port town of San Pedro.
The palm-lined streets will lead you to a Pacific appearance of Friendship Park. The park is about 123-acres with a monument depicting peaceful relationships between U.S.A and South Korea. A short drive from Friendship Park will direct you to the military barracks and sea defenses. A hundred feet down is Fermin Park one of the best places for kids to hang out. The road will then open into a spacious rolling landscape reminiscent of Italy's Amalfi coast.
If you like sport fishing and whale watching, driving into the undeveloped peninsula will be the best option. The road will lead you to Catalina Channel, which is the perfect spot for whale watching and fishing alike. A short drive of 30 minutes will bring you to upscale neighborhoods of rolling Hills Estates. The estate is home to many celebrities and notable Hollywood movie stars. Take time to experience the unique nature of pacific oysters and day boat scallops.
From this place, you can drive through the Pacific Coast Highway further north to Santa Monica or Malibu. Take direction heading down the coastal road towards the college town of Hermosa. The road will take you to your final destination, which is Manhattan Beach. The beach has a fantastic stretch of pristine sand with great options for surfing. From Manhattan Beach, it is easy to go back to Long beach. It can take less than 30 minutes to drive through Interstate 405, the San Diego Freeway. The entire ride is less than a couple of hours without traffic.
Long Beach Trips to the East
To the east of Long beach lies Idyllwild which is 220 miles round trip drive. This is a unique trek taking you through the California desert and scrubland mountainous region. You can make it to Idyllwild and back to Long Beach in about a day, but if you have the time there are plenty of things to keep you occupied en route. Take State Route 22 to the Orange Freeway. State Highway 60 will swoop you through the Moreno Valley toward Beaumont. From there, you will run through largely desert flatland punctuated by the Lake Perris State Recreation Area. This place is perfect for hiking trails, boat riding and sport fishing. Moving 10 miles to the east through the park, the driving will start to become interesting as the desert comes into view.
After traversing through Beaumont, you will begin to scale up State Highway 243 to Idyllwild. The transformation from beach to scrub desert and fire-blackened chaparral ending up in an alpine forest is one of a kind. It is better to keep the windows down to fully experience the changes in temperature and air quality. It takes about 40 minutes to reach the plateau and wilderness mountains. But when you get there, you will feel like it's worlds away from smoggy L.A. Idyllwild has lots of nice shops, eateries and areas with serious mountain climbing and hiking. Apart from climbing and hiking, there is Lake Hemet that offers boat riding, sport fishing and camping. On the way back to Long Beach, take Route 74 traversing Thomas Mountains down to Palm Springs. From there, drive straight towards the west on Interstate 10 through Beaumont and you will find yourself back in Long Beach.
Driving South from Long Beach
The distance between Long Beach to the Laguna Beach is approximately 70 miles. The trip from Long Beach heading south direction to Laguna Beach uses the Pacific coast Highway with many beautiful points on the way. Take on the eastern portion of the city using this highway and drop into Seal Beach. The beach has good casual dining and famous taco shops near the U.S naval base. Take the highway further south to the untouched coastal town Sunset Beach. You can buy surf shorts and towels on the way in this small and quaint village. You will enjoy viewing rare birds that occupy the wetlands of the Sun Beach.
From here, keep heading south towards Huntington Beach. The history and culture of this place is famous throughout California. Huntington Beach stretches all the way to the western edge of Newport Beach. Newport Beach is the home of rich –kid tv show known as "The O.C." The beach has several nice restaurants and bars that attract many tourists. You will enjoy eating ice cream while viewing surfers splash around below. There are even 15-foot great white sharks caught about 100 yards offshore. Coastal Mesa and Orange are famous and definitely worth a stop when road tripping.  Driving seven miles to the south is a beautiful crystal cove nature reserve. It is nice beach for nature walk trails. Laguna Beach is located after the Crystal Cove nature reserve. The Beach is long favored by artists and nice shops, stalls and eateries. It is a pleasure to explore the many secret coves that made Laguna famous.
Source: http://www.roadtripamerica.com/DayTrips/Day-Trips-from-Long-Beach-California.htm