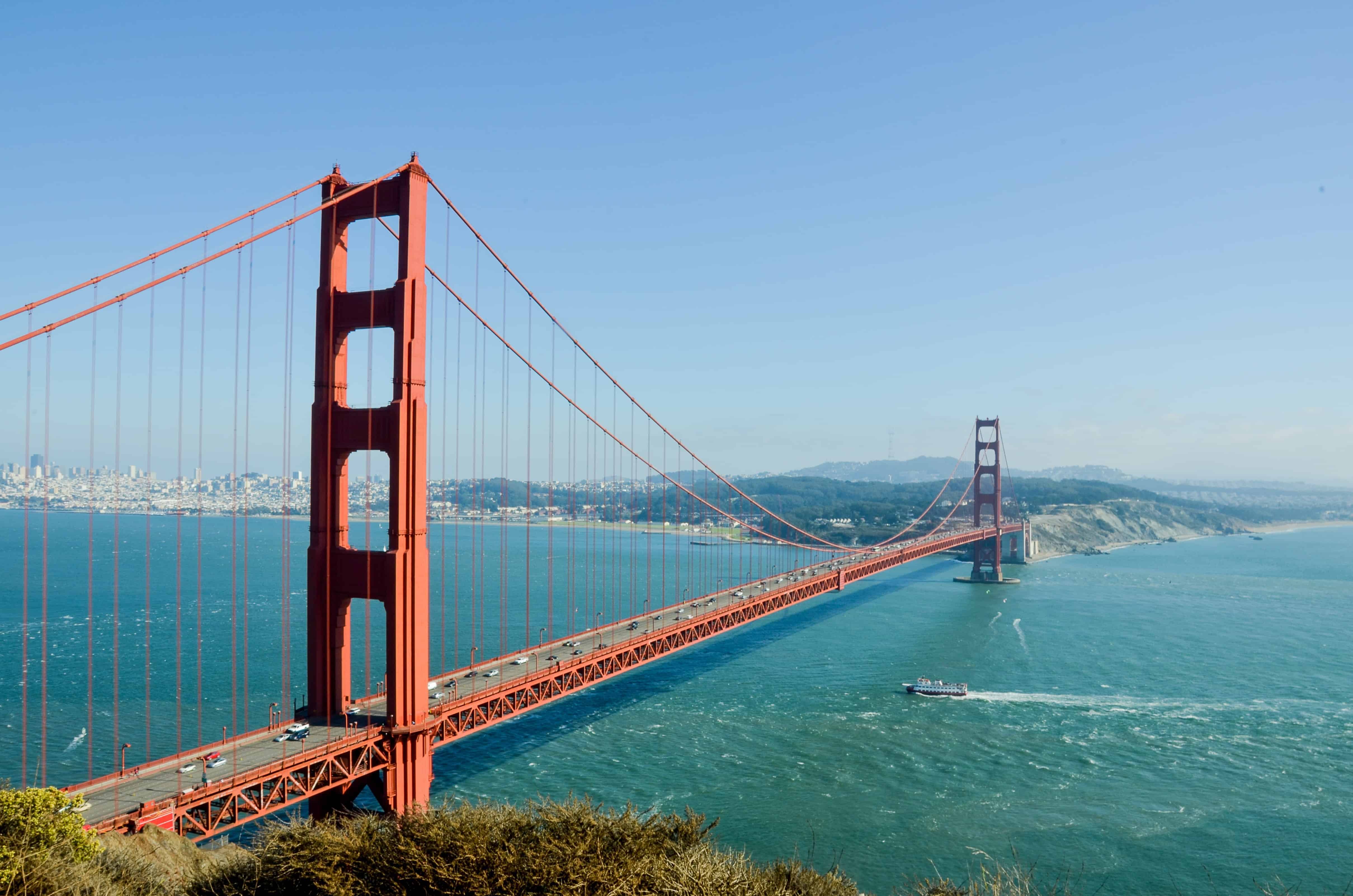 20 Fun and Free Things to do in San Francisco
San Francisco is filled with entertaining things to do, and there are A TON of them that are free! Check out these 20 fun and free places to see and activities to participate in while you're in San Francisco.
Russian Hill
Russian Hill got its name from the old cemetery that was discovered there in the mid-1880's. During the Gold Rush, a group of settlers found a cemetery with grave makers of members of the "Russian-American Company." The hill is now a popular tourist site that feature marvelous views of the city below.
Ocean Beach
This beach is known for its strong waves, which attracts some gnarly surfers—but this also means that you should proceed with caution. Riptide and undertow are phenomena you might want to observe from afar, not experience firsthand. Since the water is pretty much cold all year round, this beach is perfect for meditative walks spent gazing at the crashing waves.
Marin Headlands
This beach is perfect for city gazing with your doggy-pal. Enjoy a picturesque view of the Golden Gate Bridge before you head on over to the dog-friendly Rodeo Beach with your fur-baby. What makes site seeing even better? Getting to bring your dog along, of course!
Crissy Field
Beginning in 2001, this location has been transformed from a military airfield into an environmental gemstone for the city of San Francisco. Walk, hike, or ride your bike through the scenic trails featuring stunning views of the Bay and Golden Gate Bridge. Be sure to stop at the Warming Hut before your hike to stock up on delicious snacks, sandwiches, and drinks for afterward.
Outdoor Movies
Sure, anybody can watch a movie outside, but you can't always watch a movie outside with the landscape of an entire city in the background. The San Francisco Theater Foundation hosts a Film Night in the Park where they show all kinds of movies on a giant screen with the beautiful city as a backdrop. Catch everything from classics like The Breakfast Club to more recent flicks like La La Land.
Walking Tours
Local volunteers host walking tours of neighborhoods all throughout the city of San Francisco. Learn about all the hidden legends and history that only a local resident would know.  See everything from the Japanese Tea Garden, to Gold Rush City, to the most famous "City Scapes and Public Places."
Diego Rivera Murals
Diego Rivera was an inspiring artist who lived from 1886-1957. Throughout San Francisco you can see three of his masterpieces. Although these works are commonly referred to as "murals," they are actually "frescos." Frescos are paintings on a wall or ceiling, but they are done with watercolor on wet plaster, so the colors are more vibrant and long-lasting.
Pier 39
Pier 39 is like a year-round festival. There are street performers, water attractions, and even 20,000 local sea creatures waiting to be discovered at the Aquarium of the Bay. Pier 39 is famous for its sea lion sightings. Typically, you can see the most sea lions at Pier 39 during the winter, because they normally migrate south during the summer. However, lately a small group of sea lions have been staying year-round at Pier 39 … it's like they don't want to leave the party either!
California Coastal Trail
All of the trails contained in the California Coastal Trail equals about 1,200 miles, and the organization Coastwalk California says the trails are only about halfway done. You can enjoy these paths by walking, biking, riding a horse or even on a wheelchair. Located along the coastline, you can choose to use the paths of the California Coastal Trail for exercise or simply for a calming walk.
Palace of Fine Arts
The Palace of Fine Arts is an urban temple originally created for the 1915 Panama-Pacific Exhibition. The building looks like something straight out of a Greek mythology legend, which is why this site is a popular spot for wedding pictures and has been featured in numerous movies and TV shows. There is a walking path surrounding the Palace so you can take a stroll and admire the structural masterpiece from all angles.
Stair Hunting
Since San Francisco is basically a city on a slant, there are LOTS of stairways. Many times, the stairways constructed in public areas such as parks or museums are decorated to reveal a larger picture or pattern when you look at them from afar. Walk around the city and have a scavenger hunt to see who can find the most artistically designed stairways.
Seward Street Slides
These public waterslides are INTENSE, so be sure to bring your brave face and leave your toddlers at home. Slide down these concrete slides on a piece of cardboard or on wax paper (if you dare). The slide was designed by 14-year-old Kim Clark, who won a contest hosted by the sculptor Ruth Asawa. After looking at how much fun these slides seem, I am going to say it right now and call Kim Clark an unrecognized genius.
Lombard Street
Lombard Street has been nicknamed the "crookedest" street in the world, due to its steep hills and sharp curves, thankfully this road is a one-way street. People actually line up just to drive through this street, kind of like volunteering for a traffic jam but in a good way.
Free Music
You can probably just walk down your favorite street in San Francisco and hear live music coming from somewhere, but thankfully if you want to see a show live you have plenty of options. One of the best places to catch a free performance is at the Stern Grove Festival. Every year this festival showcases tons of live musical performances completely open to the public.
Wave Organ
A concrete structure located on a jetty in the San Francisco Bay, the wave organ emits sound made from the waves crashing into the pipes of the sculpture. The sculpture was completed in 1986 from the designs of Peter Richards and George Gonzalez. There are 25 pipes to the Wave Organ, all which give off a different sound depending on where the waves crash.
Free Swing Dancing
For 21 years, San Francisco has offered free swing dancing lessons in Golden Gate Park. Every Sunday from 11 AM – 2 PM, people are encouraged to get active, make new friends, and maybe learn something new with 3 hours of fun filled swing dancing lessons.
Fort Point
Fort Point was built as a military base to protect the San Francisco Bay from the time of the Gold Rush through World War II. It is now a popular tourist site where people can come and look at the magnificent hills and glistening waters that surround this area. Located under the Golden Gate bridge, Fort Point can also give you a unique view of this historical landmark as well.
Painted Ladies
You know that classic view of Victorian style houses that you saw in pretty much every episode of "Full House?" Well, those houses are referred to as the "Painted Ladies," and they can still be seen today. Have a picnic on a blanket and recreate the iconic Tanner family outing!
Billionaire's Row
Take a self-guided tour of the fancy life when you look at the giant houses on Billionaire's Row. Located in Pacific Heights, this neighborhood was constructed after the devastating effects of the 1906 San Francisco earthquake. Things seem to have turned out alright for those homeowners though, they now have enormous homes with dazzling views of the city.
Cable Car Museum
Learn everything there is to know about the history of the cable car and how they have evolved over the years. Located in the Washington-Mason powerhouse and carbarn on Nob Hill, this museum has collections of historic cable cars, mechanical displays, and even a gift shop where your purchases go towards preserving the history of the Cable Car Museum.
Get Help From LoanMart in San Francisco
LoanMart is happy to help you with these fun and free tips about how to have a great time in San Fransisco. If you need flexible financing, consider a San Fransisco title loan from LoanMart.