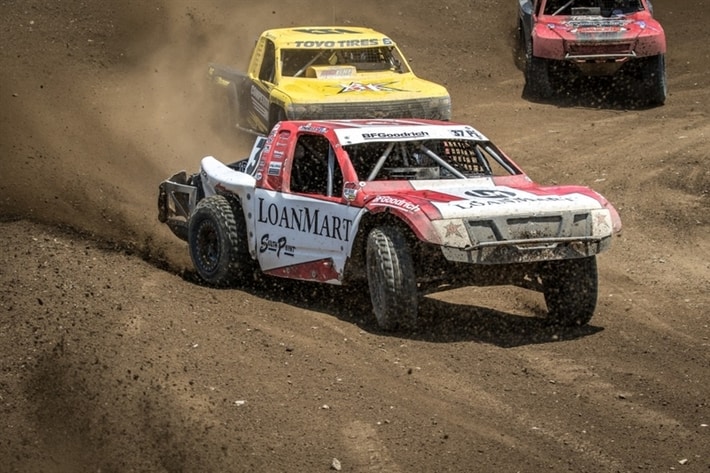 A LoanMart racecar in action at the Lucas Oil Off Road Racing Series event.
SAN BERNARDINO, Calif. (July 20, 2015) – This Saturday morning, Angelenos were woken up from their slumbers by roaring thunderstorms and blinding flashes of lightening. They were stranded inside their homes while it poured for nearly half a day. After the sky was finally done rumbling and dripping for hours, officials from the Lucas Oil Off Road Racing Series ("LOORRS") round 9, presented by LoanMart, were forced to postpone round 9 of the 2015 Golden State Nationals. They decided to make use of Sunday morning for the event, rather than the previously scheduled Saturday night. The water had made the racetracks at Glen Helen mushy, but crew members worked persistently to get them back in shape for the rescheduled races. Thankfully their efforts turned out to be fruitful. The tracks as well as the weather conditions were in favor of LOORRS on Sunday morning, letting round 9 work out smoothly as planned. As there was no time to conduct the practice and the qualifying races to determine new positions, drivers just had to line up according to their championship rankings. All of the resulting races turned out to be exciting, with drivers following each other by only fractions of seconds. RJ Anderson's #37 LoanMart/Walker Evans Racing Nissan proved its charm for him once again; getting him his fourth win of the season in the Pro Lite unlimited category. Kyle Leduc, brother of Todd LeDuc continued his winning streak too by taking his whopping eighth straight win in a nearly faultless manner. Although round 9 turned out to be a hoot, unfortunately, round 10 had to be cancelled as the spell of bad weather followed Southern California on Sunday night too.
The LOORRS is a collection of short course racing by Forrest Lucas and Lucas Oil Products. Tickets to the next rounds of the LOORRS can be purchased online, by visiting this page:  https://lucasoiloffroad.mycustomevent.com/
About LoanMart:
LoanMart provides loans directly to consumers via a diverse portfolio of financial products, including direct financing on auto title loans1. LoanMart is able to fund most loan requests based on the value of customer's automobiles. For more information visit 800loanmart.com. Loans are made or arranged pursuant to a California Finance Lenders Law license.