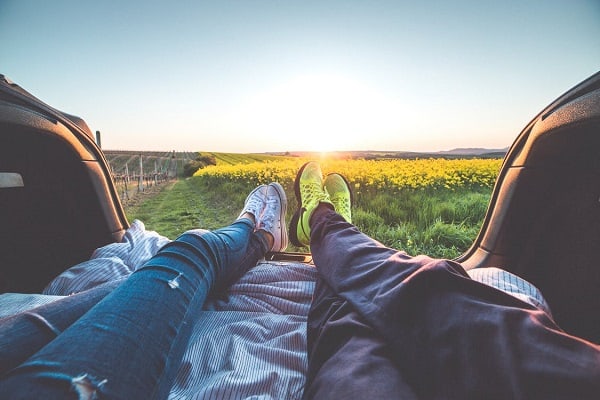 Don't let your tight budget affect your dating creativity. There are a lot more ways to spend time with your S.O. than going on the typical dinner date that can get expensive, or watching Netflix which can get, well…boring. Whether you're in a new relationship, married or going on a first date, here are some free and cheap date ideas that are sure to make you and your partner laugh and get to know each other better. You don't have to spend money to spend time together. Try these to break your typical date night routine—without breaking the bank.
Attempt to set or break a Guinness World Record.
Get lost on purpose for an adventure.
Answer this New York Times questionnaire that might make you fall in love.
Take a free class at your library or community center in something neither of you are good at.
Feed ducks at the nearest park. Give them names and backstories.
Go to a farmers market on a semi-full stomach so you can try lots of free samples without it turning into a meal or a grocery shopping trip.
Go to a free night at a local museum.
Turn it into a scavenger hunt.
Volunteer at or visit The Humane Society. (Leave your money at home to avoid adopting a new pet)
Have a home movie theater night. Make fancy popcorn and homemade Icees to kick it up a notch from your typical movie night.
Have a sand castle-building contest. To determine a winner, ask other beachgoers to vote.
Go people watching at the busiest place you can think of.
Make DIY kite(s) then go fly them outside in park.
Get dressed up and go to open houses of big, expensive houses in the neighborhood.
Build a giant blanket fort. Then, spend the whole night inside. Bring books or a laptop to watch Netflix.
Have an at-home karaoke night. Download a karaoke app or use YouTube. Only one rule: you pick the songs for each other.
Go ghost hunting.
Make your own custom Cards Against Humanity deck then invite friends over to play it.
Go stargazing and make up new constellations named after inside jokes.
Then draw them and make a map of them.
Play in some sprinklers on a football field or park.
Play hide-and-seek. Use Snapchat to send each other clues.
Do a literary scavenger hunt at a library or bookstore.
Have an impromptu yard sale. Go through old stuff, relive the memories, but get rid of anything you don't need anymore.
Have an eBay or Craigslist contest: List similar items and see who can make the most money with their photos, descriptions and salesmanship.
Make a time capsule or memory box.
Go on a tour of your local Masonic Lodge, then watch National Treasure.
Go on a modern day treasure hunt by geocaching.
Have an entire meal of Costco samples.
Exchange to-do lists.
Show up for a free DIY class at Home Depot or Lowe's.
Get free paint samples and arrange them on a wall to make a pixelated mural.
Play Truth or Dare.
Test drive your dream car.
Have a Chopped style competition to see who can make the best dish out of whatever ingredients you already have in the house.
Make homemade slingshots. Then load them with marshmallows to have a marshmallow fight.
Take some blankets and your laptop somewhere outdoors and have an outdoor movie screening.
Have a sweepstakes night where you both enter as many free contests, giveaways and sweepstakes as you can find on the internet or in magazines.
Play nonsense Scrabble, where you can compete using fake words as long as you make up definitions for them.
Make a dictionary of your fake words to use later as a secret language.
Follow YouTube videos and tutorials to learn fancy cooking skills that neither of you know: how to make crepes, how to poach an egg, etc.
Babysit or pet sit for a friend or family member.
Establish a new holiday. Come up with its history, the rules, traditions, and meals. Mark the day and celebrate it each year.
Pick a random place and plan a whole detailed vacation complete with an itinerary of hotels, restaurants and sightseeing. Promise to go there once day.
Go on a "fakecation" and post the pictures to prank your Facebook friends.
Invent your own fantasy league based off your favorite reality TV show.
Have a TV marathon that doubles as a workout session.
Go yarn bombing.
Go eye bombing where you put googley eyes on inanimate objects.
Have a prank contest inspired by Jim vs. Dwight.
Pretend to be tourists in a nearby city or your own. Wear a fanny pack and a camera around your neck.
Learn how to do a magic trick and practice it.
Cheer on an amateur sports team or little league team in your city.
Make a bonfire for two.
Ride bikes through the city or some trails.
Go to a flea market or hit some thrift stores. You don't have to buy anything. Pretend it's a museum.
Go to the beach.
Sign up for a rec sports league together or join a pickup game.
Go on a photo walk.
Go to a bingo night.
Spend a night only watching funny YouTube videos together.
Make a slip n slide with a tarp, a hose and some dish soap.
Shoot some hoops or play 1-on-1 basketball in the park or nearby gymnasium.
Go to a local community play like at a high school or college.
Hike a local nature preserve.
If all else fails, there's nothing wrong with a simple Netflix or movie night.