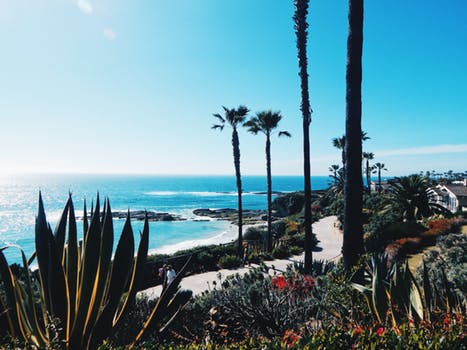 Only have one day off this week? Spend it exploring one of these awesome places you didn't know existed in the Los Angeles area.
Going on vacation is always awesome: it is relaxing, you don't have to think about work or school, and all you have to be responsible for is having a good time. But in the real world not everybody has a week to drop their obligations and go somewhere on short notice.
Sometimes all it takes is a quality day trip to get the excitement and relaxation that comes with a vacation. Save on expensive meals, pricey hotel rooms, and endless travel times and explore some of the local attractions in your town or city.
If you live in Los Angeles or the surrounding area, check out these 5 epic places to visit for a day trip you'll remember as fondly as that week you spent in the Bahamas.
Angeles National Forest
The Angeles National Forest, just under 20 miles from Downtown Los Angeles, has been a declared forest preserve for over 125 years. There are over 700,000 acres of waterfalls, wildlife, mountains, and trails to explore. Some of the natural attractions of this natural forest are:
The Devil's Punchbowl – Check out this 4,750 foot tilted sandstone formation, but try not to fall in!
Strawberry Peak – It's a mountain shaped like a strawberry, you need to see it to believe it.
Mount Islip – This sharp 8,250 foot slope is called Mount "I-Slip" for a reason, tread carefully to avoid a major tumble.
Mount Baldy – Formally known as Mount San Antonio, this giant 10,064 foot mountain is the highest point in all the Angeles National Forest. Take in some spectacular views from the top, if you can make it.
Eagle Rock
Eagle Rock is a little town about 9 miles from Downtown Los Angeles. The town gets its name from a giant rock that appears to have the imprint of an eagle at the peak. You can see this formation by driving on Eagle Rock View Drive, or you can see it in person and hike the surrounding trails on Eagle Rock Canyon Trail.
Eagle Rock is also brimming with culture: visit the Eagle Rock Famer's Market and experience the delicious local cuisine, take a free guided tour of the Eagle Rock Brewery and see the place that helped launch the local microbrewery phenomenon in LA, or if you are visiting in October head on over to the Eagle Rock Music Festival and rock out to some local music. If you are feeling a little nerdy, visit Occidental College in Eagle Rock, Barak Obama went there.
Abandoned Zoo
Have you ever wondered what it was like for animals to be stuck in cages at the zoo? Well now you can get some firsthand experience at the Old Los Angeles Zoo.
Located about 2 miles from the current Los Angeles Zoo, the Old Los Angeles Zoo opened in 1912 and functioned until 1966 when the current LA Zoo opened. Common for the era in which it was built, the cages in this old zoo were built tight and long, so the animals could pace. This is now deemed a completely unfit and even cruel housing situation for zoo animals.
See the world from a different perspective and explore the different cages throughout this abandoned zoo. There are picnic tables set up in several of the larger exhibits where you can sit and talk or bring a meal to eat. This is also the filming site of the bear scene from the hilarious 2004 film, Anchroman: The Legend of Ron Burgundy.
Japanese American National Museum
Located a mere 1.5 miles from Downtown Los Angeles, the Japanese American National Museum is a hidden gem of LA. Enjoy traditional art, cultural history, group tours, and even an attached kid's museum.
But perhaps the Museum's most special exhibit features a single paper crane folded by Sadako Sasaki herself.
In case you didn't know, Sadako Sasaki was 2 years old when her hometown of Hiroshima was bombed during World War 2. Radiation from the bombing led to her diagnosis of leukemia when she was only 9 years old. Sadako heard of the ancient legend that said a wish would be granted to the person who took out the time to fold one thousand paper cranes. Wanting to cure her illness so she could live her life, Sadako began folding. Although she folded 1,300 paper cranes, Sadako sadly passed away on October 25, 1955.
Last year, an original origami crane folded by Sadako Sasaki before her death was donated to the Japanese American National Museum by members of her family. The museum is proud to be one of just six places fortunate enough to be honored with one of Sadako's cranes.
The Hollywood Sign
The Hollywood sign in Mt. Lee has been a sight to see since 1923, but back then it looked a bit different. The now iconic landmark was originally built as a giant illuminated advertisement for the fancy real estate development, Hollywoodland. The sign took four thousand 20-watt lightbulbs to light up and cost $21,000 to make. It took an entire team of workers, mules, and tractors to haul each individual piece up the mountain, can you imagine being a part of that job?
In 1978, after the sign had been rebuilt several times, an "O" tumbled down Mt. Lee when the wood was destroyed by termites and arsonists had lit a fire to the bottom of an "L." The sign was rebuilt again for $250,000, about ten times the original cost. You can thank the late Hugh Hefner for making that happen, he threw an extravagant fundraiser at the PlayBoy Mansion specifically to raise funds for construction of the new sign.
The 138 acres of land surrounding the sign is forever protected (also thanks to Mr. Hefner), so you can hike around Mt. Lee and take in the beautiful scene from the top. So many people have lived in Los Angeles their whole lives and have only ever seen the Hollywood sign from afar. It is definitely worth it to take the time to visit the sign up close. The Hollywood Sign website even has tips on where to go to take the best selfies!
You only need one day to have an experience you will remember forever.
Who needs the hassle of spending a fortune to travel across the country when there are amazing places to see miles from your hometown? Try all of these amazing day trip locations and to make some memories that will last long after the day is over.
https://hollywoodsign.org/fast-facts/
https://hollywoodsign.org/best-viewpoints/
https://californiathroughmylens.com/old-la-zoo-griffith-park
http://www.atlasobscura.com/places/old-zoo-picnic-area
http://digital-desert.com/devils-punchbowl/
http://www.simpsoncity.com/hiking/islip.html
https://www.hikespeak.com/trails/mount-baldy/