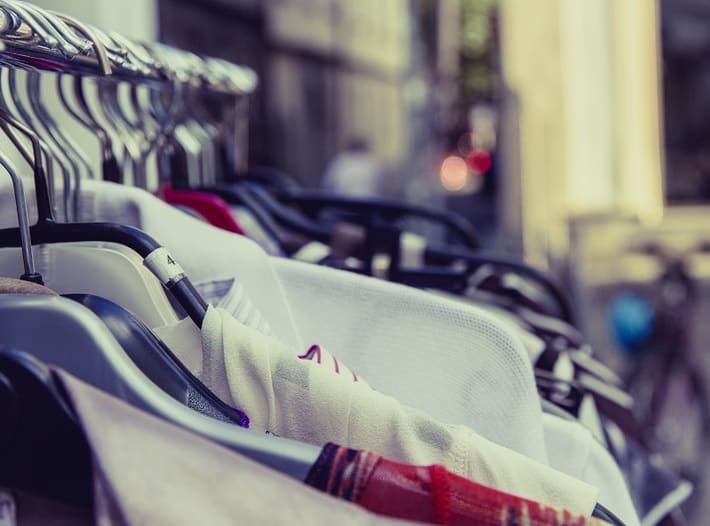 When you're on a budget, thrift stores are your best friend. Especially when living around a stylish city like Los Angeles, you can always leave a store with good finds. The next time you need new clothes, shoes, furniture, books to read, household items, etc. it's a good rule of thumb to always stop by your local thrift shop first before heading to any other store to buy new things.
Thrift venues are always a great source of thoughtful, unique and (most importantly) inexpensive gifts too. So, holidays and birthdays don't have to drag your account balance down when you want to get your friends and family something special.
Buying things at thrift stores is not only good for your wallet, but it's good for the environment and good for the charitable organizations that many of these stores benefit. It will also fulfill your sense of adventure, because it's more like hunting than shopping.
But, to cut down on some of your searching, we at LoanMart have compiled a list of the best thrift stores in Los Angeles that aren't the obvious AMVETS or Salvation Army (although those are great too). With a little bit of cash and a lot of determination, these are your best bets for great thrifting whether you're a fashionista or just looking to fill your home on a budget with style.
UCLA Thrift Store
The UCLA Thrift stores have a huge selection of women's clothes and shoes, furniture, jewelry and electronics. The Annex location also carries children's clothing, toys and games. With some patience to look through it all, you can score a lot of quality items here at bargain prices. And, the proceeds of these sales go to patient aid for the UCLA Health System.
Main Store: 11271 Massachusetts Ave., Los Angeles
Annex Store: 1601 Sawtelle Blvd., Los Angeles
Berda Paradise Thrift Shop
This is another store where you can feel satisfied with the prices of your good finds while feeling good about where the money is going. Proceeds from this store benefit the nearby Hollywood Sunset Free Health Clinic. This store's merchandise is always changing, as items go fast. That's probably due to their famous $1 rack and other great deals on their one-of-a-kind pieces.
3506 W. Sunset Boulevard (at Golden Gate Avenue), Los Angeles
American Cancer Society Discovery Shop
The American Cancer Society Discovery Shops only accept high quality items, so you can be sure this wide selection will be more filtered than your average large thrift store. Shop to find clothing, accessories, jewelry, furniture, art, antiques, collectibles and other items at great prices that, again, benefit a good cause.
Find your local American Cancer Society Discovery Shop.
Located in Little Ethiopia, Helping Hand has a selection of furniture and home décor that ranges from antique to contemporary. They also have a selection of vintage and brand name clothes that are worth browsing through.
1033 South Fairfax Ave. Los Angeles
Council Thrift Shop
Also known as the NCJWLA (National Council of Jewish Women/Los Angeles), these thrift shops are known as some of the best around. Some select vintage pieces can be pricey, but there's always a bargain if you keep looking. They're known for getting some of the best furniture and clothing donations in the city because they give donors an itemized list for tax deductions (something to keep in mind if you have stuff to donate).
Find your local Council Thrift Shop.
Out of the Closet
These stores sell used everyday items, clothes, shoes and accessories. Their colored tag sales make their items a steal. And, their sales benefit the AIDS Healthcare Foundation. Their inventory is huge, so while you're sure to discover great stuff, plan to invest some time in order to do so.
Check your nearest Out of the Closet location here.
Buffalo Exchange
This chain is curated to have up-to-date men and women's fashion at a fair price. The items are all gently used, but not necessarily that old. They also buy current styles if you're looking to make a few extra dollars to keep or to spend in the store to replace the clothes you sell from your closet.
Check your nearest Buffalo Exchange location here.
Sunday's Best Thrift Apparel
This store is a gem for its organized and very inexpensive clothes and accessories. They have today's styles along with a large vintage selection. Don't let the outside of the storefront fool you, the large space inside has seemingly endless racks.
5960 Atlantic Blvd., Maywood, CA
Crossroads Trading
This is another fashion recycling chain that buys and sells today's styles and name brand clothes. However, these types of stores are only as trendy as the neighborhood they're in. Lucky for residents of LA, that means these locations are sure to be a win.
Visit one of the Crossroads Trading locations by you.
Goodwill
This one seems obvious, but it really is a tried-and-true jackpot for finding anything you might be looking for, at a great price. Because it's probably the most well-known place for people to bring their donations, we can't forget to mention the great selection at your local Goodwill. Plus, large stores like Target often make donations of surplus items that they couldn't sell; they even still have the tags on them. And, while Goodwill isn't a secret in itself, you might not know that many people say that the store on South La Brea Ave. is the best one in Los Angeles.
817 S LA Brea Ave (8th Street), Los Angeles, CA
Melrose Trading Post
This isn't exactly a thrift venue, but this spot is definitely worth mentioning. Every Sunday in the parking lot of Fairfax High School, the Melrose Trading Post offers an open-air flea market that's like no other. With an entrance fee of $3 that benefits the school, it's a lot cheaper to get into than many of LA's other flea markets. The vendors sell a uniquely curated selection of handmade arts and crafts, vintage fashion, antique furniture and more. The time and the admission fee spent will be worth all of the treasures you find. Live music while you shop is a bonus!
7850 Melrose Ave., Los Angeles
Online Thrifting
These days there are tons of online services and apps that are basically a thrift store in your pocket. Here are some of the best apps to go "thrifting" without even having to leave your couch.
Most of these apps and sites are for buying and selling clothes, furniture and more. It's a great idea to try selling as well as shopping. You could break even on replacing stuff or even turn a small profit.