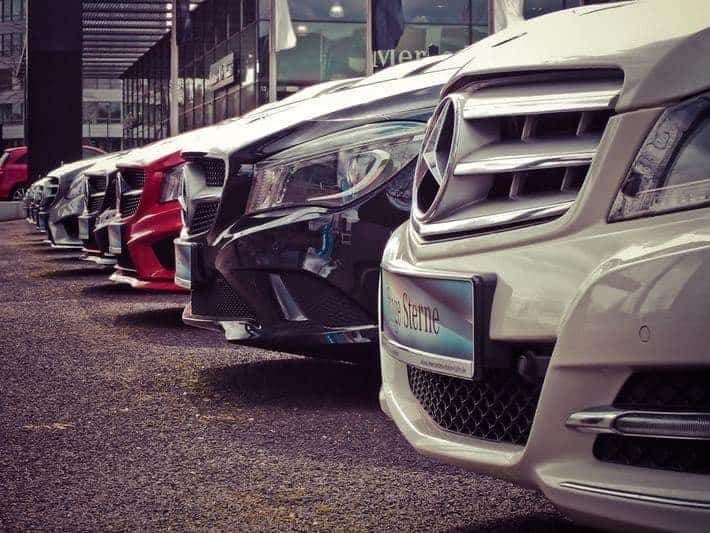 Whether you're a fledgling car enthusiast or a gearhead when it comes to the hottest luxury cars, the best is always better. When you're not cruising the streets or filling your next auto-show appearance, you should look at our LoanMart list for the top luxury car brands. Who knows, maybe after looking at what they have to offer, you'll see these luxury car brands under a different light.
Side note: Our top luxury car brands list is subjective, so let us know what your top luxury car brands are. But, in case you want to know more about the latest models these luxury car brands have to offer, we will be sure to lead you the right way.
Audi
The Audi history was founded by August Horch, who started the Company HORCH & CO in Germany. Mr. Horch had to leave his own company in 1909 due to major problems with the commercial management and founded the company we know today as Audi. Audi have mostly been known for the speed in their luxury cars. Technologically advanced features and futuristic style have made Audi a big player between the likes of BMW and Mercedes Benz
Check out their latest sports luxury car model, the Audi RS 3 Sedan.
Lexus
Buyers who are shopping for luxury cars with a more practical approach should consider the Lexus brand. Lexus vehicles offer many of the same advantages as Toyota, and they are considered one of the more reliable luxury car brands, with generally solid dependability ratings across the board.
Check out the latest LC Inspiration Series from Lexus.
Mercedes-Benz
Mercedes-Benz is a German brand of luxury cars, founded in 1902 by Gottlieb Daimler. From its inception, Mercedes luxury cars have always been identified with perfection, thanks to the incredible engineering innovations over the last several decades. Their mark in luxury car brands is solidified with it's high end sophistication in its models. The near-perfect leisure rides from one of the best luxury car brands in the market.
Check out the latest AMG S 63 and S 65 Sedans from Mercedes-Benz.
BMW
The BMW Group is now one of the largest car manufacturers in the world and, with its BMW, MINI and Rolls-Royce brands, they control three of some of the biggest luxury car brands.
Check out the latest BMW luxury car brands here.
Maybe you already have the latest luxury cars of these major luxury car brands. Good for you! Then you must be quite the collector or prefer to invest in important things that matter to you. We're sure you have heard of auto equity loans, but in case you forgot:
Auto equity loans are like home equity loans, but instead of using the value of your home, you use the value of your vehicle to get a loan. Like most loans, auto equity loans must be paid back with interest.
What do you need to qualify for auto equity loans?
A vehicle registered in your name
Loan documentation
Proof of identity
Proof of employment and income
Comprehension and collision auto insurance coverage
Auto equity loans were clearly made for the best models of luxury car brands in mind. Vehicles from major luxury car brands that you own probably have a higher value than most. If you keep up on payments, your valuable automobiles from these top luxury car brands could get you the most cash out of auto equity loans.
But before you jump the gun with LoanMart and get the best auto equity loans from your luxury cars, consider joining LoanMart Platinum1.
Auto Equity Loans for top luxury car brands with LoanMart Platinum!
LoanMart Platinum Preferred Loans (Auto Equity Loans) is our latest membership that works for wealthy individuals who love all the top luxury car brands as much as we do. We may give you the auto equity loans you need, as well as additional perks as a platinum member1. LoanMart Platinum benefits for owners of luxury car brands include:
Priority Phone Number– This comes with direct access to LoanMart management.
Platinum service – Cut the line over standard LoanMart customers.
Privacy with your references– LoanMart does not call unless you default on payments.
Document Removal – Outside of the restrictions from the law, where applicable, your information is removed from our database, after a preset amount of time.
And many more perks that may entice you to get auto title loans from LoanMart!
As a platinum member, you are the VIP, and you deserve the same treatment and value your luxury car brands hold.