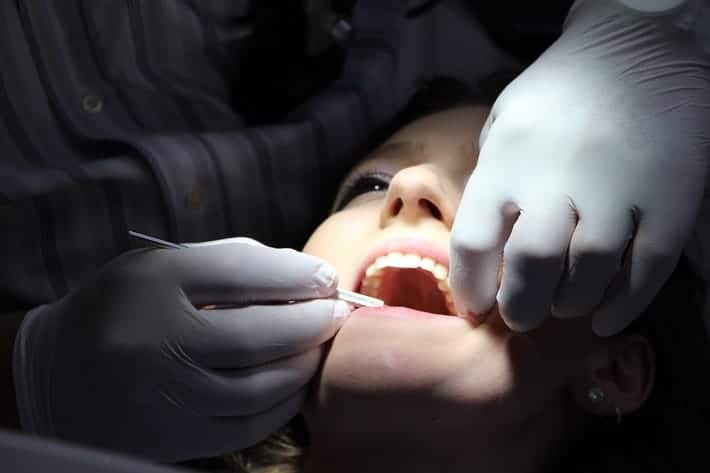 Going to the dental office for a check-up or other specialized dental procedures isn't just a scary situation for some, it may also be frightening when the bill comes in.  When it comes to how to pay for dental services, it can be much simpler than you think, especially with title loans from LoanMart1.
According to MemberBenefits, here are just some of the average costs for dental procedures. But be warned, many of these costs vary from place to place:
Check-ups: Depending on what a common check-up offers at the dentist office, much of this could vary. But in most places, an average check-up costs about $288.
Fillings: Most fillings hold steady price ranges as follows– $50 to $150 for a single, silver amalgam filling; $90 to $250 for a single, tooth-colored composite filling; $250 to $4,500 for a single, cast-gold or porcelain filling.
Tooth extractions: Sometimes a tooth cannot be repaired and must be surgically or non-surgically removed. In general, these costs tend to use anesthesia. Average tooth removal costs– $75 to $300 for non-surgical, gum-erupted tooth extraction; $150 to $650 for a surgical extraction utilizing anesthesia; $185 to $600 for soft-tissue and complicated surgical extractions; $75 to $200 for wisdom tooth extraction.
Root canals: For damaged tooth roots, treatment costs are usually connected to the difficulty of the dental procedure. On average– $120 for a single, exposed root removal procedure, or $185 for a single, residual tooth root removal procedure.
As far as out of pocket payments, there could be additional fees that a dental office can add to the bill. Of course, this is before one considers the option of payment with dental insurance coverage.
How does that work? Most dental insurance that people use is what is known as 100-80-50 dental coverage.
Let's break it down to the three parts that matter in this common dental insurance plan:
100: The insurance policy pays 100 percent of routine and diagnostic care.
80: They pay 80 percent for basic dental procedures such as root canals or fillings.
50: The policy pays 50 percent for major dental procedures like bridges and crowns.
Dental insurance coverage also tends to boil down to three varieties:
HMO: Known as health maintenance organization, the plan restricts your coverage to a limited network of dentists.
PPO: Preferred provider organization plans are very similar to HMO, but give patients the choice to look outside the networks of the coverage. However, patients are also offered reduced rates for doing dental procedures with an in-network dentist.
Indemnity plan: Any dentist can be seen with this coverage but picks up a certain percentage of the cost.
But how much will dental insurance cost you? Well depending on the plan, premiums and the scope of your coverage (family or individual) it may seem even more expensive in the long-run, even when saving hundreds in dentist office bills.
Costs have seen an all-time high in dental services in the last several years. In fact, dentists now make more money per capita than most doctors. But why? Why are dental services expensive in the first place? And what are title loans? We can answer the latter because with LoanMart, title loans are our specialty. They may be the best and fastest way to get emergency cash for dental services. However, before we get in the nitty gritty of title loans, we explain why dental services are so expensive.
Why are Dental Services Expensive?
Like any medical professional, dentists must go through years of education and training before becoming a licensed dentist.
Looking inside a dentist, the tools used in all dental procedures aren't cheap either. Here are just some of the average price tags on equipment and tools found online.
I-CAT X-Ray machine- Between $35,000 to $60,000, which also includes installation.
Dental chairs- Medical Price puts the average price of a dental chair at $2,898, which is cheap considering that high-end dentist chairs can be priced at more than $8,000.
Dental Tools- Most of the prices vary between the types of advanced tools or kits available in the market, but dentists looking to have a full set for different types of dental procedures can expect to pay up to $5,000 for complete sets and individual tools.
This isn't even counting the thousands put into orders for sedation drugs that help to control pain and anxiety during dental procedures. Not to mention the thousands in malpractice insurance.
Although the costs for these dental services may seem astronomical, like any business, dentists are trying to get as much as they can out of their patients to run their office.
But that doesn't mean there are cheaper options.
Payment plans and deals on dental services
If you are looking to save money, with or without dental insurance, here are a few affordable alternatives to your typical dentist office:
Dental schools: A good, affordable way for a variety of dental procedures, most dental schools come equipped with the latest tech to train students in the practice of dentistry. However, don't expect the quickest service, as a dentist will be present to check a student's procedure through every step of the way.
Community dental clinics: Many of the states in the country offer a few low-cost or no-cost dental clinics, with many of the dentists offering rate adjustments based on your income.
Charitable dental organizations: Something that is usually not common knowledge in the world of dentistry are organizations such as Dentistry From The Heart, who arrange free dental care events in which dentists donate time to provide dental treatment to those who cannot afford. If you are struggling financially to get the dental care you deserve, be sure to research how these dental organizations can help you.
Another way of paying for affordable dental services is consulting with your own dentist or insurance company on the coverage you have. It never hurts to ask, especially if it's about your own teeth and cash.
When in need of additional funding to pay for dental services, title loans may be a favorable option. Car title loans from LoanMart can be a great way to get essential funding without all the hassles that can come with traditional lenders.
One of the best things about car title loans from LoanMart is that they may be fast and efficient1. You could even receive your car title loan funding as soon as the next business day3!
Check out our application and see how you can use emergency money from a title loan to pay for dental service!