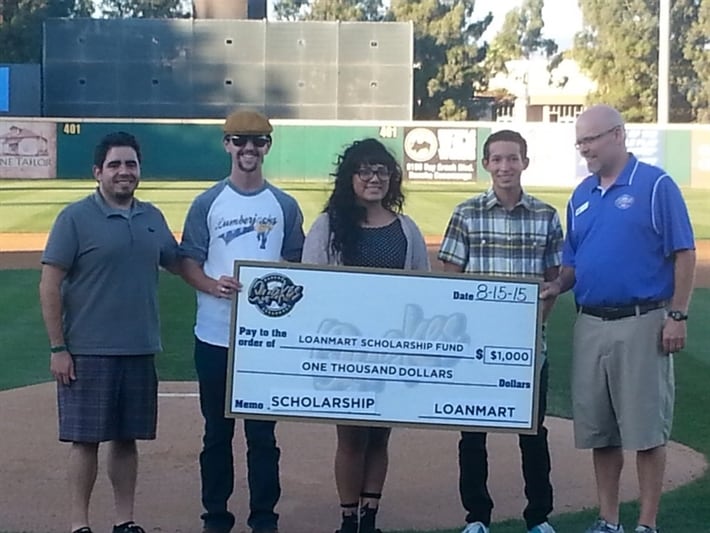 LoanMart understands the importance of making education a priority in the United States. To take our community service efforts to the next level, we have joined the Rancho Cucamonga Quakes, San Bernardino's baseball team.
This scholarship is based solely on students' merits, their eagerness toward learning, and their passion toward their career goals. To determine the most deserving applicants, LoanMart evaluates the students' recommendation letters, past accomplishments and their future goals. The chosen students are invited to watch a Rancho Cucamonga Quakes ("Quakes") game along with their family, where they are awarded the scholarships as the whole stadium cheers for them. This year, the scholarship was presented to Emily Jara an aspiring animator, Cody Bonnell a music and science enthusiast, and future businessman Andrew Zelaya.
Emily wants to become an animator in the film industry and is planning to study Computer Animation and Game Development at the California State University, Chico. LoanMart's scholarship is beneficial for Emily as her parents are also college students. Paying for their own schooling in addition to Emily's college tuition will further add to their financial hardship. Therefore, LoanMart's Scholarship of $1,000 will greatly help to lighten their financial worries.
The scholarship checks were awarded to the three applicants at the Quakes game on August 15th, 2015 by Missak Tokhmanian, a proud LoanMart employee. "As a company that tries to help people with financing, it's great to be able to help young adults take the right step toward their career goals with these scholarships. I'm glad to be part of a company that believes in giving back to the community."
LoanMart refrains from outsourcing its call centers or any other department, creating hundreds of employment opportunities, right here in California. Moreover, there is no better gift than the gift of knowledge. That is why we welcome and encourage you or your kids to apply for the LoanMart scholarship next year.
About LoanMart:
LoanMart provides loans directly to consumers via a diverse portfolio of financial products, including direct financing on auto title loans1. LoanMart is able to fund most loan requests based on the value of a customer's automobile. For more information on how a LoanMart Title Loan works, please visit 800loanmart.com/title-loans-how-it-works.