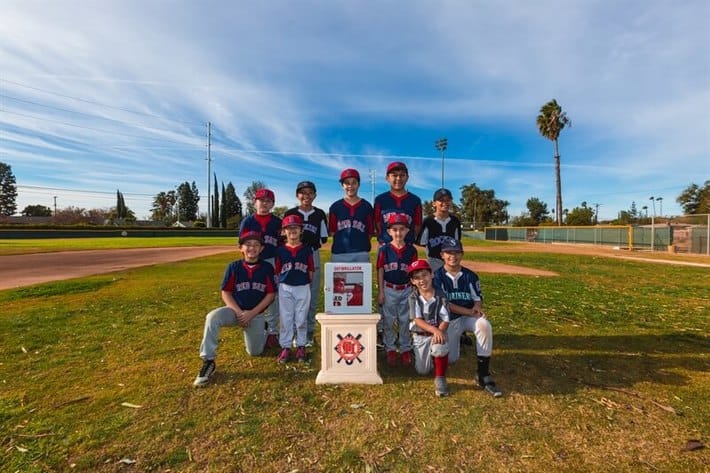 LoanMart gives back because we care. Check out how LoanMart has helped a little league achieve big dreams.
LoanMart is the proud sponsor of baseball teams such as the Oakland Athletics, the Rancho Cucamonga Quakes, and the Lancaster JetHawks. Now the successful title loan agency is honored to help out some of their smallest players yet, the Granada Hills Little League.
The Granada Hills Little League has brought baseball into the lives of children, parents, and family in the Los Angeles area for over 50 years. The League has approximately 400 players that make up over 20 teams each season. The team names pay tribute to Major League teams such as the Dodgers, Angels, Cubs, Indians, and of course, Red Sox.
On December 10, 2017 LoanMart presented the Granada Hills Little League with an Automated External Defibrillator, or AED machine, giving them the holiday gift of safer games for this season and for years to come. According to the American Heart Association, an AED, is a portable device used to deliver an electric shock through the chest to the heart in order to restore an irregular heartbeat (also known as arrhythmia) to normal.
Why did LoanMart Donate an AED Machine?
AED machines have been pivotal in saving the lives of children who experience a sudden irregular heartbeat when they are being active, particularly when they are playing sports.
In May of 2016, a 13-year-old baseball player from Indiana recovered from a near death experience, having been saved by an AED machine close by. The boy (whose father wishes that he remains anonymous), was hit in the chest with a high-speed pitch and stopped breathing. Certified coaches attempted CPR, but the boy was unresponsive, and after some time his skin began to turn gray. Thankfully there was an AED machine close by at a concession stand and coaches were able to save the boy.
Unfortunately, not everybody is so lucky. In 2013, an 8-year-old boy also from Indiana died from an accident on the field. Dylan Williams was at baseball practice when he was stuck in the neck by a baseball. Without the proper AED equipment, there was nothing anybody could do for the poor boy. Dylan's tragic death inspired a nonprofit to donate 8 AED's around the area, including the diamond where the 8-year-old was killed, and one with Dylan's family; so, they can prevent any other families from having to suffer through a similar heartbreak.
An AED could save the life of a player or even a family member in the stands if they experienced an alarmingly increasing heartrate during a game. This is because AEDs allow non-medical personnel (such as a coach or other qualified adult) to respond to a medical situation before EMTs or paramedics arrive.
American Red Cross says that all Americans should be within four minutes of an AED and someone trained to use it. This means there should be an AED in most homes, office buildings, schools, large event spaces, and classrooms. Unfortunately, there are not. This leaves it up to families who have suffered through tragedies, and those aware, to spread the word of an AED's essential importance in saving lives.
Whether you are on the field or at the office, LoanMart knows it always takes teamwork to make the dream work. All teams are important, no matter how small. That's why LoanMart is proud to support the ambitious Granada Hills Little League.